Candy Club is a premium candy subscription box that sends 3+ pounds of nicely boxed candy to your door. You get 3 canisters of candy, a bonus find, and a liberal splash of something extra! A monthly box runs $34.99, but the price decreases quite a bit with a longer subscription – save $10 per month with a yearly subscription. You can save $10 with code mommysplurge10.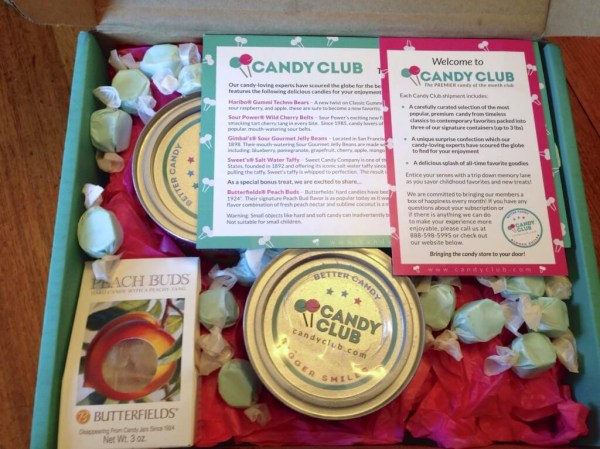 Every box has an information card, which also includes all the nutritional information for each candy! The whole family sampled each candy after dinner (which is a good time to eat candy in general, to prevent gorging, which we would totally do, it was delish!)
Sweet's Salt Water Taffy – This was the "splash" and there was quite a lot of it! Yummy raspberry flavor, very light and fresh. And TONS of taffy. My kids were pumped.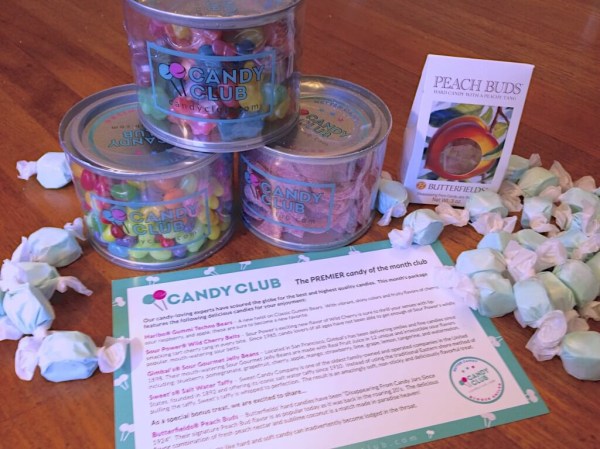 I noticed that each tub of candy was sealed. I love the presentation of these – this box would make a great corporate or office gift.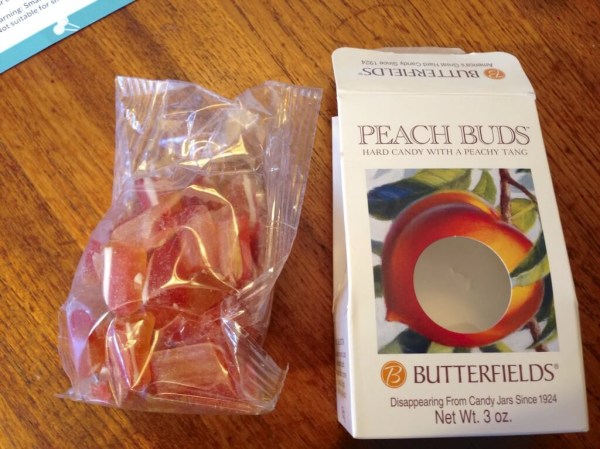 Bonus item! Butterfield's Peach Buds are a specialty hard candy and are a peach coconut combo. I love coconut. These are mine, I didn't let anyone else have them.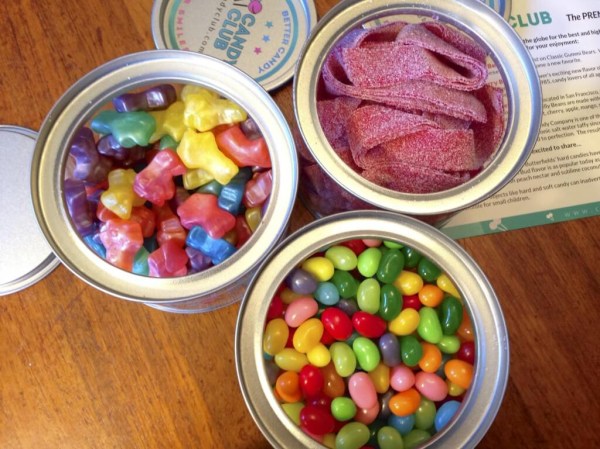 The three canisters were packed with 3 different candies, all with a different flavor and texture combo.
Gimbal's Sour Gourmet Jelly Beans – These weren't super sour but I could definitely tell that they were made with real juice (a good thing). They were juicy and sweet.
Sour Power Wild Cherry Belts – We all had fun taking a cherry belt and eating it. Everyone has a different technique. They are pretty sour!
Haribo Gummi Techno Bears –  These are huge gummis and they are totally shimmery. Which means they are awesome. They took more chewing (they were soft & fresh, just bigger) so as a mom I liked that (stronger jaws, fewer candies). hah.
This was a really fun subscription and I know its predecessor (My Candy Express) was a favorite subscription of many of my readers, so I'm sure you'll be glad its back! My family & I really enjoyed the variety of flavors and textures and overall it's a great value especially if you go for a longer subscription or are already a candy store addict!
Visit Candy Club to find out more or to subscribe!
The Subscription
:
Candy Club
The Description
: Each month, you'll receive a selection of 2-3 lbs. of your favorite candies, a splash of goodies, and a special bonus treat.
The Price
: $29.99 plus $5 shipping per month – save $10 each month with a year long subscription.
The Coupon
: Save $10 on your first box with code 
mommysplurge10