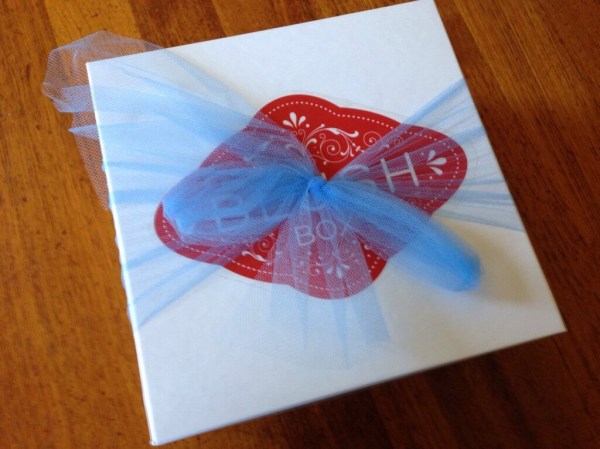 BlushBox offers a suite of adult-focused #sexytime subscription boxes. This is Club Play, an adult toy centered monthly subscription. Also available: the Teaser Box ( 3-5 full-sized & sample-sized sexy products), a monthly panty delivery, a monthly condom courier, and their premium BlushBox signature and mini quarterly boxes. You can purchase a 3-Month Teaser Box Subscription, and get your first box free. Use code teas3rb0x. This code also worked for me on this box (just tested it).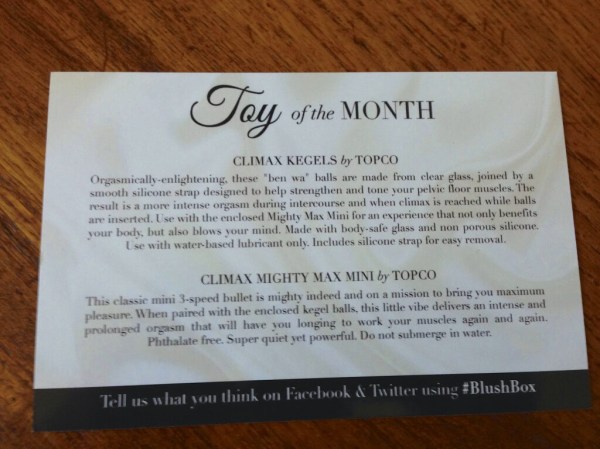 Club Play is a toy of the month subscription product for adults. Once a month, a package arrives at your door containing a new and exciting adult toy designed to give you immense pleasure on demand. I was pleasantly surprised to see that there was a theme, and a healthy one too!
There were two toys in the box – Climax Kegels and Climax Mighty Max Mini, both by Topco. You can use the Kegel balls, which are glass ben wa balls connected by a silicone strap, to help with your kegel exercises or to pretend you are getting a great workout and have fun instead.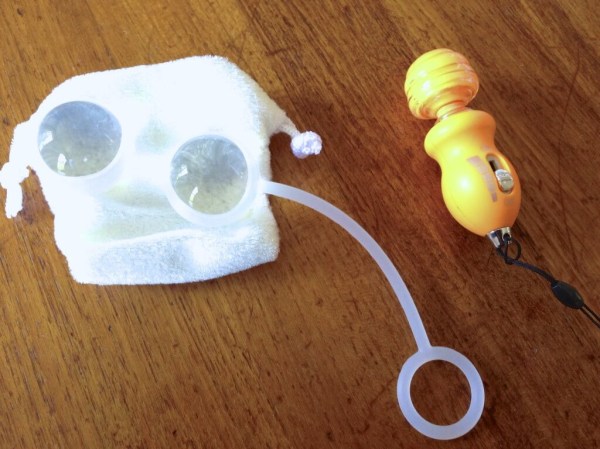 The mini vibrator is a buzzy little thing without too much power, and a nice change of pace over other items I've received recently. I guess it's a great idea to have a library of choices. You can use these two items together or separately. I thought it was an excellent value! I thought the only thing this box was missing was a sample packet of lubricant, which would have been a nice addition to the box. The two items had a value together of around $25, which is how much a box costs on a three month subscription, but you also get a free box, so overall I think it's a great deal, plus you don't have to actually shop for it, you just get it in the mail!
Visit Blushbox to find out more or to subscribe!  Don't forget – Use code teas3rb0x when you purchase a 3 month subscription! You can also see all the adult subscription boxes in my subscription box directory!
The Subscription: BlushBox
The Description: Get a quarterly box filled with flirty, fashionable finds that allow you to explore your sultry side in new and exciting ways. Or a mini quarterly with a pinch of spice. BlushBox also offers curated one-off boxes!
The Price: Teaser boxes $27 per month. Quarterly boxes $49 or $99
The Coupon: Purchase a 3-Month Teaser Box Subscription, Get 1st Box Free!  Use code teas3rb0x when you purchase a 3 month subscription!