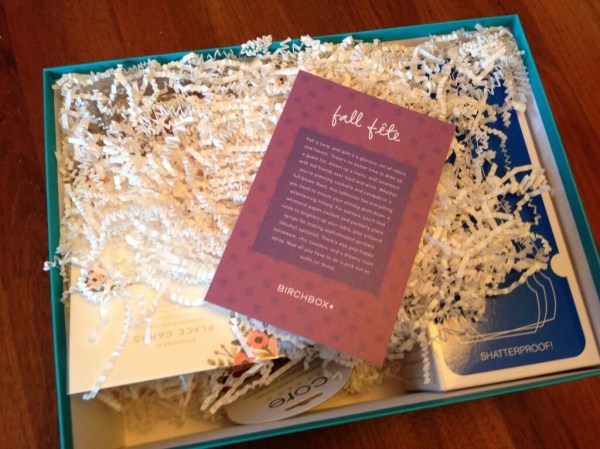 The Birchbox Fall Fête Box has now been marked to $42 – everyone who purchased it received a price correction on their account! It contains the following items, which we have actually been using up with all the family in town (it's been like a circus here!)
Birchbox Exclusive Printed Coasters
Core Bamboo Classic or Square Salad Hands
Core Kitchen Essential Silicone 4 Piece Pinch Bowl Set
govino® 'go anywhere' decanter
Greenleaf Room Spray — Apple Spice & Cinnamon
Knot & Bow Party Confetti Bag
Rifle Paper Company Dusty Rose Place Cards — Set of 8 cards
Royal Rose Simple Syrup — Raspberry and Lavender-Lemon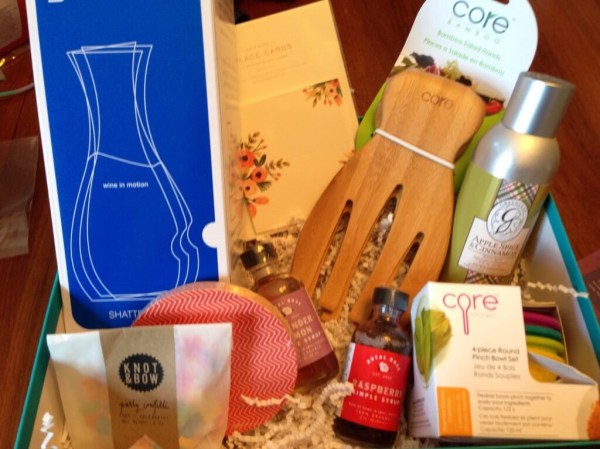 The room spray and the pinch bowls are hands down my favorite box items. This box isn't for everyone, but as my kids get older, I find that I purchase more paper goods.  It makes everything more festive. The one item I could do without is the Govino decanter, but I think I'll gift that one.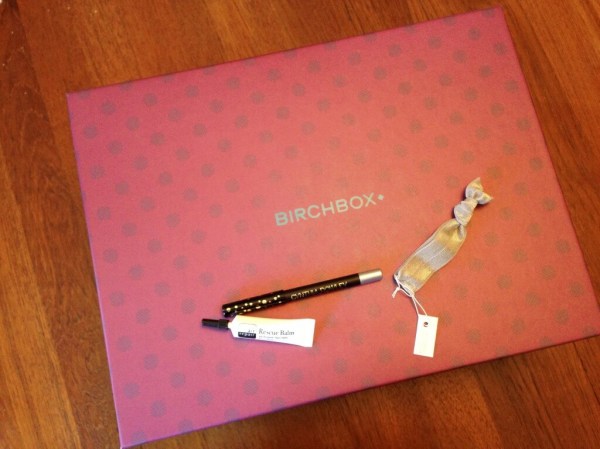 Pictured on the box lid (it's a *fantastic* box and before you spend $5 on an organizer box just buy a Birchbox limited edition or a Popsugar LE box, that's what I use!) is my mystery sample pack. Short eyeliner = win (I prefer it over long) and the twistband went to the hospital with me!
Also, do you remember when I said that I forgot to change my address and I'd probably never see my second Birchbox? Well, I did! It arrived, forwarded, no postage due, and can you see the awesomeness of this box? It's super high value and has totally amazing products. A total win and it totally made my day when it arrived! Birchboxes have been pretty downright awesome, and with the points system (I beg you, if you're not reviewing your products & racking up points, review this post & comments!!) it's awesome! I will be spending my points with my 25% off code! Use coupon JUSTFORYOU25 to save 25% off all Birchbox shop orders through 9/30! (Fingers crossed it works for you!)
Will you be picking up a Birchbox Fall Fete Box? Add these La Fresh Wipes to your order if you need to get over $50 for free shipping. Do not forget to add a Mystery Sample Pack to your cart and check the Bonus Shop for other offers. Try using coupon WELCOMEOFFER20 or LETSGO20 or MOBILE20 to save 20%! Or use code JUSTFORYOU25 to save 25% off all Birchbox shop orders through 9/30! I am using that one for sure!!
The Subscription
:
Birchbox
The Description
: Birchbox is a discovery box that will send you 5 samples or full-size products. Earn rewards points by subscribing and reviewing your products that you can spend on full-size items on their site.
The Price
: $10/month