The Julep Maven collection for August was Wanderlust! All of the colors were completely ridiculously gorgeous and I totally have upgrade envy, but I've been trying to be reasonable with my polish purchases, so I've been getting my single box and customizing it.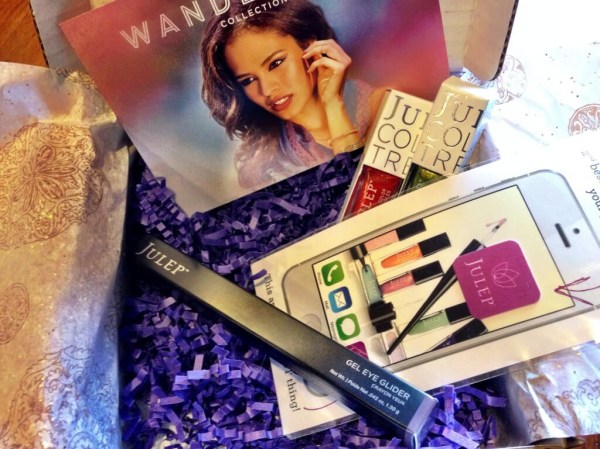 I love the little bonus phone wiping square in the box, we totally use those. I stick them on the back of the ipads so the kids can clean off their own grubby messes. 
If you aren't a member yet, you can  Take the Style Quiz and use code FREEBOX to go ahead and grab your free starter box! New Mavens can customize their box as much (or as little) as they like. Sign up for 1 month and pay $24.99 per month ($2.99 shipping for your welcome box), or sign up for 3 months and pay only $19.99/month and get totally FREE shipping on your welcome box!!  I totally recommend picking up the 3 month customizable subscription! I am loving being to pick out exactly what I want and having the lowest price. However, if you want a limited edition free box, check these free Julep Maven subscription boxes out!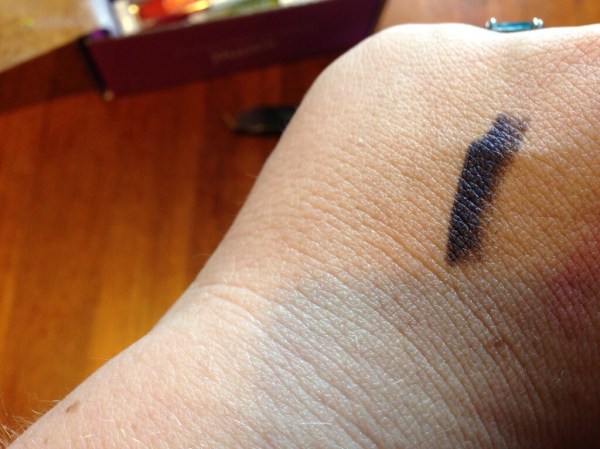 This is the Plum Eye Glider. I love the color! It dries waterproof and it is seriously no-budge. It is a FANTASTIC formula and totally recommend it! If you ARE a member, use 10FORYOU to save $10 off a purchase of $20 or more or GLIDERPERK for 30% off any gel eye gliders.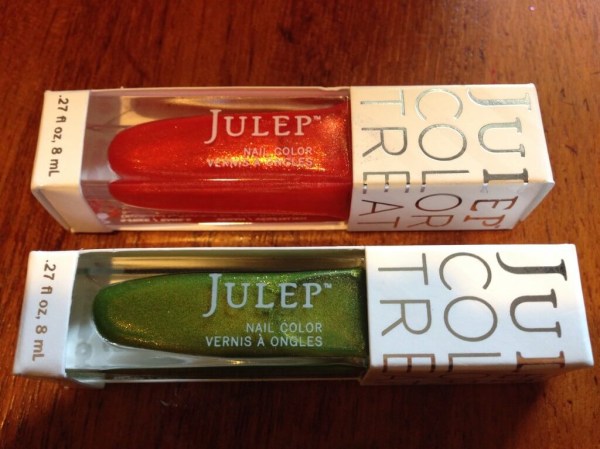 Swatches below!
Kirti is a persimmon iridescent shimmer. My bestie will cry white hot tears of jealous rage when she sees this. I will end up giving it to because I love her even though it will make me sad.
(her response)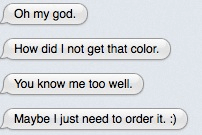 Tammi is a lemongrass green shimmer. I have no idea what I was thinking selecting this ectoplasmic green beauty. Not my style really at all. But I thought I should mix it up I guess! It's one of those colors that will be great to have when you need it. After organizing my polish I realized I needed more green & orange!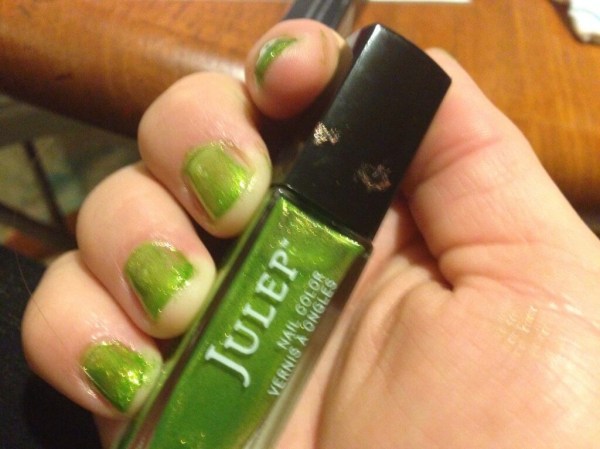 You can check out the rest of my Julep Reviews or sign up to get your free intro box – just use code FREEBOX to give it a try! (Pay $2.99 shipping or get free shipping when you sign up for a 3 month subscription)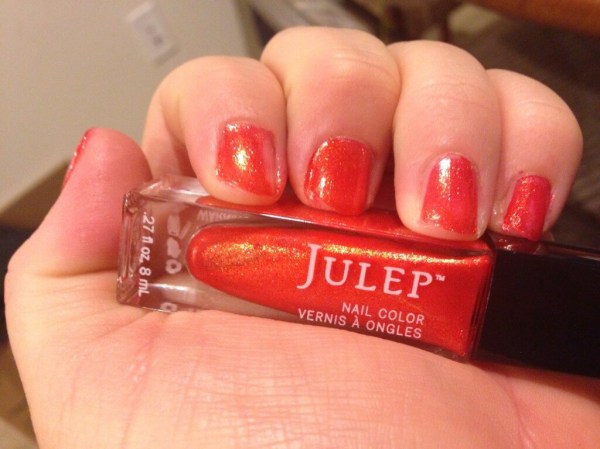 The Subscription
: 
Julep Maven
The Description
: Nail polish box and a beauty box. Get either 3 polishes, 2 polishes and a beauty product, or 2 beauty products per month.
The Price
: $19.95 per month
The Coupon
: Use code
FREEBOX
to get your intro starter box free! Pay $2.99 shipping or get free shipping when you sign up for a 3 month subscription