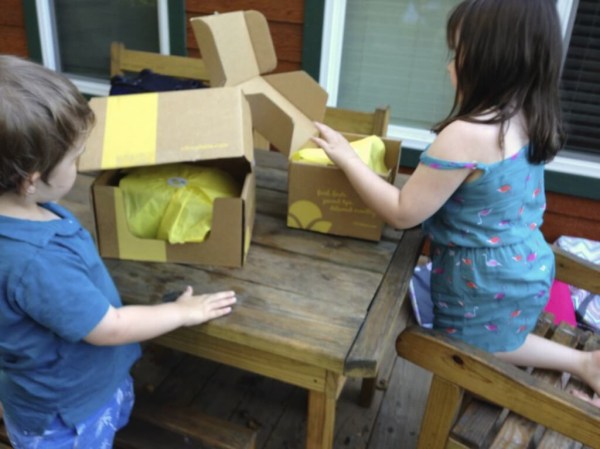 We loved August Citrus Lane! The kids were so excited that it was waiting in Pennsylvania for them and wanted to open them right away. Who could blame them?  Take half off your first box with code 50PCT!!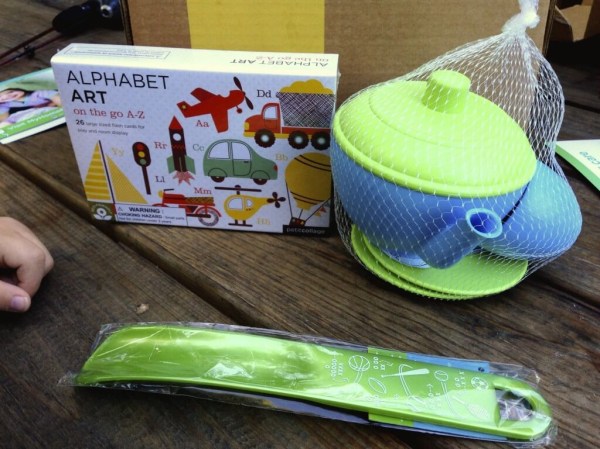 Green Toys Tea for Two ($10) This was part of a larger set and the smaller set was made just for Citrus Lane, which was totally fine because the kids really don't need more than the pot and the cups & saucers. They have been using this as a bath toy in the cabin, we love it. They did use it as a tea set right away!
Jasmine Seven Kids Shoe Horn ($3.95) I had already bought the kids shoe horns but these are much nicer than we had. They are perfect for those shoes that are pre-laced. Both my kids were excited about these.
Petit Collage Alphabet Art On the Go from A to Z ($24) These are gorgeous and I'm not going to let the kids use them because I'm totally going to decorate with them. Sorry kids.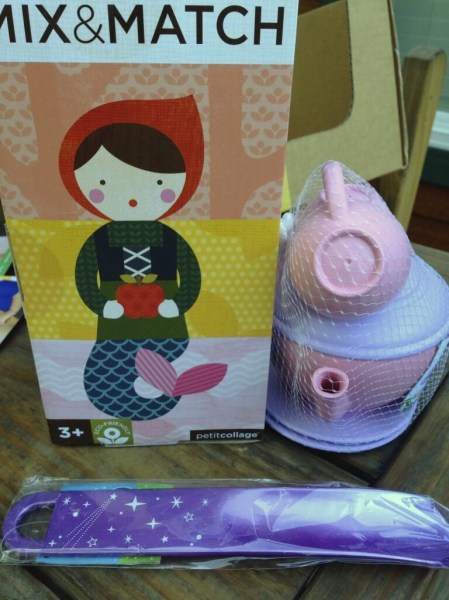 Petit Collage Fairy Tales Mix & Match ($15) This is a super fun game but I'm enforcing two rules – not until we get home and not until we put some of our matching games into the yard sale boxes!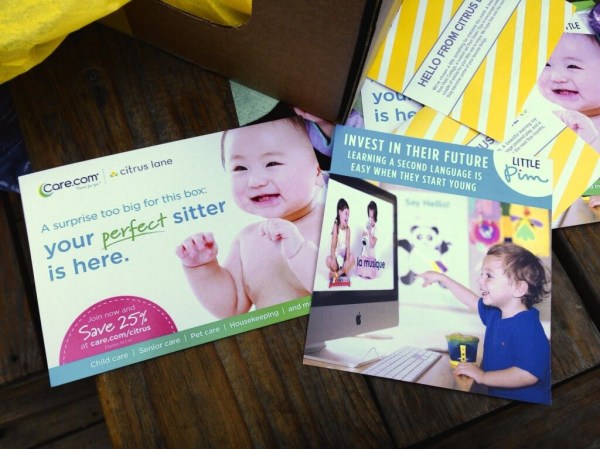 Both these boxes came with a note to save 25% at Care.com (new owner of Citrus Lane) as well as a Language Video Digital Download from Little Pim ($11.99)! 
and then of course we got the box for the baby! This box is set with like an April 30 birthday or something for the baby, and now that September will finally be his birth month I think I'll reset it to his real birthday! Hooray!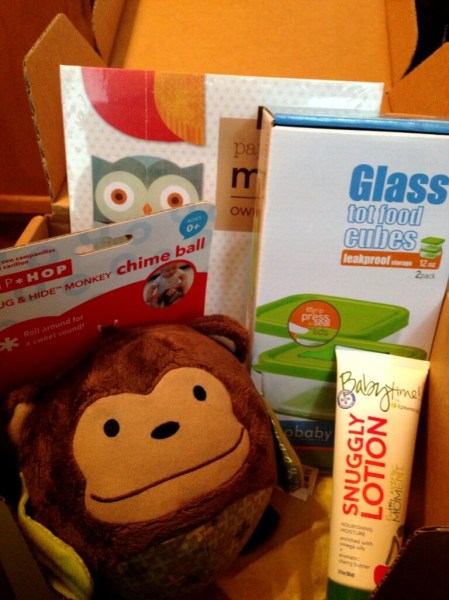 We got the Skip Hop Chime Monkey Ball ($10) , Petit Collage Owl Mobile ($6), Innobaby Glass Tot Food cubes ($10), and Episcencial Snuggly Lotion ($9.50)!
Visit Citrus Lane to find out more about this box! To save $20 on Citrus Lane, just use coupon code TAKE20OFF when you check out. Check out all my Citrus Lane Reviews! Don't forget to take a look at other Baby Subscription Boxes & Subscription Boxes for Kids.
The Subscription
:
Citrus Lane
The Description
: A box of 4-5 great items per month for your child aged 0-5 years old.
The Price
: $29 per month, down to $19 per month on a long subscription
The Coupon
:To save HALF on your first Citrus Lane box, just use coupon code 
50PCT
 when you check out!