Rainbow Honey is an indie nail polish brand with the very bestest glitter polishes. They recently started offering mystery and mini mystery bags, and of course I subscribed!  The mystery bag comes with some random beauty products in a house-blended scent. I could do without them.  The cuticle balm is nice but you can't use up one every month. However, I still think the subscription is worth the money because of the polishes! I think they're totally worth $10 + shipping.
Info card – all the details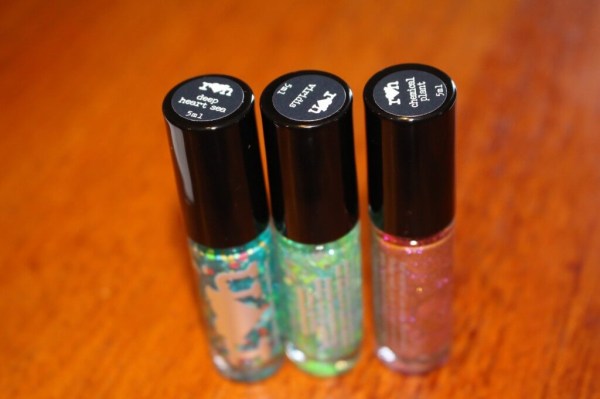 Three lovely polishes! 
Deep Heart Sea, Viridis, and Chemical Plant. I wore chemical plant for a day and thought it would go really well with the glitters from last month's box. I'll probably use Deep Heart Sea tonight – great blue jelly base and so pretty!
I just love these minis! I may skip next month's just because we're moving but I love this subscription!
You can visit Rainbow Honey to subscribe or check out the rest of the boxes in the nail polish subscription box list!