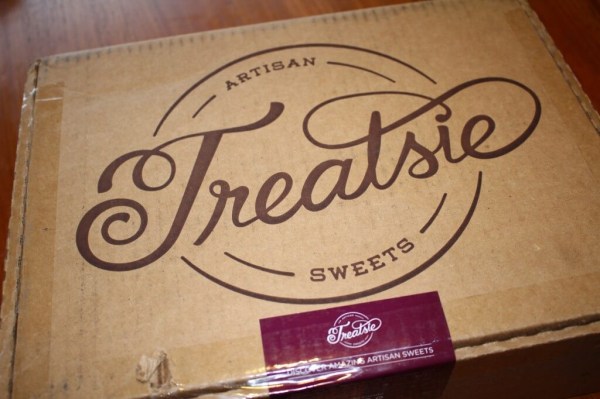 First of all, I hear that the Treatsie free box code expires on June 15. Please use it now, you'll pay $4.95 shipping and get a free box. That's a super cool way to try out a new subscription! Use code FIRSTBOX44 to subscribe and get your first Treatsie box free. Second of all, I subscribed back in May, got a shipping notice, and I realized 2 nights ago nothing ever came. I sent them an email about it and they apologized – some of their boxes got misplaced by USPS. They immediately sent a replacement – for my free box – of an astonishing amount of goodies. And they overnighted it. Let me be clear – the email address I used to subscribe to this box has nothing to do with my blog. They have a Facebook sign in option and I was super lazy and used that instead of making an account. From speaking with others I understand that this level of customer service is not out of the ordinary with Treatsie! I nearly always stay subscribed to a box with a free box offer for several months, because as a blogger I think it's the right thing to do to support independent companies. In this case, I'm also staying subscribed because of the remarkable customer service.
The Subscription
:
Treatsie
The Description
: Get sample boxes of high quality, artisan candy every month. Buy more of these artisan-produced confections right from Treatsie after sampling.
The Price
: $15 + $4.95 shipping per month
The Coupon
: Save $5 off your first box with coupon SUBSCRIBE5 . Unknown exp. Use the coupon FIRSTBOX44 to get your first box freeeeeeeeee! Just pay shipping! [Expiring June 15] Also, save half on the new chocolate bar subscription box! Use coupon CHOCOBOX50.
May Treatsie Review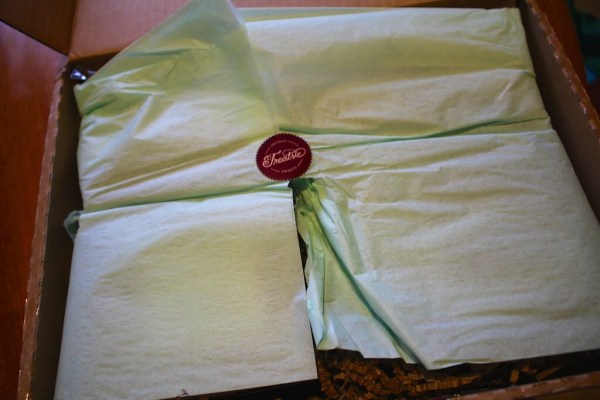 Each box includes amazing artisan sweets from 3 – 4 small, independent vendors, which change every month, and has a retail value of $20 – $25 before shipping. This is where I admit that I don't have a normal box to show you, because they loaded me up with full size items. Please visit my friend Amanda's review of the May Treatsie box to see actual sizes!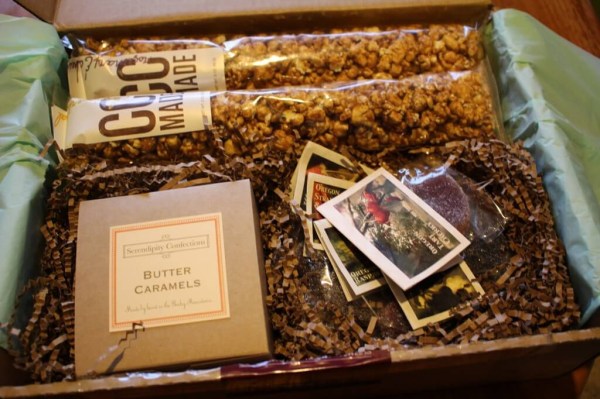 Um, I'm pretty sure this is not a tasting box. I will tell you below what sizes you would have actually received! 
Subscribers got 3 sample bags of CC Made caramel corn, at an approximate value of $6 total. This is more like $32 of gourmet caramel corn. I hope they lose your box, too.
Willamette Valley Pâte de Fruits ($3) There were three in the regular box. These were neat little jellys that were really more like a solidified preserve (they're vegan, so they use fruit pectin). I fantasized about a hot english muffin and squishing one of these in between the two halves. I really did. I'm doing it.
Serendipity Confections Butter Caramels (subscribers received 2 Sea Salt caramels for a $3 value). They were creamy & delicious!
I only came up with $18 for the value, not the $22 that was on the card, so I'm not sure I'm entirely right on the popcorn, but I was pleased with it anyways. With treats boxes you just have to realize you'll get about the value of the box plus pay for shipping. You are just not going to get twice the retail value on gourmet/artisan food products. Remember, I'm showing photos of what I received. This was more than necessary, they could have just pushed my subscription to the next box and I would have been perfectly happy with it.
Visit Treatsie to subscribe or find out more about this box!