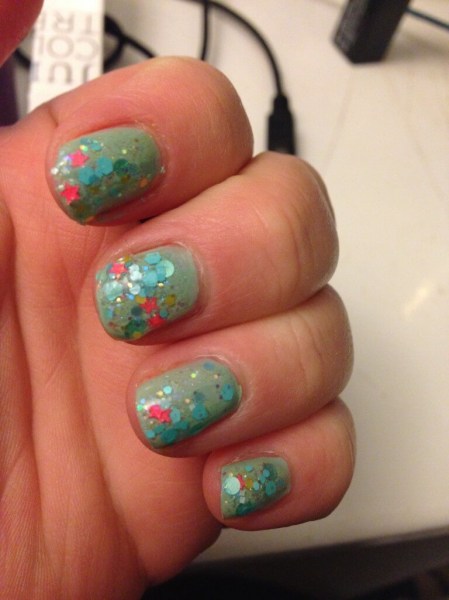 I totally found the time to give myself a quick manicure yesterday! I used Julep Kam and Rainbow Honey Sea Star! I am so much happier with my nails done, I cannot even tell you. Also, my ability to do them vastly improves when using a base coat! My polish magically becomes self leveling and for the most part stays on my nails. SO totally worth the extra minute. KWIM?
I also got my Julep purchase from the red marker sale – I bought one weensy polish – Julep Kimberly! Now I have all the speckles and that makes me happy.
Two is better than one, totally! Seriously, watching the kids eat spaghetti is fascinating. They each ate most of a big plate plus 5 meatballs and it took them 43 minutes. Pretty sure I was done in 10. I had more fun watching them!
Boxycharm July Spoiler #1 is pur~lisse essential daily moisturizer with spf 30! $55 value. Sold.
Also, remember that Birchbox Plus is open and also they announced today that there will be a choose your item, everyone will receive an email about it. Don't forget to use the code to cancel/resub for extra points, see details here. I actually like the items they offered for the July Birchbox Plus, I just don't think they are as good a value as I get with my other boxes. I will obvs be choosing a Cynthia Rowley lipstain!
I have honestly lost all ability to track what boxes are coming when. I know I'm getting Hello Fresh this week, Glossybox, and that's about it! I have loads more boxes to review, I really can only do so many a day, so stay tuned for some subscription box review goodness! Oh right, I totally ordered a new Erin Condren planner even though I said I was going to wait. Because I couldn't. It says my order has printed! Whoooo! I have no idea what I'm using it for yet but I'm actually pretty psyched about the new switchable coveroos.
Oh right, Loot Crate is going to have a shirt again for July! Save $3 on any subscription with code SAVE3 . Or save 10% with coupon SAVE10 !
I think I totally rambled on enough today? Have a totally great Tuesday!