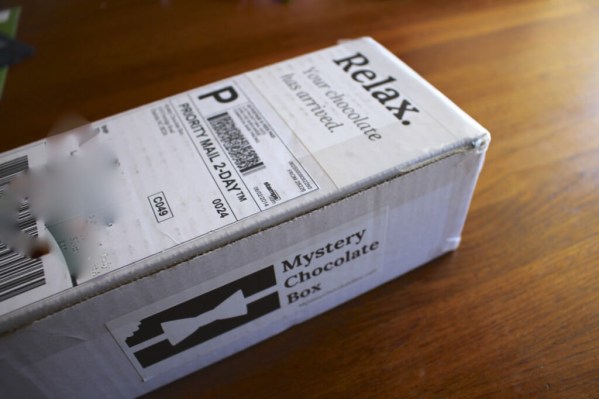 Mystery Chocolate Box is a brand new dessert subscription box with a twist! You'll get three mystery chocolate bars and all the instructions you need for a surprise chocolate tasting. I thought this box was super fun and I'm still puzzling over some of the flavors!
The Subscription
:
Mystery Chocolate Box
The Description
: The brand new box for chocolate lovers! Each month receive 3 mystery chocolate bars from top chocolate makers. Try each bar and guess what you think each bar is & after two weeks the answers will be revealed!
The Price
: $30 per month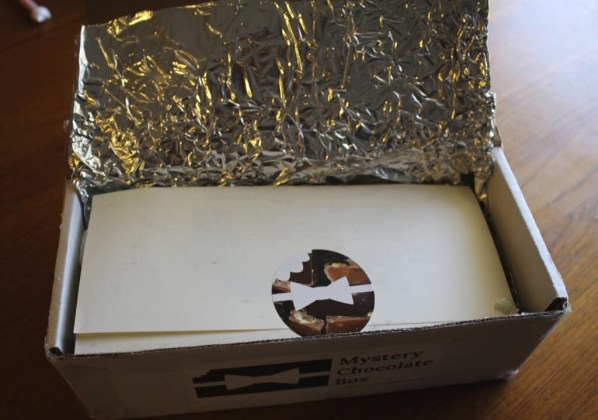 It might look a little silly, but this low-technology liner worked!
Under the chocolate bars were 2 cold packs. I unpacked this box 2 days after receipt so they were melted, but the chocolate bars showed absolutely no signs of melting, and it was HOT outside! I was impressed!
I hadn't been sure what to expect from Mystery Chocolate Box. I found three commercial chocolate bars with mystery labels!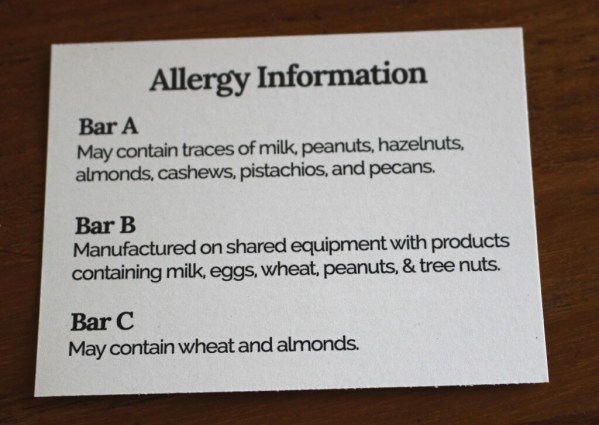 The box included an allergy information card but I think in general it's not a box for people with lots of allergies. Chocolate usually has milk & nuts in many varieties. And the ones that don't are made on the same equipment. It's A-OK with me, we're food allergy free, and thankful for it.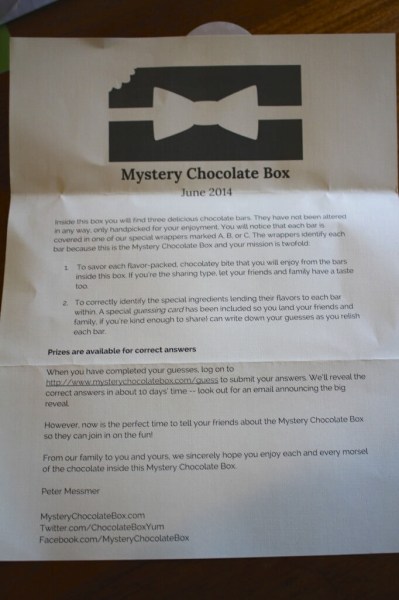 Instructions for the tasting and a contest. Y'all know how excited I get about contests.  There was a more extensive instruction card plus a tasting notes card.
And chocolate!! The chocolate was all delicious and I am still guessing. My kids thought Bar A was "spicy" (it is, in a way!), Bar B is very dark, and Bar C is their pick, as a milk chocolate. Bar A was my definite fave, and I can't wait to find out what it is for sure! If I can control myself, I'd like to save some for my husband to try the next time he's home, but I don't know if I can. It was super tasty!
Mystery Chocolate Box box is tough to value, because it's more about the experience than the value of the items inside. And of course, shipping chocolate during the summer months is not easy. You cannot just throw it in a mailer and be done with it, They need to be packaged properly to avoid melting. I cannot wait to find out the flavors! And see if I won!
Visit Mystery Chocolate Box to subscribe or find out more about this box! You can also see all the boxes in the sweets & treats subscription box list!