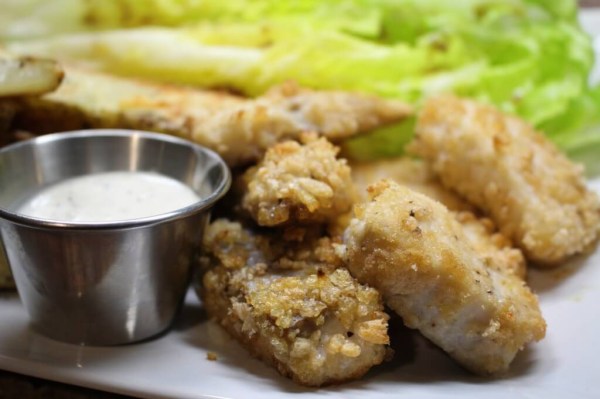 What's up Plated! Two weeks in a row for you and me! I can't quit you when I have guests in town, because it makes feeding everyone super easy. I sent the link to the menus to my mother-in-law (dun dun dun) and she picked out two meals to make!  If you are unfamiliar with Plated it's a total must try!  Plated is a meal subscription service – you get the ingredients, menus, and cook everything yourself.  I didn't take photos of the box, but it was larger than normal, because I purchased 6 plates instead of 4. Two large ice packs were included and everything was super cold. Looks gooood doesn't it? It was!
You can see multiple weeks of Plated menus in advance! In fact, they're now showing the entire next month of meals, so you can plan really far in advance or last minute (but careful, meals do sell out). You have until I think noon (eastern) on Monday to order for Tuesday. I'm skipping this week, because I'm trying to really clean out my fridge, and next week I'm getting Hello Fresh (3 meals for 2 instead of 2, but next week is super kid friendly!), but honestly, I may change my mind at any time, plus, I know for sure I will have house guests (hopefully my husband, but unsure) sometime mid-month, just not sure when yet! Meals that look amazing to me:
This week – Pan Roasted Tempeh with Herb Scallion Lentils,
Next week – Butter Basted Steak with Hasselback Potatoes,
Week of 6/17 – Steak and Zucchini Gyros with Pesto, Zucchini Pappardelle Arrabbiata with Chickpeas and Almonds, Garlic and Lemon Roasted Chicken with Spinach and Asparagus
Week of 6-24 – Roasted Eggplant Parmesan Melts, Seared Hanger Steak with Japanese Ponzu Sauce and Basil Rice, Garlicky Chicken with Fennel and Roasted Grapes
The last two weeks in June are really getting me going!
The Subscription
:
Plated
The Description
: Ingredients for chef-designed meals delivered to your door. You select the chef-created recipes on the Plated.com website and Plated sends you a box of food and recipes.
The Price
: $60 per week
The Coupon
: Use code
b0c635
 for 2 free plates – 50% off coupon!
May 30, 2014 Plated Delivery Review
Baked Fish and Chips with Hearts of Romaine – The first item that MIL chose was this one. I decided to only get 2 plates of it because everything was baked, and it would have been a real pain to bake two trays of potatoes and two trays of fish with only two oven racks. I'm not big on fish anyways and MIL shared with my daughter, who wanted some fish. Everything was really fresh and she was pretty blown away with using Rice Krispies/puffed rice cereal to coat the fish.  I don't recall doing anything for this meal except putting foil on the pans and helping her find bowls, etc. in my kitchen. Then I plated it and took photos.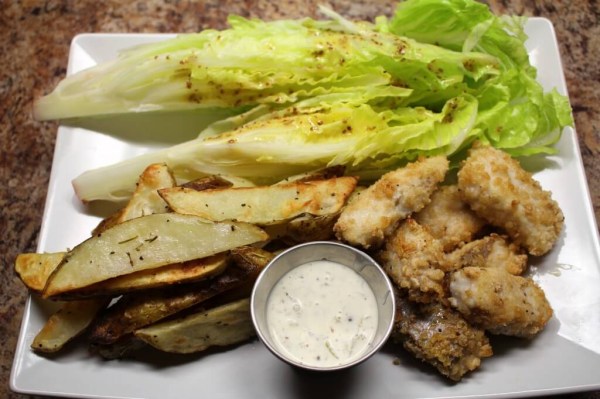 I love my fancy new IKEA plate for showing food! I thought she did a great job and everything turned out perfectly. If you're wondering, the little sauce cups are from Sam's Club, and I've had them for years.  I did eat quite a few of the oven fries – delish – and the tartar sauce was super yummy. As this was also a child approved meal, multiple thumbs up!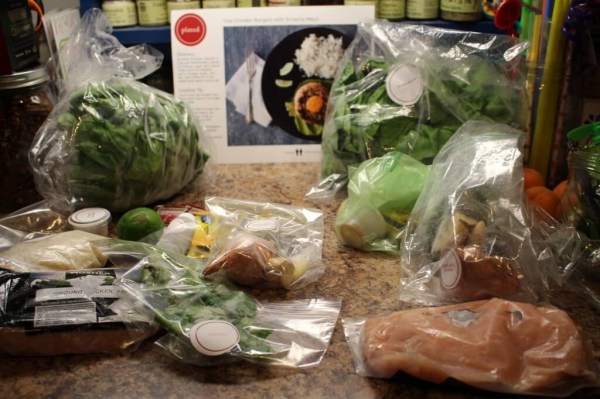 Thai Chicken Burgers with Sriracha Mayo – I was so hoping she'd choose this one, and she did! I ordered 4 plates. The left is sort of everything unpacked and the right is still in the bags. A lot of the items will come inside produce and compost bags, which is super handy.  I reserved 1/4 of the rice and 1/4 of the chicken to make unseasoned food for the children. This meal went so quickly! I put the rice on, gave the limes to Papa to zest (he looked at me as if I'd had two heads then complied), Mama Mémé minced all the stuff, and then papa also made the sriracha mayo. I mixed up the burgers and cooked them, and then stirred the stuff in the rice. Then it was magically complete. This was a GREAT meal for a family dinner!
And OMG it was so so so soooo good. My kids ate every single scrap, the adults ate everything, we used every speck of the sriracha mayo and the flavor combo (garlic, shallot, ginger, cilantro, & lime in the burgers, lime & cilantro in the rice) was just to die for. We all love it with some heat and this fit the bill! It definitely woke up baby!
So if you're wondering if parents, grandparents, and/or senior citizens can cook Plated, yes they can (of course they can, they just might find the idea totally odd if they aren't used to subscriptions or other internet things – trust me, I called an UberX to take them back to their hotel and it blew. their. minds.)!  It took MIL a little while to get used to the way the meal subscriptions write the cards (they do all the prep first and in reality, I read the card and use my own order instead of doing a full mise en place) but she enjoyed cooking it and thought like I do, that it was a perfect solution for the weekend.
If you haven't joined up, visit Plated to find or more or to subscribe! Remember you can use coupon b0c635 for 2 free plates. Let me know what you are getting and what you made!
You can see all the meal subscription services & dinner kits in the directory plus all my Plated Reviews!