Treatsie is an artisan sweets sampler box! Each box includes amazing artisan sweets from 3 – 4 small, independent vendors, which change every month, and has a retail value of $20 – $25 before shipping. Sweets in moderation are scrumptious and I have been enjoying getting some interesting new sweet treats!
The Description: Get sample boxes of high quality, artisan candy every month. Buy more of these artisan-produced confections right from Treatsie after sampling.
The Price: $15 + $4.95 shipping per month
The Coupon: Save $5 off your first box with coupon SUBSCRIBE5 . Unknown exp. Use the coupon FREEBOX22 to get your first box freeeeeeeeee! Just pay shipping!
June Treatsie Review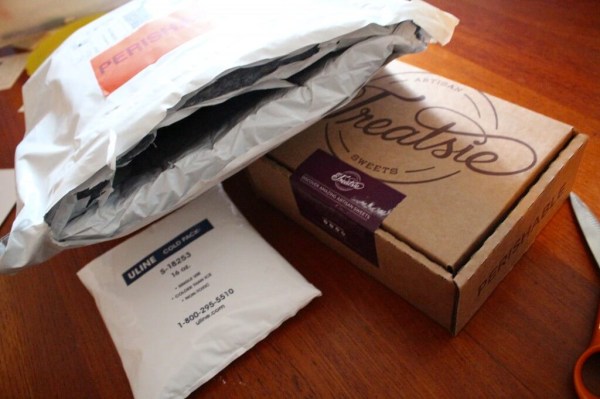 This month's box contained chocolate! The box shipped with a cold pack inside this weird padded mailer!
The value of June's Treatsie box is $26, which is a nice savings over the $15 box cost plus $5 shipping!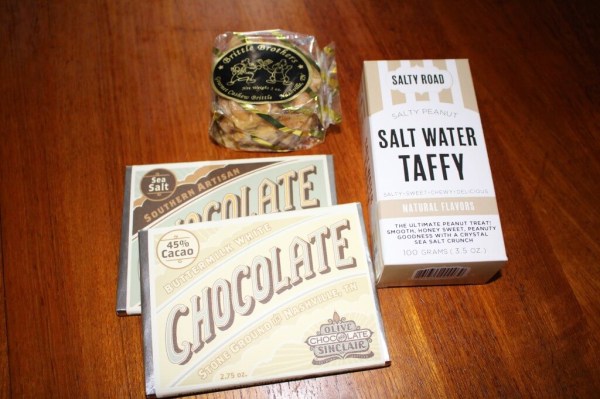 Brittle Brothers Gourmet Cashew Brittle ($5) Please email me for my address so you can send yours to me. It was delicious and the bag had a little moisture absorber so it was crunchy and brittle!
Salty Road Salty Peanut Salt Water Taffy ($7) I don't really get the salt crystals in mine, but I loved the flavor of this one – salty and peanutty!
Olive & Sinclair stone ground chocolate bars ($7 each) The Sea Salt one was pretty salty and is definitely an in moderation bar! The kids said the Buttermilk White bar was delicious. I saved the rest for my husband, he's a real white chocolate aficionado!
I hate cheap/low-quality candy so this subscription is right up my alley! I don't know if my waistline can afford it monthly but it's a wonderful treat!
Visit Treatsie to subscribe or find out more about this box! Use the coupon FREEBOX22 to get your first box free! Just pay shipping!