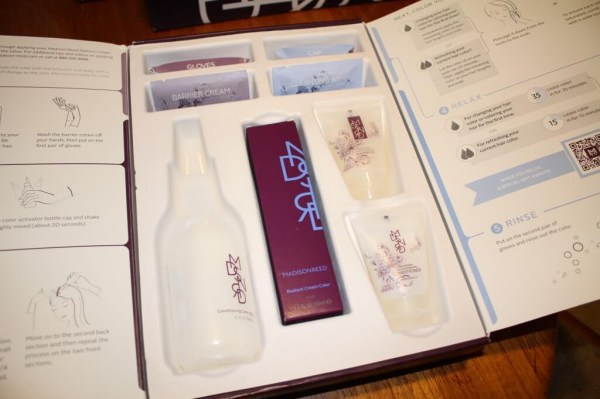 I have been coloring my hair with Madison Reed for about 6 months now! The last time I posted about Madison Reed y'all voted that my next color would be Verona, so that's what I did! Next up is Lucca!  You can save 20% off your first order with coupon code SUMMERLOVE (expires 6/30). I do want to note that I did a very extensive review of Madison Reed hair color so if you're looking for every detail, visit that one too! I love love looooove Madison Reed because it is so gentle on my hair/head – my head never stings and none of my hair falls out. This is new for me, and exciting, and for those of you with thinning hair, you know how precious every strand is!
The Subscription
:
Madison Reed
The Description
: Hair Color subscription! Long-lasting hair color packed with rich nutrients like keratin, argan oil and ginseng root extract. Your hair will feel stronger, shinier and better than before you colored. Formula is free of ammonia, resorcinol, and parabens, taking the harsh out of hair color. And it smells nice too! Set your subscription to exactly how often you need it! Color-protecting shampoo + conditioner also available
The Price
: $29.95 per delivery
Madison Review – Verona
Verona is described as "brown with warm auburn undertones." The voting was very close and I also want to try Lucca soon, but I needed a darker color for my purposes last week!
This is my before hair! I have said it before, I LOVE LOVE LOVE that I don't have to break the tip off the color bottle! 
Before I got started I chatted with the Madison Reed helpers on their website about applying my color – this shade is one level lighter than my last – but I forgot to inquire how long to leave it on. I was pretty cautious about it and didn't do the full 30 minutes for a new color, because it was lighter.  Next time I will be asking more questions. Before Madison Reed I definitely colored my hair – using the same color every time – so this is a new process for me and I'm still getting used to it!
I loved the results this time! Last time either my color was too dark or I left it on too long – I'm not sure which (I probably shouldn't have changed two variables this time!) but this was better for me.  Another HUGE BIG PLUS is that my hair is fuller and thicker since I started coloring. Plus no grays, as usual! I'm loving playing with all the colors but for sure during winter time I will go back to my first color – Firenze Brown! I figure I have a good 2 more colors to try out for the summer!  I'm so fancy!
I also personally subscribe to the Madison Reed Shampoo & Conditioner. The first time I colored my hair after the sample tubes ran out and I grabbed my MIL's shampoo I noticed my scalp hurt and was itchy. (And it was a shampoo for colored hair!) I do still sample other products but I get great results with MR's shampoo & conditioner as my every day go-to no-stress tress washers!
If you want to grab some for yourself, check out Madison Reed right here.  You can save 20% off your first order with coupon code SUMMERLOVE.
Read all my Madison Reed Reviews!