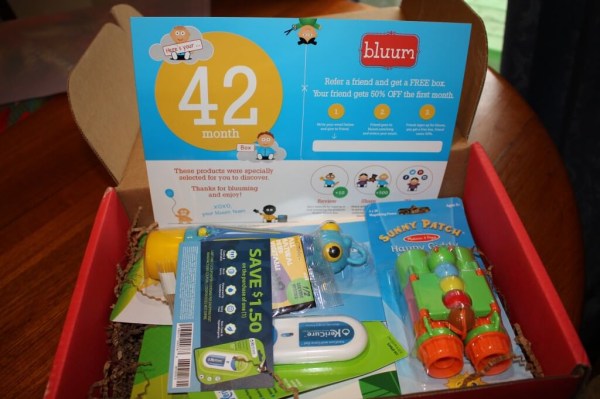 Bluum is a baby and toddler subscription box, all the way up to kindergarten age. My son has been pre-K, but curiously, Bluum switched back to the months this month! He's 42 months. Wooo! This was one of my favorite Bluum boxes to date because everything was so usable!
The Subscription
: 
Bluum
The Description
: Age-specific subscription boxes for babies and toddler. Each box contains 5-6 full-size products. Earn rewards points for reviewing products or opting in to that month's Bluum box to redeem for a free box.
The Price
: $24.95 per month.
The Coupon
: Save half off your first box with code
HALFOFF
.
June 2014 Bluum Box Review: Pre-K Boy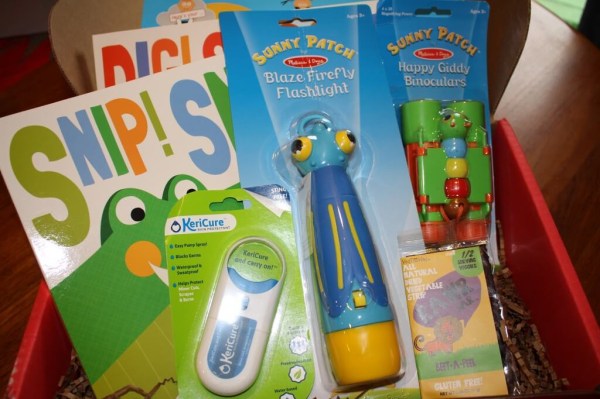 Honestly I was super excited when I opened this one. Everything looked totally awesome!
Vegthisway – Rawr Bar – Beet  ($1.50) A little snacky for the kids!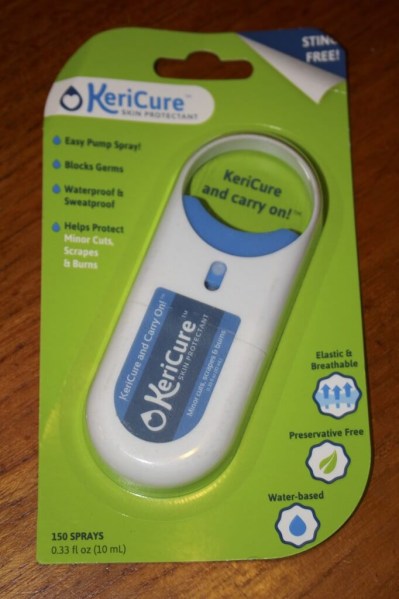 Kericure – Keychain Skin Protectant  ($9.99) I stuck this in my bag but I guess I didn't realize how cool this was until looking at it for the review, it's like a flexible bandage, and I totally should have used it when I sliced open my hand on a carton of plums yesterday!
Melissa And Doug – Sunny Patch – Flashlight – Blaze Firefly ($7.99) This is the BIGGEST HIT. We put it on a lanyard and it has been in constant use!
Melissa And Doug – Sunny Patch – Binoculars – Happy Giddy ($7.67) We already have this (and my son loves it), so I tucked it in the gift closet. Great product!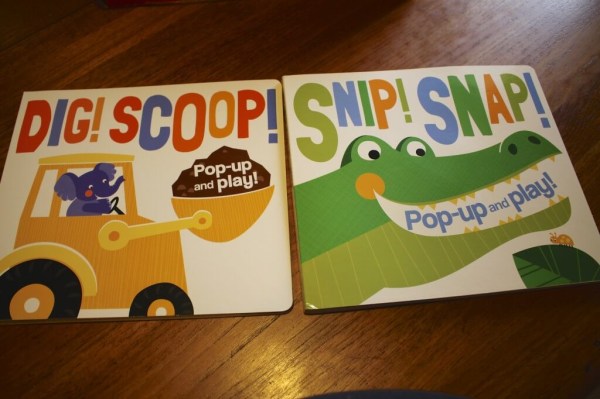 Parragon Books – Pop-Up And Play – Snip! Snap! and Dig! Scoop! ($8 each) Both children went wild over these but they are perfect for my son who is starting to get into the habit of "reading"
The books are really darling with fantastic pop ups! I came up with a total value of around $42 for June's Bluum, and we are still happy subscribers! I am going to have to start getting some baby boxes from Bluum for the little one. I don't intend to buy barely anything this time around – some bottles and a swing – and just use my box stuff. That's been working out great for us!
Visit Bluum to find out more or to subscribe, and use the code HALFOFF to save 50% on your first box! You can also heck out all my Bluum Box Reviews! Don't forget to take a look at other Baby Subscription Boxes & Subscription Boxes for Kids.