I got my June Julep Maven box this afternoon and spent most of the evening bumbling around and then suddenly I really had to put on some swatches of my new polish RIGHT AWAY. Like I would die if I didn't get this polish on my nails before bed. The Three Wishes collection is perhaps my fave Julep collection yet, and while I totally regret not upgrading for the full set, I am totally happy with the new customization options and I think I selected the very best colors for me! You can see my post detailing the entire June collection here! All the shopping codes at the bottom!
I did write up a post that goes into a little more in-depth on the new options (looking at that post again, definitely read it before the next window opens, I think it was super helpful!).  I am thinking about switching to Maven Luxe before the next window opens just so I can test it out for you all, but for my normal budget I think I'm sticking with the prepaid My Maven. It's $40 worth of product for $20 and I think it's just the right amount for a monthly purchase.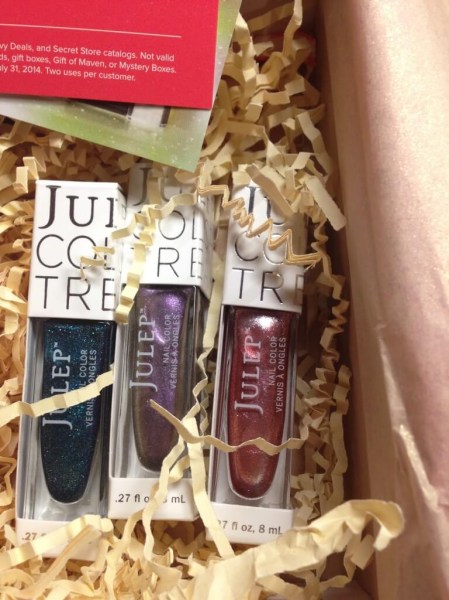 If you aren't a member yet, you can  Take the Style Quiz and use code FREEBOX to go ahead and grab your free starter box! New Mavens can customize their box as much (or as little) as they like. Sign up for 1 month and pay $24.99 per month ($4.99 shipping for your welcome box), or sign up for 3 months and pay only $19.99/month and get totally FREE shipping on your welcome box!!  I totally recommend picking up the 3 month customizable subscription! I am loving being to pick out exactly what I want!
The Subscription
: 
Julep Maven
The Description
: Nail polish box and a beauty box. Get either 3 polishes, 2 polishes and a beauty product, or 2 beauty products per month.
The Price
: $19.95 per month
The Coupon
: Use code
FREEBOX
to get your intro starter box free! Pay $4.99 shipping or get free shipping when you sign up for a 3 month subscription
Julep Maven June 2014
This was my box. Notice that the Posh lip gloss, which I have been coveting since it was released, is part of the box, and I chose a polish add-on.

That's because the lip gloss wasn't an add-on option at all! And honestly it was probably cheaper this way! I do somewhat regret not adding on the Oxygen base & top coats. Some colors really stain my nails!
Natalia (Boho Glam): Refined copper metallic. This one was more pink than I'd expected, by really a lot, though it's a great color. I wanted a rose gold or actual copper color. I like this one but I will buy more copper polishes until I have a whole wardrobe of copper polish.
Jennine (It Girl): Full-coverage borealis blue stardust (matte glitter). I hated this in the bottle and I don't know why. It's stunning and perfect. This is a "use the whole bottle" sort of polish. In the morning I'll take off my swatches and paint all my nails with this one.
Phia (It Girl): Alluring orchid iridescent chrome. Out of all the purples in the box, this one was perfect for me! I really could have easily bought all the purples. It's good to make choices though!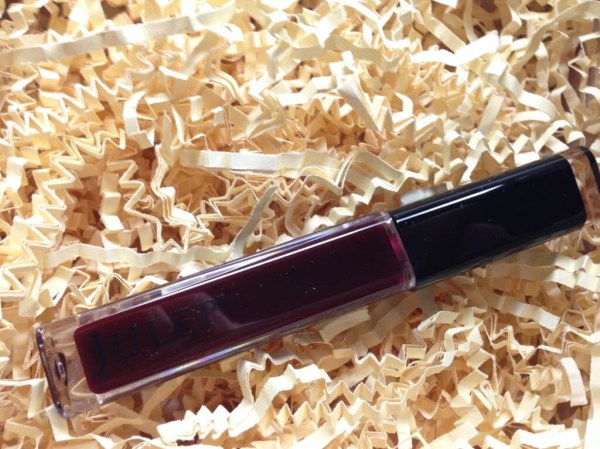 Julep Lip Gloss – Posh (sheer black honey). I actually love this formula, it's not sticky at all. Not quite a dupe of Clinique's black honey but it's a great berry color and perfect for me.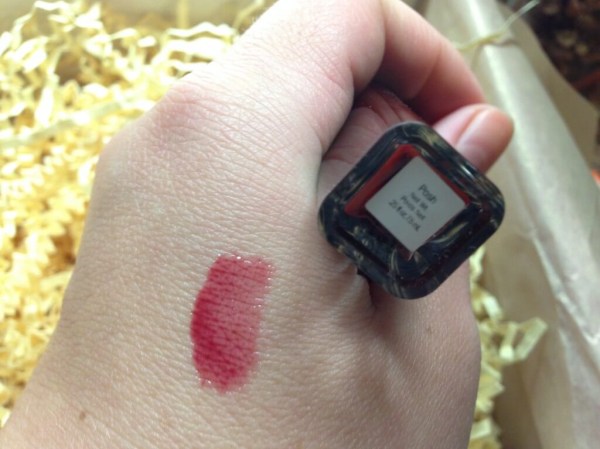 Love it! Moisturizing on my lips too.

Ok, time to shop! Use code SPRINGPERK to save 30% off your next Julep order – and you can use it twice! Exp 7/31. Or use code POLISHPERK to get a free polish with a $15+ order. Also Exp 7/31 and two uses! And you can also use coupon OXYGEN2 to snag 30% off of the Oxygen Smoothing Base Coat, Oxygen Performance Top Coat, or the Oxygen top/base duo, through June 31.
You can check out the rest of my Julep Reviews or sign up to get your free intro box – just use code FREEBOX to give it a try! (Pay $4.99 shipping or get free shipping when you sign up for a 3 month subscription)