So I guess Wednesday is about what we ate, whether we like it or not! I posted so much yesterday I totally took off last night and today, and instead went and got this beauty. Breyer's Gelato Indulgences in Caramel Vanilla. I got a freebie coupon in my Influenster box (see the review & get an invite if you want one) but the cashier forgot to take it off, so I saved it for next time. Regardless, there's my disclosure! I ate significantly more than that. And I also bought a container of Breyers Blasts for the kids. We're Breyers Fans!
Yum Yum Naturebox! Naturebox is one of those boxes that everyone knows about and nobody reviews anymore but they have all sorts of new snacks and I have been totally addicted the last couple months. I actually ate this as my lunch yesterday (with some cheese). From Top to Bottom, Left to Right, here are my snacks!
Sriracha Roasted Cashews – sweeter and less hot than I thought they'd be!

Poppy Seed Sticks (dollar snack sale!) – alright. Very carby. Not my fave but I'd get them again for a dollar!

Dark Cocoa Almonds – I am sad they aren't sending these during the summer

PB&J Granola (dollar snack sale!) – soft & yummy. I was so surprised how much I loved this!

Bombay Curried Cashews – I always love this flavor. I ate the rest of the bag last night!

Guacamole Bites – These sort of mess with my blood sugar (corn & I have issues) but I love eating as many as I can!

Pucker Up Pistachios (from a previous box) – Addictive
I also got
Tuscan Summer Mix (Italian spiced seeds & nuts) – CRAZY addictive

Apple Pie Oat Clusters (dollar snack sale!) – Didn't love. Much harder/chewier than I thought.
You can get $10 off Naturebox with my link, if you'd like. Then I get more snacks. Which is goooood. (No but seriously, thank you, I always appreciate it when someone chooses to use my links). Also, just a head's up, I tried to cancel but got an offer for $10 off my next box. so I took it. Then I canceled again. And got an email offer for $10 again. So I've gone quite a few months at $10 a box! (I had started a new account to try the Popsugar curated box, which I liked significantly less than my own selections!)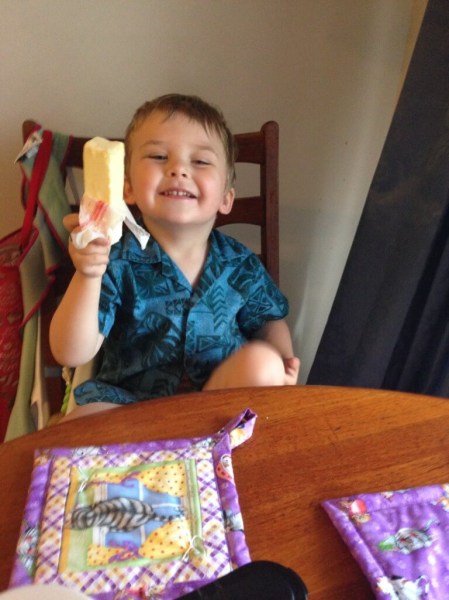 My child tried to eat butter. He gets super excited about it. Actually he totally put it in his mouth but I refuse to post that photo!


Grandparents brought donuts. He's a sweets fiend like you wouldn't believe.
So, basically all we ate is junk food!