OMG I am the most annoying person in the world, begging for votes: pleeeeeease vote for me in the Elevation Burger Cup Wars contest!!!
I got no mail yesterday. Zip. Zero. Except a mailer from Target with a $5 off $30 grocery coupon, which was pretty sweet. I was so relieved I went to sleep around 9:30. I have at least one review to post though and since it's a cold rainy day, I may find it in me to post something random (like a recipe, which are all super random at this point because I'm pregnant and only eat weird things).
Did you log into Paypal this week? Go ahead, they totally changed it! AGGGH! I can't find anything!
I know I say this all the time, but I love my vacuum. My Neato Robotics Vacuum is pretty much the best money I have ever spent. And because my house is miraculously picked up it got vacuumed two days in a row! They have some sort of new model that is making me have vacuum envy. (Don't worry Roger, we'd find you a good home!)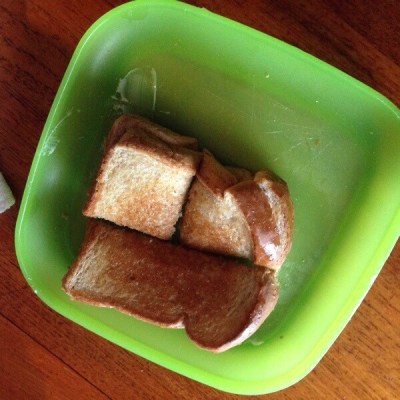 I am super pleased that we understand the geometry to request a sandwich cut in two squares and a rectangle, but really?
Every time I go to Ikea I get the 3 chocolate bars for $2.49 and I get one of each, and every time I regret not just getting all hazelnut.
Ok ok, those are all the thoughts I have today. Not deep at all.   I'm linking up with Thursday Thoughts with Jennifer! And going to press the big orange button on my vacuum.