In a few hours my husband will be here for the weekend! I'm so excited! This has been a really tough week for me so I will appreciate having him around.  So today's thoughts are short!
I'm doing my first ever Facebook contest (my page here) for an extra April PSMH box I had hanging around. The one with the Too Faced Palette. I really should have opened it up and kept the palette just for moi, but… I could not!
…. I hate it when I get one of those freakishly long eyebrow hairs…..
Also, way too many of you guys sleep on 10 year old mattresses. You really should get on that. Because apparently all of you hurt like crazy. Also that linked post has a $50 Visa GC giveaway – the entry method is answering the question in the comments.
Yesterday I made Goldfish mac & cheese for the kids, and it called for something like 2 tablespoons fat free milk and half a tablespoon margarine. And I thought to myself what the what? Does anyone do that, or does everyone use the "classic preparation" (3 tablespoons butter and 1/4 cup of milk).  BTW if you are wondering about the flavor, my daughter said it was
strange and wrong for mac & cheese but I still like it.
Classic! Guess she's getting that review thing down. Actually, she has everything down. Yesterday she decided to "make a watershed so I can study the effects of pollution." I've said it before and I'll say it again, good luck future kindergarten teacher!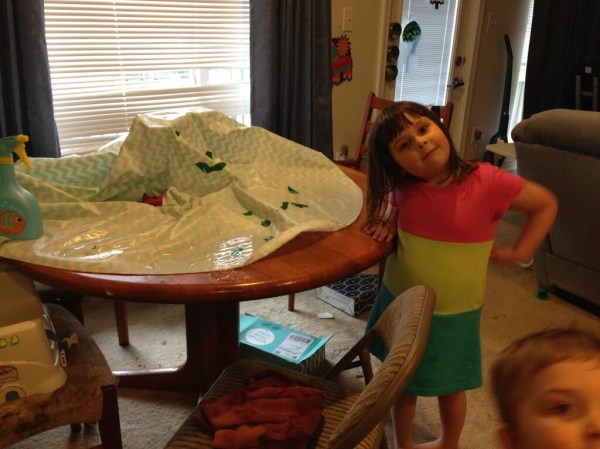 And if you can name the 6 subscription box things/where they come from in this photo, I'll send you a prize. The 6th is impossible to see, maybe 5/6. 😉
OMG OMG OMG Bath & Body Works is having this massive sale – Buy 3 get 3 Signature line, 2 for $22 3 wick candles, and.. get this, 20% off and free shipping on $50 orders. Use code SUNNY.  I'm going to be at the mall this afternoon for lunch probably and I'll see what's up in store.
I only know about this because I went to go see if this ridiculous parrot was on sale yet. I got my last order and logged on to check and whoa!  I basically got right on iMessage and told Alena her nobuy is done for!  Hoping for some other awesome sales this weekend too!
I'm linking up with Thursday Thoughts with Jennifer!