Today I'm super excited because it was supposed to rain all day today and tomorrow, and now it just says tomorrow! Heading out for Costco pizza after E gets back from school! But first I've got some reviews to get up, and I'm working on giveaways too, and updating the coupons. Always updating the coupons. I feel like that's all I do!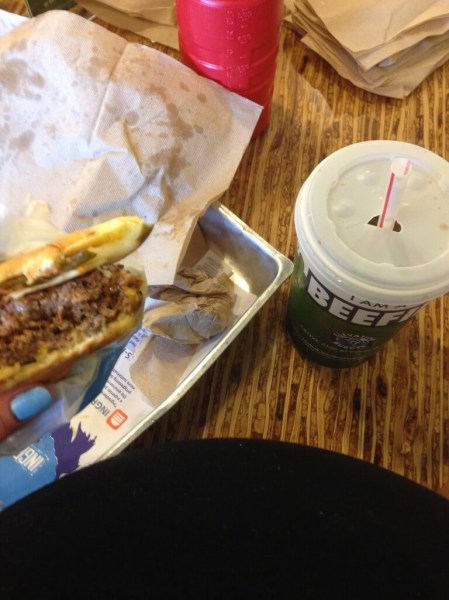 I'm going to beg every day for the next two weeks so everyone sees it – Pretty please vote for me in the Elevation Burger Cup Wars contest. I need lots of votes in order to win!! (You only have to do it once!) Thank you all!
We haven't really even done anything photo worthy around here the past couple days. Just playing, eating, and having fun. I hit up the doctor yesterday, they love my kids, it's a fun trip for them because all the staff adores them! Including the OB. I still think that men that become gynecologists are really weird, but my favorite ones have always been men.
I am in the middle of a sort of pantry challenge for myself – I am purchasing only fresh food. I'm about to kick it up a notch and say no grocery shopping at all. But I need milk & I refuse not to buy fresh fruit.
Basically I was shopping last night, so I wrote a shopping/all my current "needs" post. If you have anything you're currently addicted to shopping for online, let me know!
I am currently obsessed with watching videos of concealer reviews on Youtube. I'm dying to try IT Cosmetics! Bye Bye Under Eye concealer, but I have also gotten GREAT recommendations for Benefit Boi-ing! and Lancôme EFFACERNES – Waterproof Protective Undereye Concealer (the latter from Diana, of May Fabletics Review Fame!). Do you have a holy grail concealer? Spill!
I'm also addicted to the Ebates 15% cash back deals. Did you find any good ones? I think tomorrow I'm going to have my kiddo pick out her school backpack from eBags. They're on shoprunner (free membership with your amex). And basically, I'm addicted to shopping this week! I have a list of things of want/need and I've been putting it off and it's hard to say no with that deal!  I'm not going to be able to say no to Sephora Summer Crushes!! Lobster inspired technology? SURE WHY NOT! In all seriousness all my makeup is (almost) finally in one spot and I have big gaps of what I need.
Also I hate to admit that I found an amazing Macy's Lancome GWP deal and I'm totally doing it. Can I just buy a random concealer and then take to the store to swap it for whatever is the right color? [Now that it's sunny out I am going to swing by the counter today I think and get matched]
Also (and I've got to quit watching these it's turning me into a shopping freak) during my YouTube watching marathon I stumbled onto these crazy hair wands. But let me digress a moment. I cannot stand 2 youtube things – the meme where we all have to apologize for showing our stuff. That's the whole point of the video. I think it's mostly 20 something ladies who feel the need to say this? No offense to you youngsters but I'm a-OK with you showing your makeup collection as long as you show me your super magical secret to look 15. and TWO – POUTY TROUTY MOUTH.  Not smily, but sticking out our bottom lips so that a bird looks like it's going to poop on it. OMG.
Um, may the force be with you, these look like a totally different kind of power tool! I was like WHAT IS THAT when I saw someone pull this set out. Have you tried one? apparently I'm also a Nume affiliate (because they have deals all the time and I must have ran some during the holiday shopping season) and now I think I should grow my hair out so I can wand it. Brandy, you're having a third child in September, WHEN are you going to have time to wand your hair? Also my hair has never held a curl in its life. Even those steam curls.
I'm linking up with Thursday Thoughts with Jennifer!