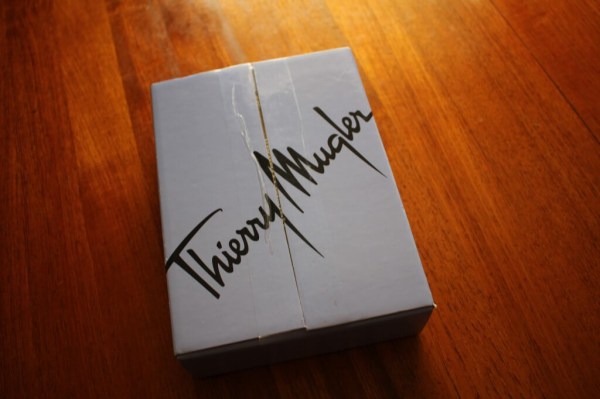 Ok, try not to laugh, when my Mugler Addict box didn't show up 3 months exactly after the last box, I was like OMG WHERE IS MY BOX I AM GOING TO DIE IF I DON'T HAVE IT RIGHT NOW. I emailed the concierge and they were like, boxes are shipping this week! And it was in my mailbox yesterday, about 2 days after I'd emailed them.  Anyways, this is a quarterly box and only $50 a year. That means it only costs $12.50 a box and it's silly not to get it.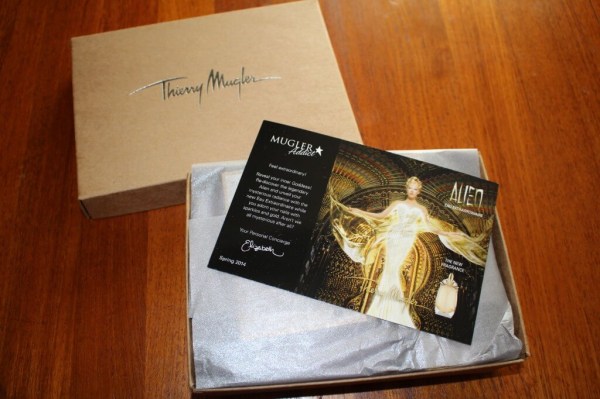 FYI, Mugler is always over the top and super serious about it. I love the Angel perfume but I love Thierry Mugler's zaniness too. I'm ready to reveal my inner goddess!
The Subscription
: 
Mugler Addict
The Description
: Get deluxe & sample sizes, plus free shipping at the 
Thierry Mugler
 store for the entire year! Delivered Quarterly. Angel-only addict? Get 
Angel Room Service
.
The Price
: $50 per year
May 2014 Mugler Addict Spring Box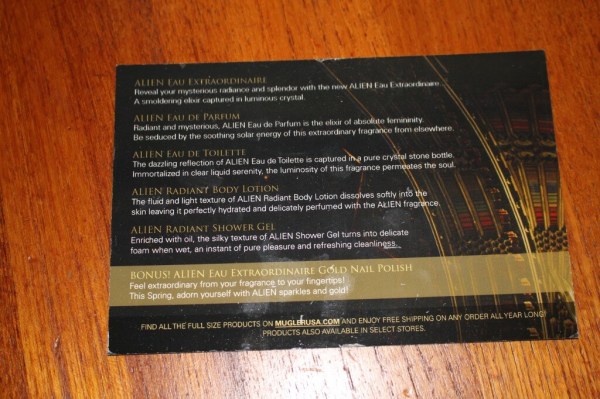 I was a little disappointed to see that all the products were Alien. And honestly I'd expected them to include some A*Men Wood, because it's brand new. Oh well!
Here's what they say about Alien
Feel extraordinary… Mysterious and fascinating, ALIEN perfume has the power to illuminate and reveal a radiant, feminine aura. ALIEN fragrance brings out the solar goddess in every women. The rich and bewitching ALIEN Essence Absolue is captured in an everlasting drop of gold that radiates a divine nectar. This new fragrance is a modern and decadent interpretation of ALIEN.
We got the Essence Absolue last time I think!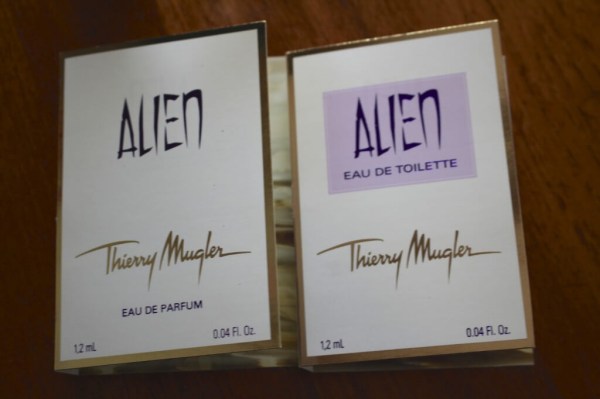 Alien Eau de Parfum ($2.13) & Alien Eau de Toilette  ($1.58 ) – Both 1.2 ml Sprayers. I know some people complain about perfume samples but I personally love them. I can switch up my smells without committing to a whole giant bottle. 
Alien Radiant Body Lotion ($8.23) and Radiant Shower Gel ($6.76) One of the reasons I love Angel is not just the smell but I can also get all the different fragrances to layer. Now I can mix it up a few times with Alien. It's fun and I like the scent of this.
Alien Eau Extraordinaire ($5.93) Oh this is a totally new fragrance. Mugler releases riffs/versions of all their scents and this is perfect for summer. It's a light, airy version of Alien.
Bonus Alien Mini Polish!  This is a great gold for summer, I'll call it $5.
The value of the Spring Mugler Addict box is right around $30, totally on par with last month. I'd love to see a little more variety in their boxes and more things like the fabulous lip gloss they sent out a few boxes ago, but I love this one.  It's honestly cheap and I get tons of great stuff and I'm really a Mugler fan
Visit Mugler Addict to subscribe or find out more. Thierry Mugler also offers Alien Room Service
 and Angel Room Service
!  You can also check out all my Mugler Addict Reviews and other Fragrance & Perfume Subscriptions in my subscription box list!