Scrumpt is a new subscription box all about kids' lunches! In San Francisco they offer a weekly lunch service that will prep and pack your kid's lunches for you (genius!). If you don't live there, it's ok! There's still a travel box & a snack box, plus Scrumpt is releasing a new box soon – the weekly snack boxes with all the dry materials and menus you need to pack a cute lunch for your kids!
The Subscription
:
Scrumpt
The Description
: San Francisco lunch kit home delivery to provide all the ingredients you need to make a week's worth of healthy and easy-to-assemble lunches for your little one. Travel Boxes & Snack Boxes available for entire US – $18.95/box!
The Price
: $18.95 for Travel Kit or Snack Box Subscription
Scrumpt Travel Box Review
What a great looking box! The Scrumpt Travel Survival Kit will give you everything you need when you're on the road or in the air with your little ones.
Everything was cute & neatly wrapped up! The silver pouch is to tuck something perishable in so you can stretch out its life a little!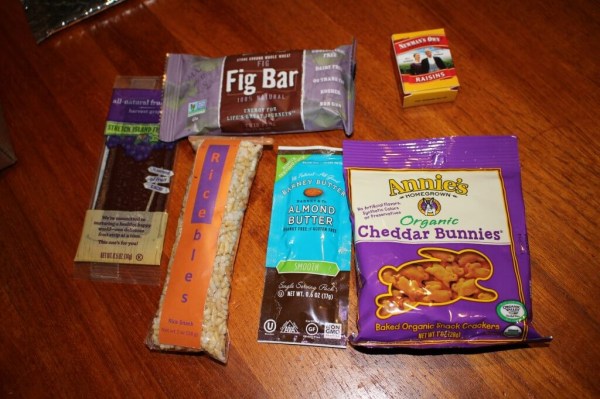 I'm sorry, I ate the Fig Bar right away, I was hungreeeee. This was a nice assortment of snacks of all different types. Nothing too messy, except the Ricebles could pose an issue. You open them up and pour them in your mouth. But you could also use something from the rest of the box to squeeze out the Barney Butter (like the straw) and dip it into the Ricebles and eat them! It would be fun! Everything was high quality and all natural!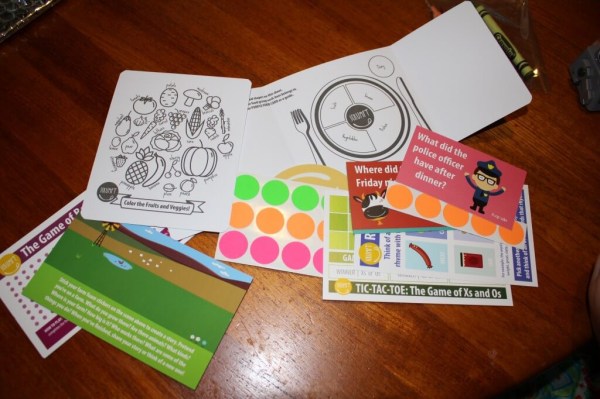 I wasn't expecting so many games and fun things! We really had a great time with these! Many open ended items – one card had illustrations of items packed in two different suitcases, and we figured out where they were going, told a story about it, and so on!

Here's an example of the open-endedness of the activities. It's great as a learning tool and also as a parent traveling with kids – what do you do with them the whole time?
We popped open some snacks and told jokes – they were such a hit! Three illustrated & punny joke cards with a joke on each side.
There was a great food groups activity as well as a fruits & veggies coloring activity!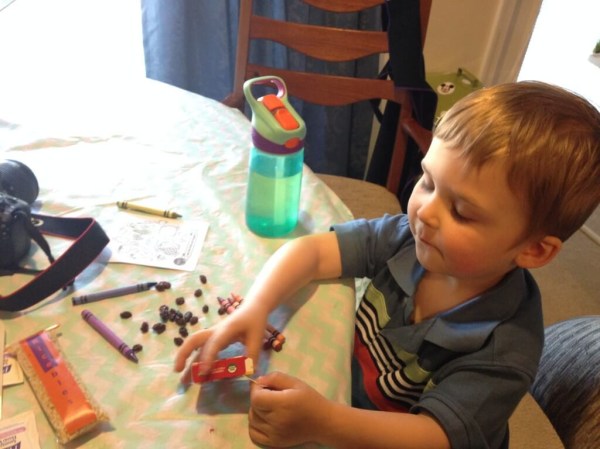 The Newman's Own Raisins are really really great! He loved the teeny weeny size!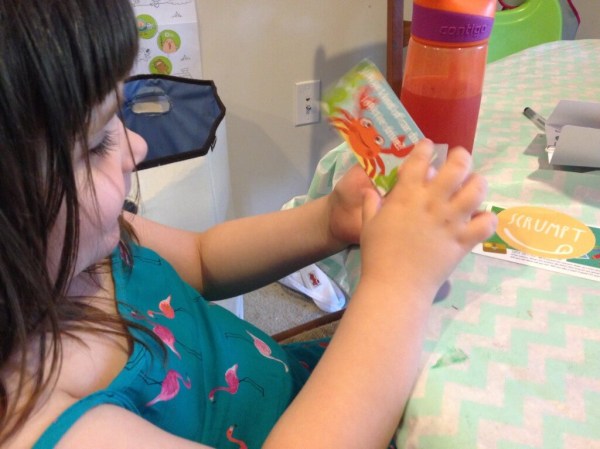 We laughed a lot with this box! I think the Scrumpt Travel Kit would be wonderful to pick up for your next air or car adventure – nothing too involved, but enough to keep things rolling and make sure the kids don't get bored.
Visit Scrumpt to subscribe or find out more about this box! I'll let you know when the new lunch kit is out!