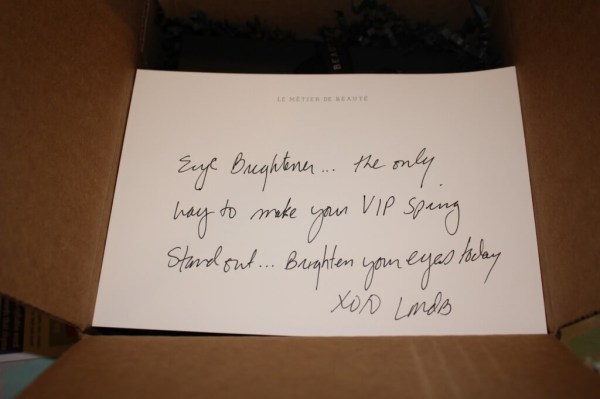 Le Métier de Beauté Beauty Vault VIP is a fun luxury beauty subscription box. Every month you get a gift boxed item or variety of items. I didn't take a lot of photos this month, see previous Le Métier de Beauté Beauty Vault VIP Reviews if you want to check out the gift boxes, they look the same every month!
The Subscription
:
Le Métier de Beauté Beauty Vault VIP
The Description
: NOT AVAILABLE AGAIN UNTIL NEXT YEAR. Le Métier de Beauté experts will send you a carefully curated full-sized product or assortment of products shipped right to your door. One full-sized item or an assortment of items will arrive at the beginning of every month. Also available, the
Monthly Kaleidoscope Program
.
The Price
: $348 per year
May 2014 Le Métier de Beauté Beauty Vault VIP
I was pretty delighted to find two perfect shadows, from the included note  I had expected some sort of eye brightener product!  On the left is True Colour Eye Shadow in Goldstone ($30) and on the right is True Colour Eyeshadow in Peachy Keen ($30).
The texture on these shadows is absolutely amazing – pure velvet! As you can see, the Peachy Keen is pretty close to my natural skin color. I'll use it as a non-harsh highlighter. I'm in love with this coppery gold. It's super wearable without hunks of glitter or anything gauche! Truly a luxury product. The shadows are super blendable, too!
I was more than pleased with this month's haul. I haven't loved a few of the months but this one is perfect for me! May has seen more than its fair share of favorites!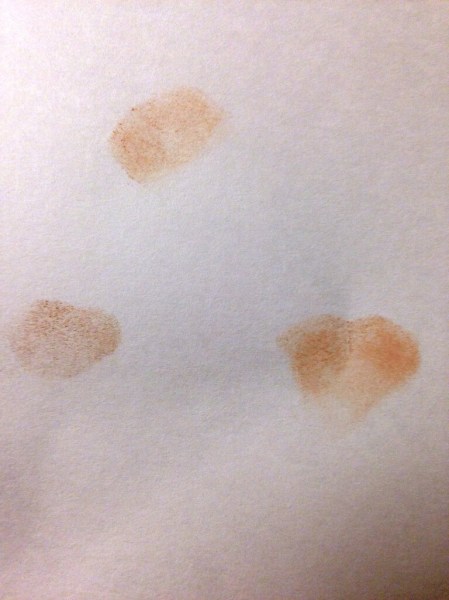 Aaaaand then my daughter used the shadows to make thumbprints on a piece of paper. I stopped her before she got to the hand turkey!
Visit Le Métier de Beauté if you want to find out more about the brand (this box isn't currently available for subscription). Check out all my Le Métier de Beauté Beauty Vault VIP Reviews! Don't forget to take a look at other Makeup Subscription Boxes.