I totally love Healthy Surprise subscription box, but it's been a while – like a whole year! That's Crazy! Healthy Surprise is a super healthy snack subscription box and one of the great things is you do not have to wait for it! You'll get it right away! It ships priority mail and is enough for 1-2 persons snacks for a whole month. There are also bigger snack boxes if you have more people to feed or even an office. I have had some of my favorite snack discoveries from this box.
This box came with a $25 gift card! I haven't checked into it but you can only use it on a gift subscription. Love the packaging.

This insert will tell you everything you need to know about the snacks inside and what they don't include –
Artificial Sweeteners
Artificial Flavors
Artificial Colors
Gluten
Soy
Corn
Wheat
Dairy
Meat
Honey
Peanuts
Shellfish
MSG & Yeast Extract
High Fructose Corn Syrup
Partially Hydrogenated Oils
The Subscription
:
Healthy Surprise
The Description
: Healthy Surprise sends only full size products. All the snacks in it are natural, vegan, dairy-free, gluten-free, and soy-free and each month has all new snacks.
The Price
: $40 per month
The Coupon
: Save 15% off any purchase! Use code
MOMMYSPLURGE
Healthy Surprise Review
This is a large box, and Healthy Surprise really does pack it full of snacks!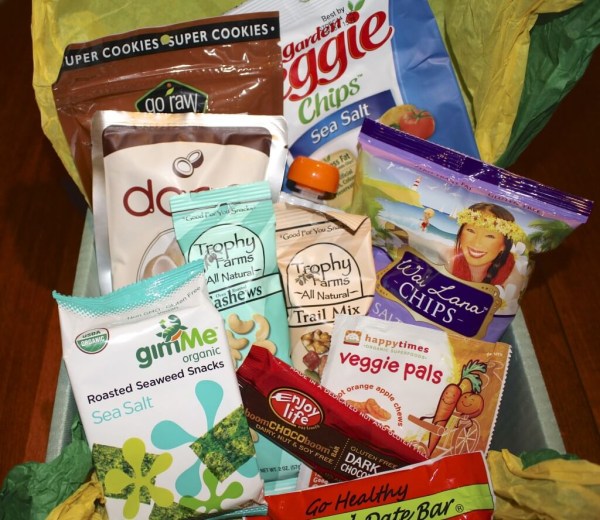 This looked like a great variety. I love how there is usually chocolate something or other in the box!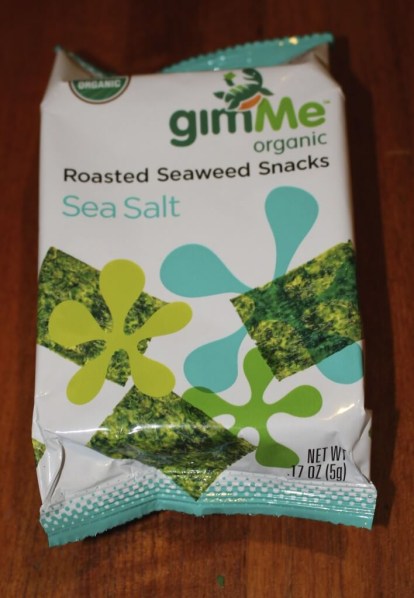 GimMe Roasted Seaweed Snacks ($1)
Plum Mashups – Tropical Squeezy Fruit ($2) These usually go to the kids, but I'm a sucker for tropical fruit. This will make it onto some Fage or cottage cheese!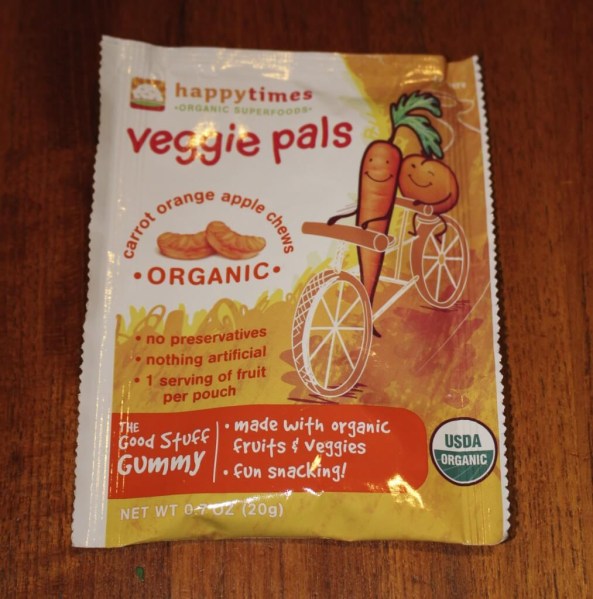 Happytimes Veggie Pals Carrot Orange Apple Chews ($1.75) I love that these gummies have some veggies snuck in! I can be healthy while eating candy!
Go Healthy New York Date Bar – Apple Date ($1.50) I love any apple bars and this one was no exception. Nutty and fruity as promised, all naturally sweet!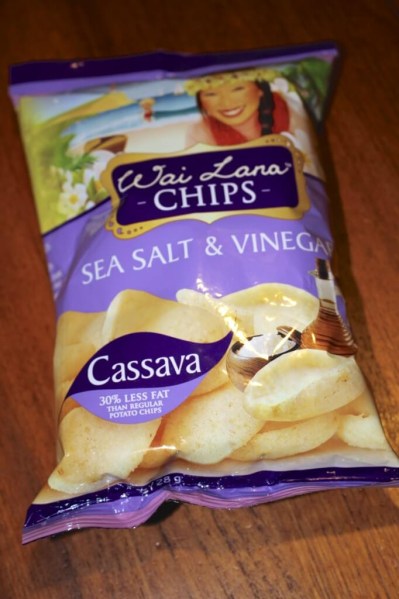 Wai Lana Sea Salt & Vinegar Cassava Chips ($1) I'm totally saving this for my husband, he loves the Cassava chips!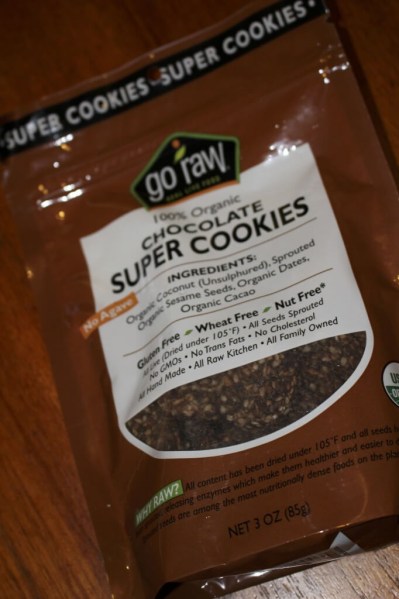 Go Raw 100% organic Chocolate Super Cookies ($4) Easily my favorite discovery of the box! When I turned them over to find the ingredients, I realized they were printed super-prominently on the front!  There are a bunch of varieties that I'd like to try but these were delicious.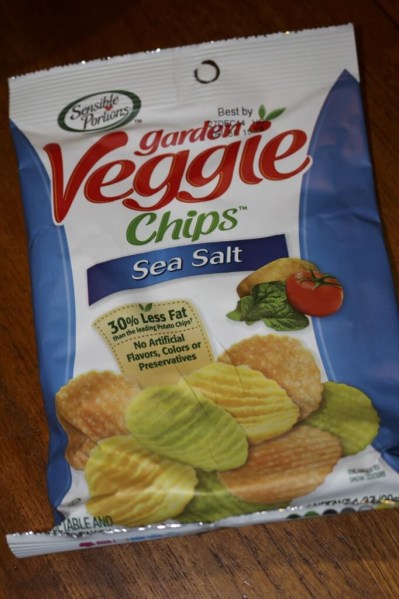 Garden Veggie Chips ($1) These are like Veggie Straws, which my husband is totally utterly addicted to. I'm still waiting to try the apple straws. They sound so awesome!
Dang Toasted Coconut chips in Caramel Sea Salt ($3) This is the first time I've ever seen this flavor in a subscription box!!! They are fantastic, but I do prefer the original unflavored version, just my personal preference. I think I might use these as sprinkles on something fun. They are amazing. You must try coconut chips!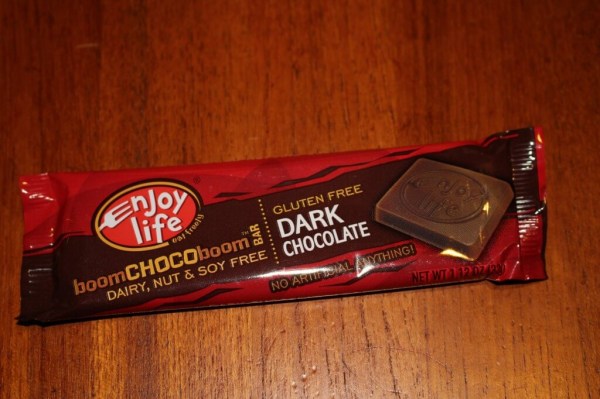 Enjoy Life BoomChocoBoom Bar ($2) Dairy- nut-, soy- AND gluten-free and made in a dedicated nut- and gluten-free facility.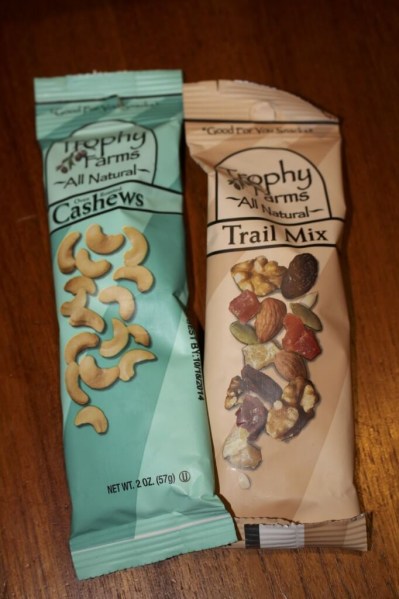 Trophy Farms Cashews & Trail Mix ($2 each) These are perfect to take on the go, and not squishable. I really love the looks of the trail mix – it has some different ingredients in it. I love a good trail mix!
A box like this does have a lower retail value than the price tag (I've found this is true of basically all the specialty food boxes) but you know what, just order this box, head to the farmers market for the week, and you're done. I love that! Some really great new finds in this box! Don't forget to use coupon code MOMMYSPLURGE to save 15% on your purchase!
Visit Healthy Surprise to subscribe or find out more about this box!  See all my Healthy Surprise Reviews!