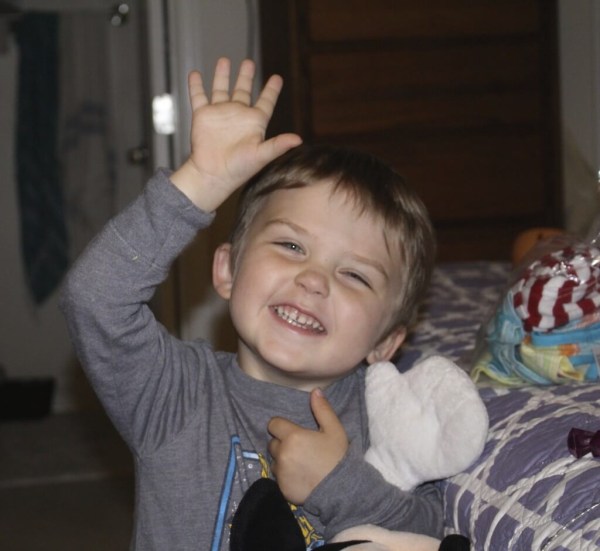 It was a totally sad rainy day yesterday and when I asked if the kids (who were toooootally bored) wanted to do a Kiwi Crate, it set off a round of chanting and squealing! The answer was a resounding yes! The May Fun Farm crate was perhaps one of our favorite Kiwi Crates ever! But do not fear, it was just a preview for the Kiwi Crate Summer Adventure series! If you are new to Kiwi Crate or perhaps a returning subscriber, right now is the time to come aboard! See my full review of the May Kiwi Crate – Farm Fun Crate below the preview of the Summer Adventure Series!
Kiwi Crate Summer Adventure Series
This is the perfect summer subscription for kids! Kiwi Crate is pulling out all the stops! Plus, until June 15 (or while supplies last, sooner is better than later), get a Summer Travel Journal included with your subscription! Every single one of the Summer Adventure Series crates will include the totally awesome Explore! Magazine, which my kids cannot get enough of! All three crates are designed to encourage outdoor fun, exploration, and discovery with hands-on projects. My children currently have a single subscription which they share. However, now that my son (3 and a half) is just so into doing the crafts, I've asked Kiwi Crate how to add on a sibling pack to my subscription. I will order a second box if I need to, because these look so exciting!
June – Camping Trip
Explore the great outdoors with a camping expedition! Your child will use the power of the sun to decorate a the "Sunprint Backpack" for summer trips! Plus, incorporate the LED candles to make the cozy "Glowing Campfire" for a pretend camping excursion. Explore! Magazine will help you get amped for summer adventures with activities like storytelling, star-gazing, and s'mores!
July – Beach Day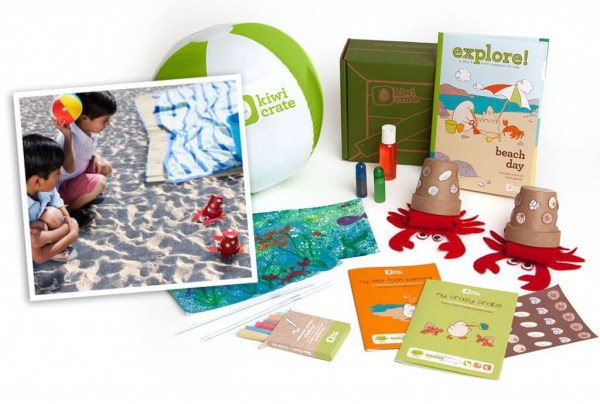 Discover sea creatures & tide pools in this seaside adventure! Make a pair of "Crazy Crabs" that love to play! Use the mini beach ball and the included ideas for games, or make your own!  Turn soap bubbles into beautiful "Seafoam Paintings" of underwater scenes.  Explore! Magazine will help the kids learn about amazing animals that live at the beach, how the moon affects the tides, and more.
August – Amusement Park
Play & learn with a trip to the amusement park! Design and create a funny face "Silly Squirters" carnival game!  Learn about physics and how objects interact when you build a pair of crazy "Bumper Cars" that roll, spin, race, and crash.  Explore! Magazine will let kids discover how amusement park rides work and try more DIY ideas for creative carnival games at home.
Sounds exciting, right? BTW, a 3 month subscription for the summer is just $60 – way less expensive than any summer camp I've ever heard of. I really think the Kiwi Crate Summer Adventure Series will exceed all expectations you have from a subscription box for kids! If you want to see all the activities in action, just watch the video below. You'll get a great idea how Kiwi Crate can help your kids squirt, craft, splash, mash, and create their way to a fantastic summer!
http://youtu.be/1ivVDKCzcng&rel=0
While writing this post up, I realized that even *I* totally missed out on the first crate of last year's Summer Adventures series! I'm going to purchase a Nature Explorer crate for my kids so we can get started on the summer fun ASAP! The other crates were Wonders of Water and Fun With Flight. I don't even think I mentioned it in my August Kiwi Crate/Fun With Flight review, but there were three kites, and we gave one of them to another child – who we ran into about 4 weeks ago. She was so little but she remembered us and the kite! I thought that was awesome!
The Subscription
: 
Kiwi Crate
The Description
: Arts, crafts, and science activities subscription for kids ages 3-7.. Each box is organized around a theme!If you are a busy mom that needs to spend your extra time with your kids instead of hunting down a craft, a subscription craft and activity box is the way to go.
The Price
: $19.95 per month, down to $16.95 per month on a year long subscription
The Coupon
: Use coupon
ADVENTURE
 to save $10! You can also
pick up a free trial
 (Rad Rockets kit – you will be automatically enrolled and can cancel, but saving $10 is a better deal to get the Summer Adventure Series!).
Kiwi Crate May 2014 Farm Fun Review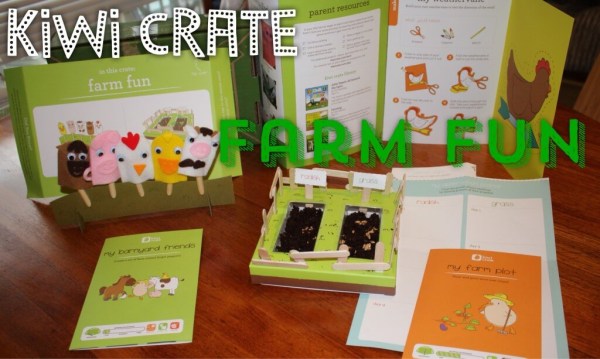 The May Kiwi Crate's theme was "Farm Fun"! It came with everything we needed to complete two crafts – Barnyard Friends & Farm Plot – plus the  Explore! Magazine, which was totally loaded with extension crafts and other ideas to round out the theme! Now that my daughter is a great reader I let her read all the instructions to us! It helps her learn new words and I think her little brother is even more engaged. They are like peas in a pod! Usually on the back of the activity cards there is more detailed information, and I read that to them as they complete the projects or when they are finished.
my barnyard friends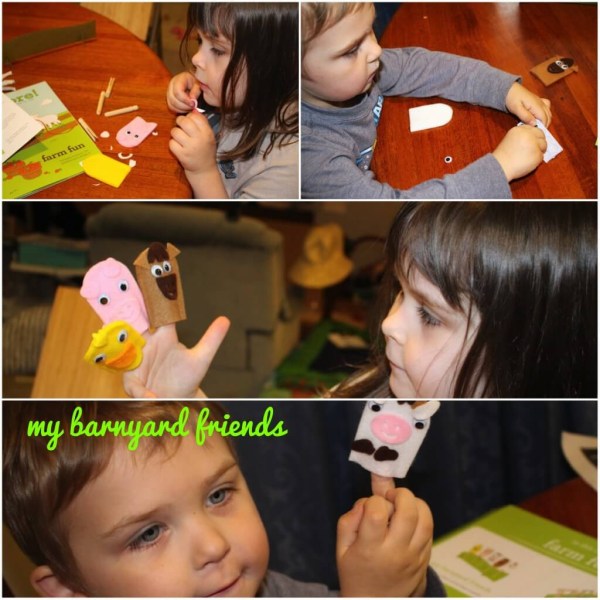 The first project was a set of finger puppets. I love these because they will last the kids a while. I separated out the pieces (there was a suggestion to mix and match but the kids wanted a regular set, which I thought was a good idea) and the kids stuck every single piece on themselves. I thought they did a marvelous job and it really was easy for them to do – no gluing!  They plan to put on a puppet show for their grandparents and made lots of barnyard sounds in preparation.
my farm plot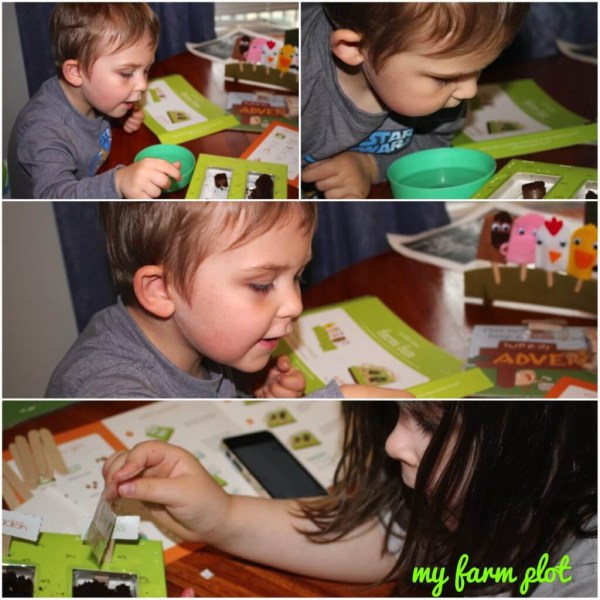 As soon as we were finished with the finger puppets, E begged to do this one! Begged! The farm plot project included all the supplies to plant two crops – radishes and grass! Plus the supplies for a fence and an observation chart to track their daily growth! I didn't really need to assist too much with this one except the folding of the box. I was really excited to see how long this project will last – the observation chart encourages them to return each day and of course to make some scientific observations!
explore! magazine
Just a peek into the magazine, which included a cut-out weathervane projects, lots of activities, and ideas for DIY projects like painting with veggies and making butter! I tend to keep heavy cream around during the summer for making ice cream and whipped cream, so we'll totally do that one!
This month's crate was just so much fun and with the Kiwi Crate Explore Magazine and the observation chart for the farm, this box will keep my kids engaged for many more hours!
Visit Kiwi Crate to subscribe or to find out more about this fantastic kids' craft subscription box! Check out all my Kiwi Crate Reviews to see more.  Use coupon ADVENTURE to save $10 when you subscribe to the Summer Adventure Series! You can also pick up a free trial (Rad Rockets kit – you will be automatically enrolled and can cancel, but saving $10 is a better deal to get the summertime boxes!