I have been locked into a massive ebates shopping spree. 15% back is serious SERIOUS cash back! I find it unbelievable that some people haven't heard because I have been shopping with ebates since 1999! Before I graduated college!  Usually it's just a few percent cash back but sometimes it's huge, like during this week. Today is the last day for the 15% cashback and if you haven't joined, you really should! I get my rebates either to my paypal or sometimes they apply it to an Amazon gift card for me. I also use Mr. Rebates, because sometimes stores just aren't on ebates. But this week has been all about ebates! I placed a ridiculous number of Sephora orders (crazy) picking up stuff for fun giveaways. I just love hearing back from my giveaway winners and they have all been so gracious to email me and let me know how much they love the products! It's so exciting!
I nearly forgot to ask today…  Pretty please vote for me in the Elevation Burger Cup Wars contest. I need lots of votes in order to win!! (You only have to do it once!) Thank you all so much for voting for me. I am really hoping to win!!

Speaking about stuff I absolutely must have,  there's now a fragrance to go with the Shiro Cosmetics Nic Cage Raking Leaves on a Brisk October Afternoon.
I really haven't been doing much besides this – I actually took 10 naps yesterday, not exaggerating. I was pretty worn out.I did exciting things like organize the kids' books, too. There were a lot! Today I'm hoping to get a couple reviews up before my mailbox explodes. I have all these mystery boxes showing up on my FedEx delivery manager, but for sure I am getting our Citrus Lane box! Today I'm also getting a Bare Minerals quarterly auto-delivery – it's like 4 weeks late, I don't know what they had trouble sourcing but I'm excited to get it – and a couple of those Sephora orders!
Now for some Monday Mini Reviews!
Beauty Box 5's May theme was Fresh & Focused! BTW, do you like mini reviews? Just to take a peek? I can't do a full on review of every box but I sure want to include at least a photo and a quick run-down!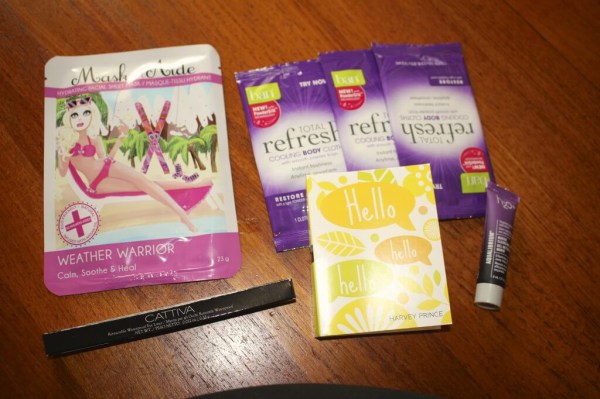 Maskeraide Weather Warrior Hydrating Facial Sheet Mask ($6) Fun for the summer!
Harvey Prince Hello Perfume ($2) My new MUST HAVE Perfume, I love it! LOVE LOVE LOVE.
Cattiva Retractable Waterproof Eye Liner ($20) It was ok. But fun to find a new brand!!  It actualy had serious staying power.
Ban Total Refresh Cooling Body Cloths ($1) I actually love these!
H20+ Aqualibrium Marine Cleansing Gel ($1)
I finally found Harvey Prince Hello – at Birchbox!  Get a free sample with qualifying purchase of $35+ of full-size products in the Birchbox Shop. Use code HARVEYPRINCE at checkout. Available only while supplies last.
Yes, that's totally my pregnant belly in the photo. Hi Mickey!  (This is what my children call him – after Mickey Mouse – , and no, Baby Boy O'Grady's real name will never include "Mickey").
And Graze!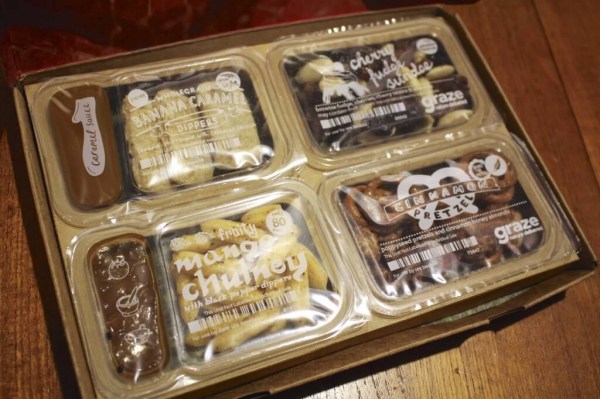 cherry fudge sundae – this was to die for!
fruity mango chutney – sweet and spicy
cinnamon pretzel – average
wholegrain banana caramel dippers – kids went nuts over this. obviously. it's cookies dipped in caramel.
Have an awesome week, Happy Monday!