I'm linking up with Friday Fave Five with Jennifer at Mom's Got Mail!
Least favorite thing – Birchbox is having a terrible issue getting boxes out this month. BOO!
1. Fave Review – Obviously!!! Diana's Fabletics guest review!
2. Fave thing to eat – Elevation Burger!  Pretty please vote for me in the Elevation Burger Cup Wars contest.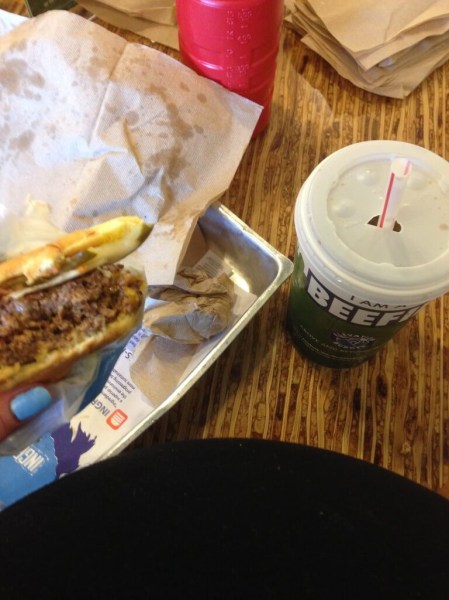 I told you I would ask. Every. Single. Day. And I meant it. Please vote for me! Because I could so eat that ORGANIC DELICIOUS BURGER every day. Ummm my baby loves it too, it's not just me?!?!!
3.  Fave Beauty Product of the Week – TokyoMilk Dark Salted Caramel Lip Elixir! And look at that tiny paw trying to get into it! Love that too!
4. Favorite Deal? Ebates 15% cash back – hands down! I did 4 Sephora orders this week. Nope, not kidding 🙂 FOUR. I may do another one today!
5. Favorite Time Killer – Organizing my makeup! I haven't set up my second desk yet. The whole configuration is a work in progress and I may actually wait until we move (which is probably happening sooner than later) to actually do it. And yes, those are Hunch Punch cups on top. Shhhhhh. My makeup hasn't actually been organized in years, and several of the drawers are empty (one now holds items I have pulled from my incoming loot for giveaways!).  My takeaway – I must do a full face of makeup approximately three times per day for the next 7 years.
Have a fab Friday! What were your favorite things this week? Don't forget to enter my awesome giveaways!