dcuisine is a brand new meal delivery service offering fresh chef-prepared meals that are frozen and shipped to you for gentle reheating at home. If you are a fan of meal subscriptions (or not a fan because you actually have to cook it), you will love dcuisine! They aren't like regular frozen meals at all or even other frozen meal delivery services. dcuisine meals are prepared in small batches with fresh, seasonal, all natural and organic ingredients with no preservatives, fillers, artificial colors or flavorings. You do not microwave these meals, but instead prepare them sous-vide style in order to preserve their great taste and texture.
I selected 4 meals to try in my home (my husband assisted in eating everything with me!) and since then dcuisine has doubled their menu items available. You can choose from 7 soups and 8 entrees. The prices range from $11 to $19 per meal, and you must order at least 4 servings. There is a flat-rate shipping fee of $15 and dcuisine ships out on Mondays. Obviously after trying it out (it's super delicious) you could just order half a freezer of meals to minimize the shipping costs.
The meals I selected arrived extremely cold and the dry ice was still ice!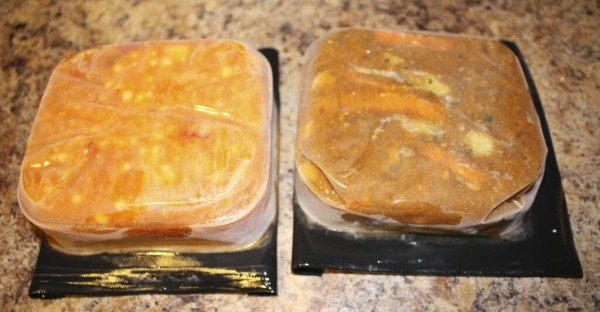 Once you remove the meals from the container, they look just like this. The pouches do not contain any BPA, PVC, or PVDE and are food-safe. dcuisine gives plating, wine, and accompaniment suggestions on their site. The meals we selected we did not feel needed anything extra, and they were quite large servings. Some of the newer meals – like the Meatballs and Marinara Sauce – you would definitely want to add an accompaniment to round out your meal!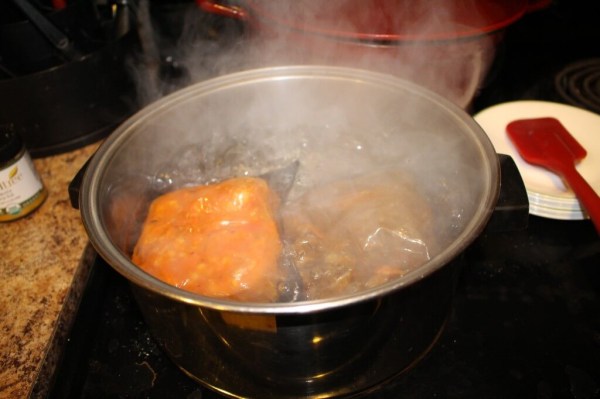 You reheat the meals in simmering water (I found that I needed the long end of the time frame given on the back, probably because I cooked two meals at once). It did take longer than a microwave but I think it really does help the texture and flavor, because everything I ate was fantastic. I liked that I could eat beef and my husband could eat fish, and I didn't have to do anything besides plop the bags in the pan!
Pacific Seafood Stew ($19) Smelled like cioppino as soon as we opened it. I am not a seafood eater but my husband loves it and he said it was some of the best he'd ever had. He will usually order this dish when we are at a seafood restaurant and has eaten it at top places! We added little cilantro garnishes to everything because it was darling. This menu item contained slow roasted wild caught shrimp, salmon and scallops in a rich seafood broth with couscous, veggies, and Pernod.
Beef Short Ribs ($15) This was absolutely delightful and as a bonus, the beef short ribs are hormone and antibiotic free! Really top notch gourmet meals.  The flavors from the Burgundy really shone through and I was suprised at the fantastic texture of the carrots and potatoes. I wouldn't have known it was frozen at all.
Yucatan Stuffed Chicken Breast ($15) Was I ever surprised when a whole chicken breast popped out of that pouch! This was probably my favorite meal although absolutely everything was delicious. The stew is a red pepper achiote sauce with zucchini, corn, lime, and cilantro.
I was doubly surprised that it was stuffed. I wasn't really paying attention I guess! This one did take longer to simmer – about half an hour. The inside was a masa stuffing with the same veggies as in the sauce. 
Thai Chicken with Lemongrass Soup ($10) A creamy coconut soup with carrots, ginger, lemon grass and kaffir lime, along with chicken and roasted oyster mushrooms.  My husband gobbled this one right up, and he thought the flavors melded beautifully. The mushrooms were a little strong for my tastes, but I don't eat mushrooms, so that's understandable!
We thought dcuisine was a fantastic alternative to takeout or other meal subscription services. The price was right on par with, say, picking up a meal from the restaurant downstairs or down the block if you're in NYC, or ordering out anywhere else. Some of the meals were about the price of a value meal at a fast food chain . Plus you really don't have to do anything except heat up some water. The meals were delicious; all the meats were tender and perfectly cooked and the vegetables stayed relatively crisp without any mushiness. I was impressed by the restaurant-quality flavors – both combination-wise and in terms of how delicate everything was and how well it blended together.
Visit dcuisine to find out more and if you'd like to give them a try,  save 15% with coupon MOMMY15. Although they aren't a true subscription, I've listed them in my fresh food and dinner kit page in the subscription box directory because I think they are just as useful as any other meal subscription box!