You guys, I'm so excited about my husband visiting today (the first time in two months) that I woke up at 4am!!!! That or it's the first night in forever a child hasn't been all snuggly buggly with me in bed (aka flailing limbs all over me) and maybe I finally got enough sleep. Who knows?!  Oh and also I was absolutely starving. With all my extra time I cleaned out the old coupons from the subscription box coupons list, updated WordPress, and did all sorts of housekeeping.
We have a big huge weekend planned, mostly around the house. Maybe the most exciting thing is that we're telling the kids they are getting a new baby brother at the end of summer! E's getting a new bed and Daddy is in charge of that (it's here, I was in charge of carrying it down half a flight of stairs last week).  We have a modular bed for our daughter, so they are getting stacked! E's bed is brown and A's bed is white and we are just going to ignore it for the next 2 years. I'll post a photo of the finished product on Monday. My awesome neighbor is going to help us get the mattress home from Costco on Saturday!
We also have Kiwi Crate, Kidable Adventures, Darby Smart Easter crafts, Darby Girl will be here (Daddy is going to be SUPER DUPER BUSY because Mommy is writing her final papers for school), and then I have a gigantic pile of squigglies from boxes and Easter gifts and I know he is going to come up with something absolutely amazing because we totally don't have baskets. Oh and I'll be defrosting some cupcakes we made with My Bakers Box! It's also his birthday (day after Easter) so we'll have to have a party for that too. I admit I ordered a tin of cookies and a cake from Cheryl's and pressed the easy button on that one. I did get the kids a few pieces of candy for Easter this year (like TWO, seriously TWO) but otherwise that's MORE than enough sugar.
When you clean your face and you're not taking a shower, do you actually go in and use cleanser, or just wipes? I cannot stand getting my hair wet for just cleaning my face. It's dumb. I should just get in there and do it, but I hate it. I forgot to take off my makeup last night so I got up and removed my eye makeup, used wipes, and toner. But actually getting everything all wet? No. I know this is probably bad. I had so much left on my face I was like, ugh, I'm just going to take an extra shower. So I did.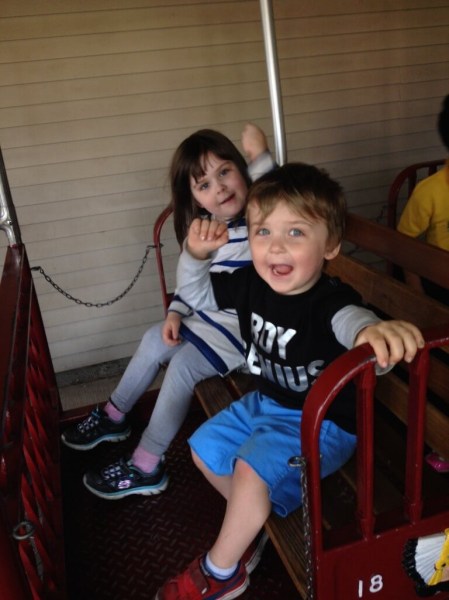 My sitter took the kids to the big regional playground and they have a train. He looks so giant in this photo. Like an actual boy. I think it's just the iPhone camera because A looks the same size.
And because I have nothing else interesting to say with a brain that woke up at 4am, I speckled my nails!
I'm linking up with Thursday Thoughts with Jennifer!