Oh, it's Monday! And today is a babysitter day! I'm about 2 weeks out from the end of classes and I have my sitter booked for a couple days in a row so I can get stuff done. Today I'm filing my taxes (they've been done for a month but mistakes are much less likely if i 1 – don't file them at night and 2 – when the kids aren't around), returning stuff, sending out giveaway prizes, coloring my hair (check out my orig Madison Reed review, I'm doing a new color, and I'll have a giveaway!), painting my nails, and all sorts of really essential things that it's super difficult to get done otherwise. Oh and homework. Packing it all in today.  So I think a review or two this evening? I'm not really sure what's coming today besides subscribe & save! Ipsy maybe? Birchbox? I hope so!
Fedex has still not been able to find my child's nightlight. Cloud B is sending another. They (fedex) were however, able to pull up 2 random deliveries from January that have already happened and add them to my delivery manager. Thanks for that guys.
I am also super proud of myself – I fell off the planner bandwagon in a BIG HUGE way when I got sick and today is the first day I have picked that sucker up and written in it in a month. I'm so embarrassed.  I also spent half of yesterday getting stuff ready for an online yardsale (aka doing ebay listings on my phone). Trying to clear stuff out because I need the space! I really want to separate my makeup table and my work table but I can't do that with piles of stuff everywhere! I was going to move my work area into our craft room, but baby #3 pretty much killed that plan (ummm what are we doing with all our crafting supplies?).
Let's talk about Biscoff. Remember how I was all like, oh, it's going to take 100 years to use the jar? no. It's half gone. That's what happens when you dip a stroopwafel in biscoff and drink it with a straw.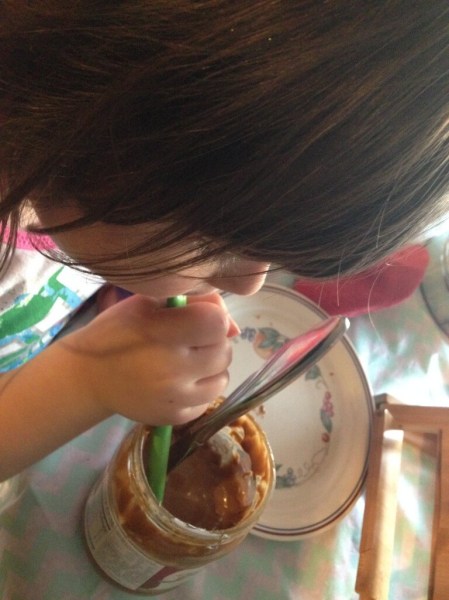 Daddy dared us to.
The weather has been absolutely perfect and we've been taking every chance to get outside and play!
Even though I'd totally bought French fries and defrosted some meat, the kids begged me to go to the burger store. I had a voucher & we needed a walk, so I said ok. We are moving past the point where 2 double burgers and a fries is enough for the 3 of us. I think I'll add on more fries. My mind hurts over how much 3 kids can eat — ONLY when they are out to dinner of course – especially 2 boys!!