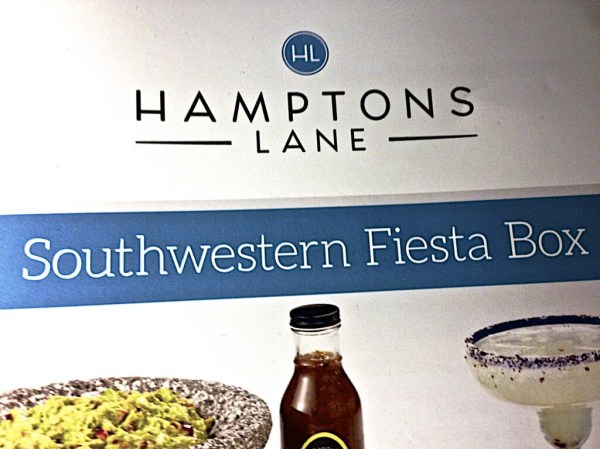 Hamptons Lane is a new subscription box launching this month featuring fun kitchen items – food, things to add extra pizzaz and flavor to your food, and tools and servingware for your kitchen! Yes my favorite kind of box! I love discovering new kitchen "stuff"! I thought that everything in this box was the kind of thing that makes cooking really fun and because I do so much of it, it just makes me happy. I'm already a fan after the first box!
This month's Southwestern Fiesta box is just in time for a favorite fun holiday, Cinco de Mayo.  Hamptons Lane launches this month and will ship April 14 (that's when cards get charged). You'll have a little time after that to still pick one up before May, but this box may sell out.  One of the unique features about this box is that you still get the savings from the subscription box model (it's $45 per month including shipping) but you can skip the month if you already have the items or whatever – you'll know what's in the box ahead of time! Just go ahead and register for a new account and you should get monthly emails letting you know what's in the box!

And this was a totally giant box! Seriously! Have I ever received anything like this from a subscription box? No. It weighed over 10 pounds, I think maybe 11! I couldn't even pretend that this wasn't my kitchen table for this photo!
The Subscription
:
Hamptons Lane
The Description
: Each month, Hamptons Lane curates an amazing box of artisan foods, kitchen tools, and serveware for the food lover. Each month is different – spotlighting a different region, food, ingredient, skill, or activity – and you can always skip if you don't want that month's box, free of charge.
The Price
: $45 per month
The Coupon
: Get $10 off your first box! Just use 
this link to save
! FYI because you aren't charged immediately, this will show up on billing day, but it will be there when you are charged.
April Hamptons Lane Review
Inside my huge cardboard box I found 2 more boxes, one containing the item on the left, and the blue box.  I placed the rock thing in another box lid to protect my table (you may recall my kids smashed the glass last summer).  I was super excited about this box!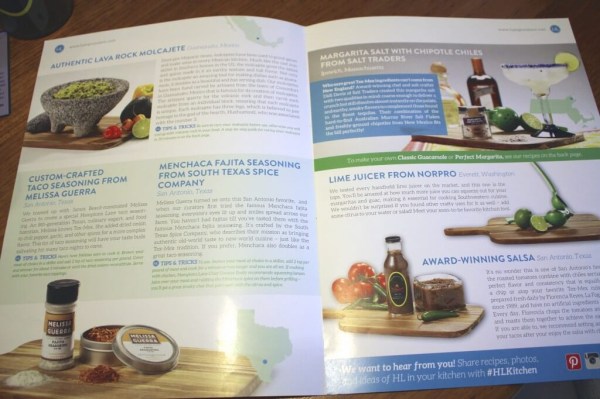 There's a fantastic information booklet included with each box. You get fun information on each product and information how to use each one.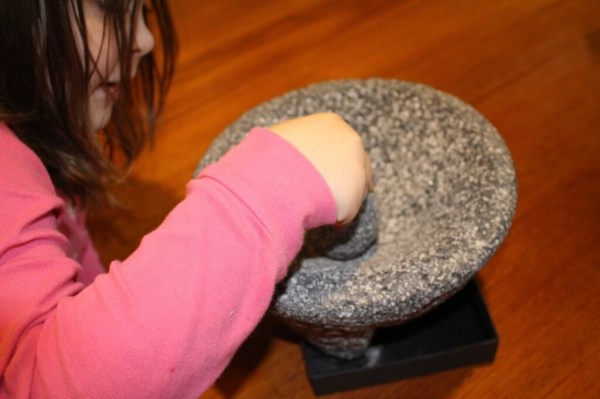 Authentic Lava Rock Molcajete ($40) This thing is so amazing and impressive! Molcajetes are used to grind spices and make salsa and guacamole! It's hand carved from a single piece of lava rock. What I found when researching everything is that cheap molcajetes are carved by machine out of granite but the texture isn't the same! This is the real deal! Molcajetes have to be cured, and Hamptons Lane has provided complete instructions – both old way (grind rice for like a day in it) and new way ( use a wire bristle brush). My husband is visiting next week, and he'll have the honor of curing this. Oh, and happy birthday! He's the king of peppers and spices and I know this tool is going to find a home in our kitchen for very many years!
In addition to the extensive curing instructions, which are really helpful, there are 2 great recipes. Now I can actually buy the big bag of avocados at Costco! I'm so excited, I love cooking Mexican/Tex-Mex/Southwestern food!
Norpro Lime Juicer ($8) Ooooh perfect for margaritas! I love margaritas. Love. But it has to be the cocktail kind, not the frozen kind. Juicing a ton of limes is actually kind of a pain so this is perfect. Until I'm able to partake of my beloved tequila again, I'll use this for squeezing limes over fajitas and pad thai and in guacamole of course! I may not be able to drink this summer (if you're not a regular, I'm pregnant!), but we're packing as much delicious summer food in as possible!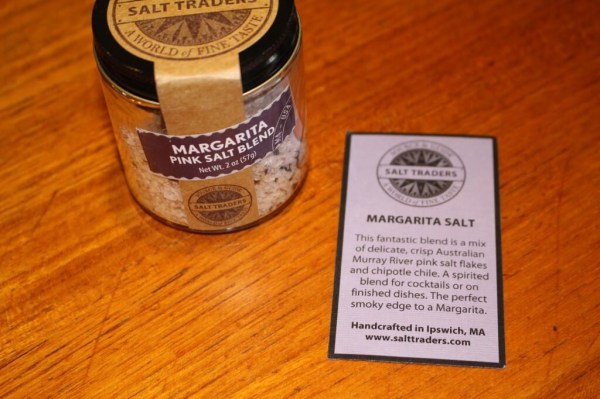 Salt Traders Margarita Salt with Chipotle Chiles ($12) This is for rimming a margarita glass to enhance your drink! I'll be sprinkling it on my aforementioned summer food. Won't this be fabulous to set off some veggies for fajitas? Yes!
Melissa Guerra Fajita Seasoning ($5?) Hamptons Lane  got together with James Beard nominated chef Melissa Guerra to make this fajita seasoning (and the taco one, below!). I'm really looking forward to trying out both seasonings and comparing them. I typically mix up my own fajita seasoning and use that to make taco meat, which I put on a salad (whatever works, right?!) .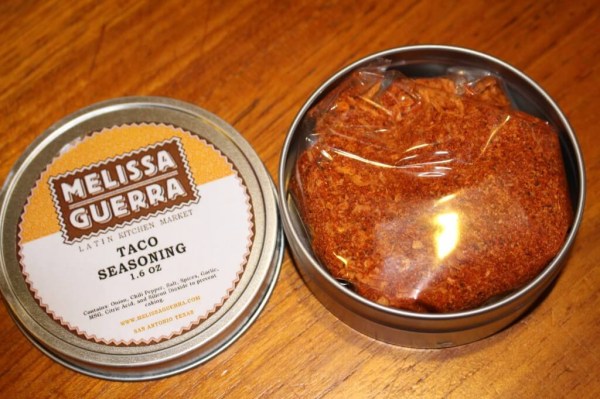 Melissa Guerra Taco Seasoning ($8? It's in a tin!) I never thought of fajita and taco seasoning as different! Obviously they are!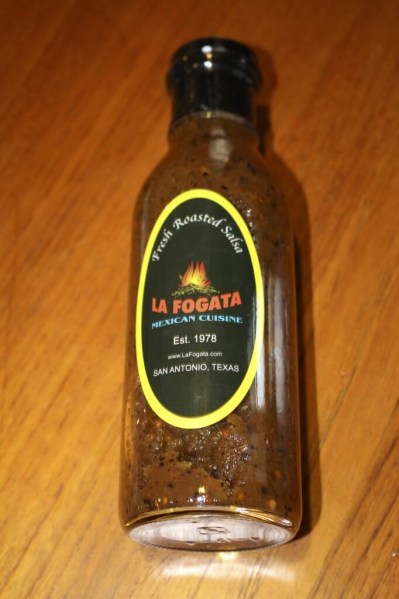 La Fogata Salsa ($10)  Oh the JEWEL of this box! Best for last! There are just three ingredients – fire roasted tomatoes, serrano peppers, and salt. Perfectly seasoned. You can see the grill flecks on the tomatoes in the photo, the smokiness is the immediate flavor, and then the peppers – sharp and right away, it lingers but does not build, and the salt is just perfect. Yes, I opened it and ate it right away, I have a salsa problem. I just eat it with a spoon. This is a hot salsa for sure, but it's not a HOT salsa. It definitely stays with you in a wonderful way but didn't burn my tongue or anything like that! I also think this salsa provides some great inspiration for what you can do with your molcajete!
Here are some upcoming boxes from Hamptons Lane!
I really can't wait for the next one, I think it will be excellent! I'm getting ready for a delicious summer!
You can sign up and save $10 on your first Hamptons Lane box (FYI the $10 off will be automatically deducted when you are charged on April 14), or if you're interested just sign up and get on the list! I really loved this box, so inventive and everything for $45 including shipping that lava rock molcajete! I think the box was worth at least $83, so the value is definitely there.  What do you think? Do you love it? NOM. I can't wait to experiment with my new grinder!