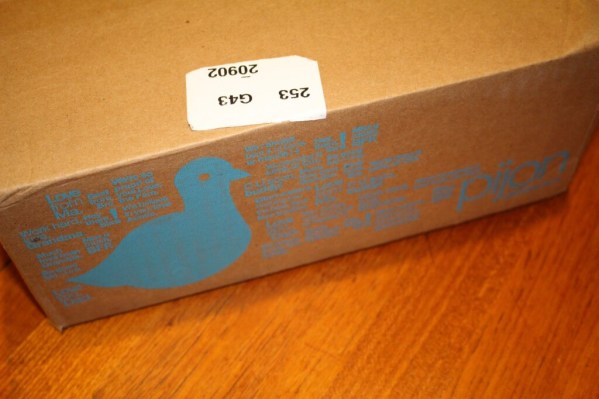 April PijonBox is here! This is a fun college-oriented subscription box and I have enjoyed getting it. Usually something fun and something super practical, and I've found that it's a good value. Plus it usually has items I have never seen before!
The Subscription
:
PijonBox
The Description
: College care subscription tailored to needs of recipient plus a delightful surprise every time. Crates are stuffed with fun and useful items, like food and snacks, cleaning supplies, grooming and personal hygiene, and more!
The Price
: $29 per month
April 2014 PijonBox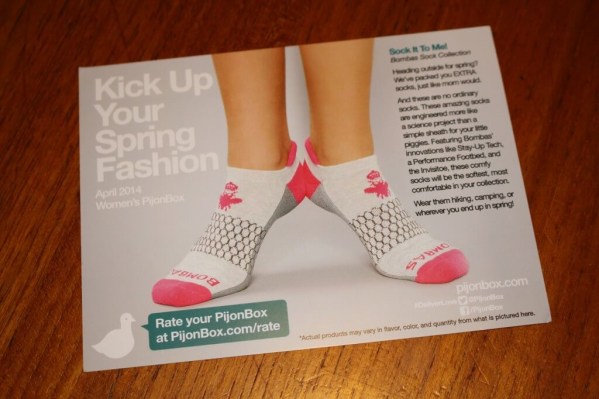 The theme for April Women's PijonBox is Kick Up Your Spring Fashion. Which means SOX!
There's a great information card that tells you everything you need to know!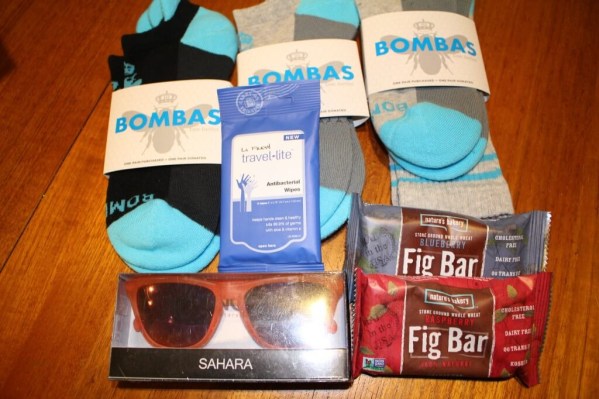 Bombas Socks Collection ($27) Wow, are these super engineered. The toe seam is hand joined and it's basically invisible. LOVE that. Love that there are three pairs! I am basically a small child and always lose socks (seriously where do they goooo?) and this was great for me! My only sadness is that it would have been GREAT to have them in pink, but that's me being jealous because I normally actually buy black/blue socks in exactly the same colorway as these. I'll pass along the long socks!
La Fresh Antibac Wipes ($2.50) I have serious wipes/La Fresh love. These are wonderful, I've used them before, and I handed them straight to a kid to put in the stroller bag (my school nicely has purell dispensers everywhere that I use immediately when I get in from the subway!).
Nectar Sunglasses – Sahara ($20) You can mix & match frame parts? I guess that's cool. I like these because they have purple lenses. Alas, my LASIK was not to be this year (maybe sometime after the baby is born, a long while, after I know what sleep is again). I'll store them because I like them. I protect my sunglasses like crazy because they are prescription but I know normal people lose sunglasses all the time, so this is perfect.
Nature's Bakery Fig Bars ($1.20) I know what dessert is tonight! I love these puppies! I really do. They're like mega newtons except a zillion times tastier.
The value of my April PijonBox was $50.70! This was a fantastic box and I am seriously impressed with the Bombas socks. Everything else is super usable and I am a happy camper!
Visit PijonBox to subscribe or find out more about this subscription box. You can also check out all my Pijon Box Reviews! Don't forget to take a look at other Subscription Boxes for College Students.