April's Love with Food is all about Flower Power! Cute stuff in this box and the children "allowed" me to open boxes because they knew there were snacks coming! They were super excited to see lots of kid friendly food in this box. Love with Food i is always a fun sampling box and it's great that they donate a meal (2 with the deluxe box) with every box!
The Subscription
:
Love with Food
The Description
: Love with Food is a gourmet sampling and discovery subscription box filled with 8+ gourmet treasures centered around a monthly theme. The deluxe box contains 16-20 items.
The Price
: $12 (regular) or $19.95 (deluxe) per month
The Coupon
: Save $10 Use code
YUMMY
(all caps!).
April 2014 Love With Food Review – Deluxe Box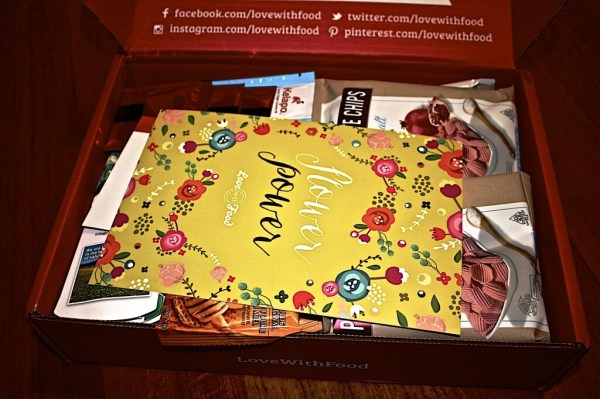 My pictures of the April Love with Food info card turned out terribly! But the graphic is super cute this month! After a long winter, spring is finally in sight. Enjoy it with some flower inspired treats! YUM!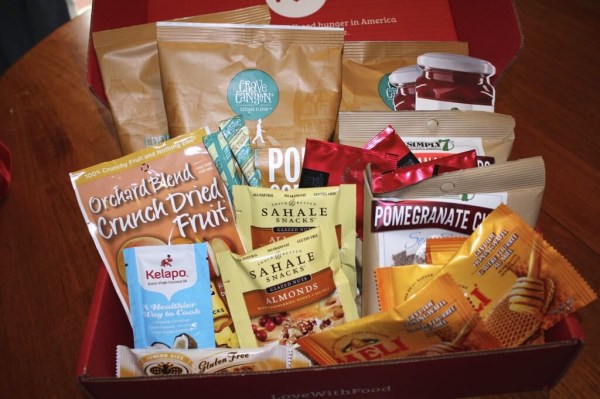 This shot is after we look at everything and the kids were vibrating with excitement. They are snacking right now, they love to try one of everything!
Meli Honingwafels – Honey Waffles [1 in classic box] – He was so excited. He is a serious stroopwafel fan (see this morning's post) and he will eat all of these. I wonder if school would hate me if I included them in his snack box? Probably! They are honey instead of caramel so they are a little softer than the traditional kind! These guys also make lychee honey and chocolate filled waffles. We need those.
Simply 7 Snacks Pomegranate Chips with Sea Salt [not in classic box] – I saw these reviewed once and had to have them. I don't know if they were exactly my thing, but the kids sure did like them. Plus they're pink!
Wild Hibiscus Flower Co Heart-tee [1 in classic box]- Super flower power! Hibiscus tea is supposed to lower anxiety & stress. My daughter loves fruit teas and I'll make this for her soon!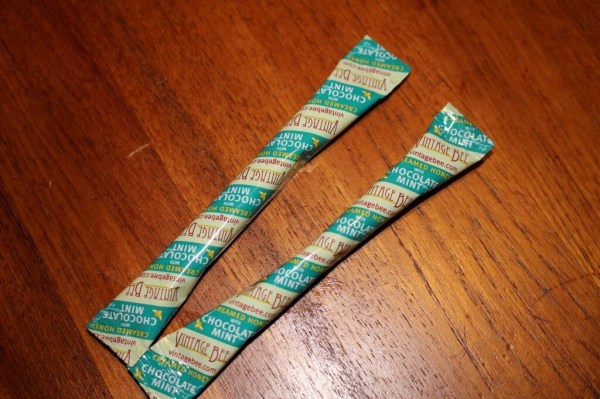 Vintage Bee Creamed Honey with Chocolate Mint [1 in classic box] – This had a really nice true peppermint flavor. My daughter loved it and ate it during (another) encore showing of Frozen. And also bees make honey from flower pollen if you're not quite getting the honeyed items!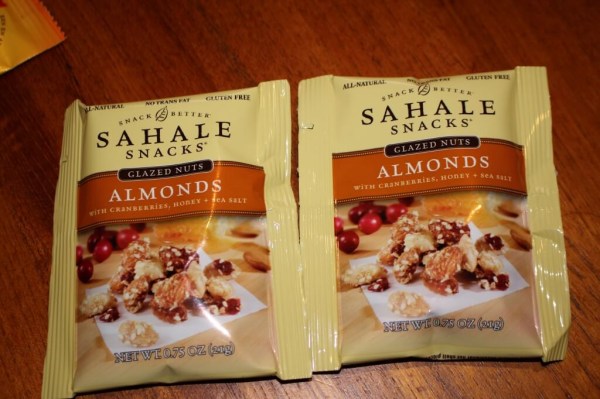 Sahale Snacks Almonds with Cranberries, Honey + Sea Salt [1 in classic box] Always yummy! I stole one of these before the kids could eat everything! So crunchy!
Rigoni Di Asiago Fiordifrutta Strawberries & Wild Strawberries Organic Fruit Spread [1 in classic box] – This looks really fantastic, and it's juice sweetened rather than with sugar.  There are sooo many flavors and I want to try all of them (pink grapefruit? sign me up!) They do have some, but not all the flavors at Vitacost. If you aren't a customer you can go here to snag a $10 coupon. 
Bumblebar Organic Energy Bar [1 in classic box] These are peanut flavor but made mostly with sesame seeds. Quite sticky and the kids loved them!
Crave Canyon Popcorn [1 in classic box] There are 5 flavors but we only got one – Anise Kettlecorn. A little disappointing (I hate anise) but fortunately the kids loved this and ate two bags. They were at the playground for 4 hours today and were basically eating machines.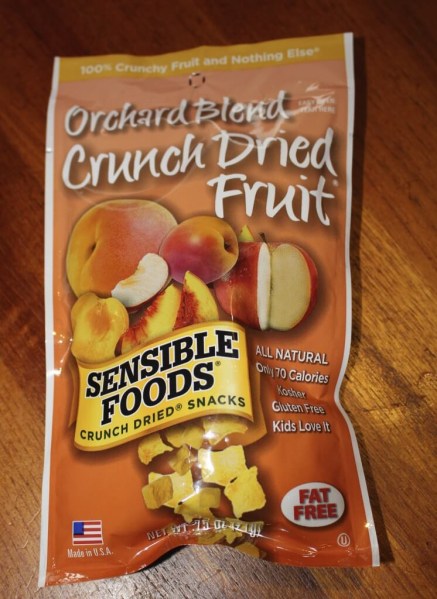 Sensible Foods Orchard Blends [1 in classic box] Crunch dried apples, peaches, and apricots. Yummy and so spring like. The kids really do love these and we are always excited. I'm going to save these for a non-messy on the go snack!
Kelapo Coconut Oil – As I buy coconut oil in bulk I think I'll have to do what the information card suggests with this – add to a smoothie or spread on toast. Or I could just squeeze it into the big bucket. Or have a taste contest!
The April  Love with Food I thought was really a fantastic box. I would like to see  Love with Food do a little more flavor mixing up with the deluxe boxes but otherwise, I have no complaints, and it really is so much fun to see a hamper of new fun snacks on our door, and we always end up totally falling in love with something new! I think this month it's going to be honey waffels and that fantastic looking fruit spread! I really want to try the Pink Grapefruit!
Visit Love with Food to subscribe, find out more, or just go shopping in the shop! Check out all my Love With Food Reviews! Don't forget to take a look at other Snack Subscription Boxes.