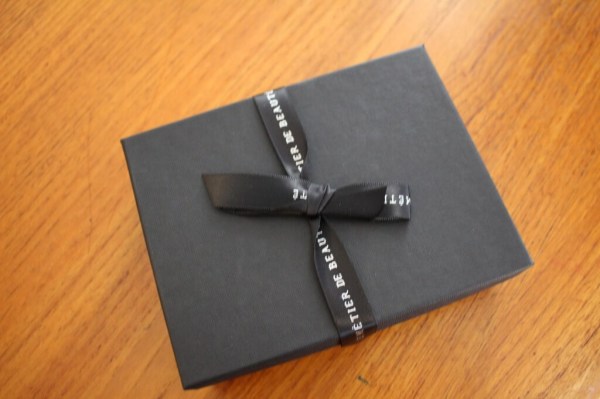 Le Métier de Beauté Beauty Vault VIP is the most reliable subscription box – it nearly always shows up in the first couple days of the month, if not before!  This month the box was once again one simple product!
The Subscription: Le Métier de Beauté Beauty Vault VIP
The Description: NOT AVAILABLE AGAIN UNTIL NEXT YEAR. Le Métier de Beauté experts will send you a carefully curated full-sized product or assortment of products shipped right to your door. One full-sized item or an assortment of items will arrive at the beginning of every month. Also available, the Monthly Kaleidoscope Program.
The Price: $348 per year
April 2014 Le Métier de Beauté Beauty Vault VIP
If the card is hard to read, that's because it is. Enhance your beauty with a gentle veil of silk. I wonder how many subscribers there are and how many they have to write.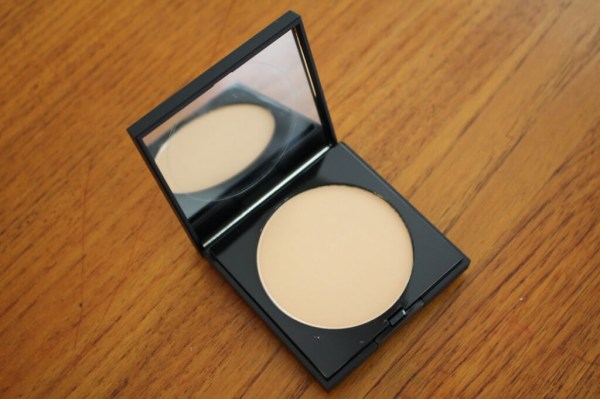 Le Metier de Beaute Peau Vierge Anti-Aging Pressed Powder ($75) I got shade 2, which I think is right for my skin tone, though perhaps for the fall. Depends how much self-tanner I put on! This is a soft pressed powder with "Vital ET, a powerful antioxidant and anti-inflammatory [This is Vitamin E], and Sodium Hyaluronate, a major contributor to greater skin hydration." And it's paraben-free. The powder provides a soft focus effect.
This compact is so chic! I love how the pouf is underneath! I am super pleased with this month and with this subscription in general. I don't think I'd do it for another year – I think I have an entire collection of LMDB but I'm so happy I signed up. Definitely a luxury makeup upgrade!
Visit Le Métier de Beauté if you want to find out more about the brand (this box isn't currently available for subscription). Check out all my Le Métier de Beauté Beauty Vault VIP Reviews! Don't forget to take a look at other Makeup Subscription Boxes.