April's Julep Maven box included the perfect squigglies for Easter, as well as the perfect colors! Spot-on Julep! (There were actually 2 candies btw, one was hiding!) Before we get started, there's a new mystery box! Order by 4/14! This morning PERK30 was working for 30% off your order, and PERK10 was working for $10, but they are no longer valid on mystery boxes. The great news is that you should be able to use them on other stuff (unsure about the details on PERK10 – did anyone actually get that as a card? It may have a minimum order amount!).
Updated June 1: New Mavens can customize their box as much (or as little) as they like. Sign up for 1 month and pay $24.99/month ($4.99 shipping for your welcome box), or sign up for 3 months and pay only $19.99/month (FREE shipping on your welcome box!!)! Take the Style Quiz  and enter FREEBOX at checkout to get your first box free. I totally recommend picking up the 3 month customizable subscription! I am loving being to pick out exactly what I want!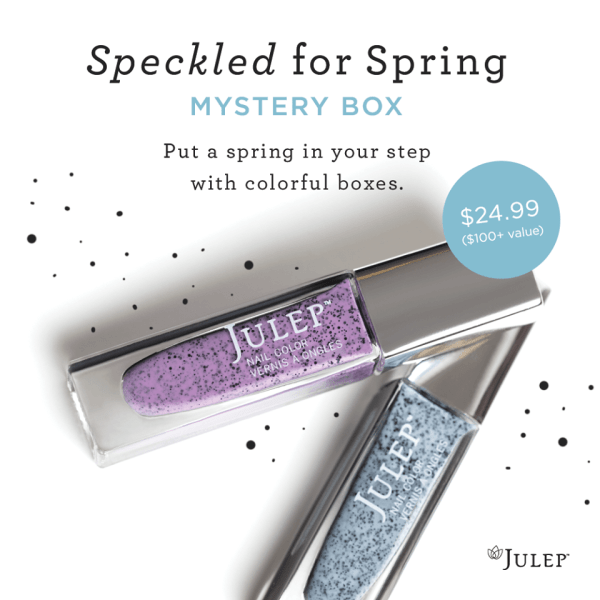 It's the Speckled for Spring Mystery box and I happened to get the speckled add-on with my Julep box! Boxes are $24.99. I think I'm going to get the box with the blue, just to be egg-like. I'm having a hard time not getting both!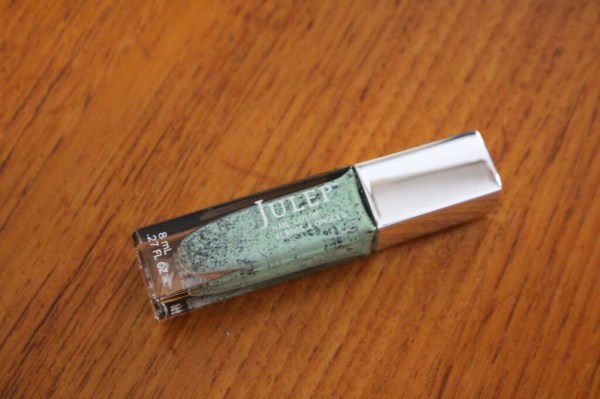 Felicia – Black speckled mint crème. Well, when I first put this on I truthfully thought it was hideous but now I love it. It's got sort of a 50s formica vibe plus a speckled egg and I just like it. My kids love it too.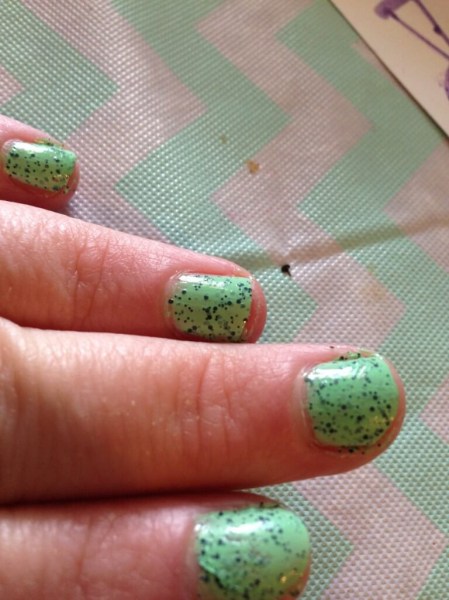 Wears very well! And yes, I mussed up my polish by immediately sticking my hand into a bag of pretzels. Oh well.
If you aren't a member yet, you can use code FREEBOX to go ahead and grab your free starter box! It's $4.99 for shipping. Plus you get free shipping at Julep! So if you want the mystery box, obviously sign up!
The Subscription
: 
Julep Maven
The Description
: Nail polish box and a beauty box. Get either 3 polishes, 2 polishes and a beauty product, or 2 beauty products per month.
The Price
: $19.95 per month
The Coupon
: Use code
FREEBOX
to get your intro starter box free! (Pay $4.99 shipping)
Julep Maven April 2014
FYI before I start you can save 25% on the Julep Glow Blushes  and Glow Bronzers through 4/30 with code GLOW25. You can also snag 25% off the Blush & Bronzer brushes with the same code.
Julep Glow Pore-Minimizing Blush ($19.20 Maven price) In Petal Pink. Very cute, I haven't tried this one out yet, it has a very subtle shimmer and I know it's great for my skin tone. Since I have a lot of loose blushes this one will be more portable for me.
So so happy with both of these, but the Kayla, oh my, it's one of the best purples I have ever seen. Both needed quite a few thin coats but the results were worth it!
So hard to capture, it's gorgeous!
Very shiny and bright polish! Don't forget to pick up a Speckled for Spring Mystery box if you want one – use code PERK30 to save 30%. I can't decide yet!
You can check out the rest of my Julep Reviews or sign up to get your free intro box – just use code FREEBOX to give it a try! (Pay $4.99 shipping)