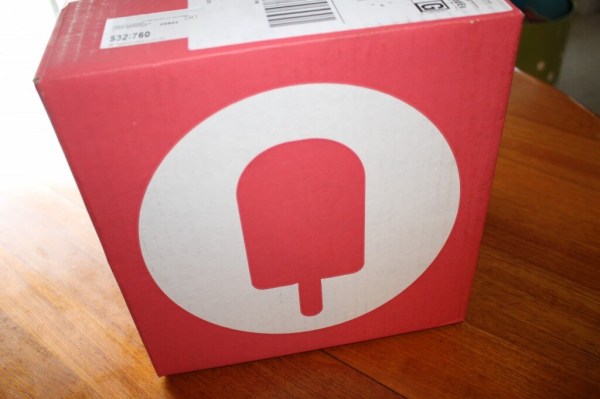 April's Fancy Food Box is here! The kids didn't let me blog this one up too quick, but they sure were up for some tasting. Popcorn – gone!  No theme this month, but a recipe was included. Fancy is funny like that, but this is always a great great box! I was going to cancel because we have so much food around here, but I can't. It's too delicious.
The Subscription
:
Fancy Food Box
The Description
: Fancy's Food Box is strictly food – gourmet items, unique finds, drinks, tools, and recipes.
The Price
: $39 per month plus $7.95 shipping
The Coupon
: Use code
FOLLOWUP10
to save 10% on your first box!
April 2014 Fancy Food Box
7 items! and a recipe card! This one was super fun to unpack.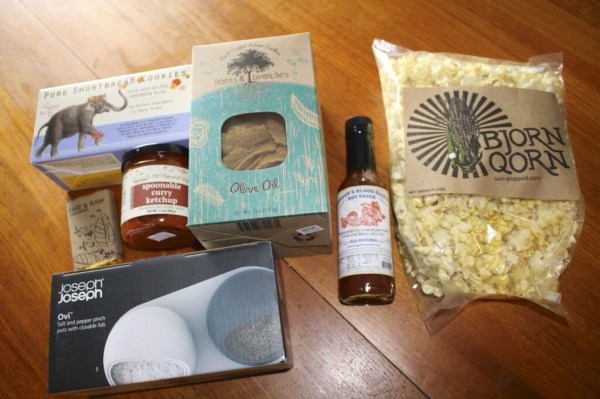 Great mix of items – some condiments, snackies, sweets, and of course my monthly durable item.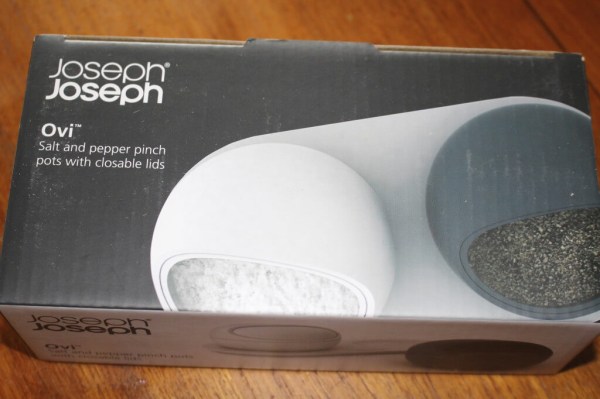 Joseph Joseph Pinch Pots ($12) These are cute for cooking, you can remove the little ovoids and twist them around. I am definitely a sprinkler!
Bjorn Qorn ($6) We ate it. All of it. It's flavored with nutritional yeast and it was cheesy and nutty just as described. And not weird/yucky like it is on kale.
Fine & Raw Cacao & Coconut Chunky Bar ($7) This is a huge big honking truffle and it's delicious. I nibbled a little bit and I'll save the rest for later. Post-bjornqorn gorging I really have to save some room for dinner. I love coconut & chocolate!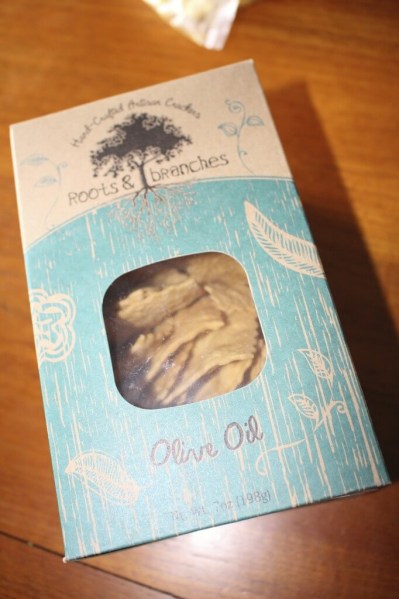 Roots & Branches Olive Oil Crackers ($4.50) Perfect food vehicle & delicious. I buy the one-serving size containers of hummus (um, I have a problem that prevents me from buying the giant size, because I'll eat like 5 servings) and I like to pair it with different stuff!
Dragon's Blood Elixir ($7.50) I have one thing to say – Game of Thrones Nachos.
Herb N Zest Spoonable Curry Ketchup ($8) I love flavored ketchups of all types and especially curry ketchup! I haven't tried this one and it will be excellent with some homemade burgers & fries. Too bad it's too late to defrost some beef for dinner. I like how this uses Jersey tomatoes. Hello Garden State!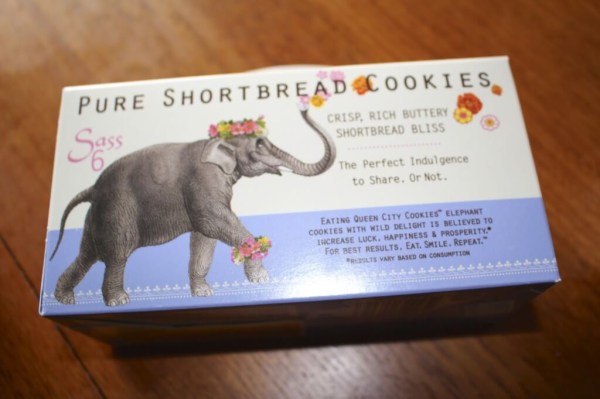 Queen City Cookies Pure Shortbread Pachyderm Cookies ($7) These are adorable and now I need to try all the flavors. I missed taking a picture of the cookie itself, it's beautiful! Honest to goodness real butter shortbread. So hard to resist. We didn't.
My April Fancy Food box had more than $50 of wonderful treats packed in, and although some are gone already (ahem, we walked to Costco, we were hungreeee!) we will continue to enjoy the rest of them until our next box arrives! Yum!
Visit Fancy.com to subscribe or find out more! Use code FOLLOWUP10 to save 10% on your first box! Just search "Fancy Box" to see all the boxes they have. You can also check out all my Fancy Box Reviews! Don't forget to take a look at other Food & Cooking Subscription Boxes!