So much going on this week! Our weather is finally going to warm up (yesterday was SO cold and SO windy!) but it's going to rain all weekend. Boo!  At least (I hope, I'm praying!) we're not going to have any more bitter cold weather. Because I cannot zip up my stadium down coat again. Seriously. It's not going to go. I have been putting the zipper up by my chest to do it for weeks and, um, it's just not happening again.
We're going to head to Costco after E gets back for pizza and groceries. Hoping I'll have time this morning before we go to do some meal planning with objects in my pantry, otherwise I'm just getting some chicken and maybe some ground beef!  We have too much stuff to use up! I'm serious about doing a Pantry Challenge! But I don't have enough fresh stuff to make it through without shopping. I just want to be conscious about using the stuff I have.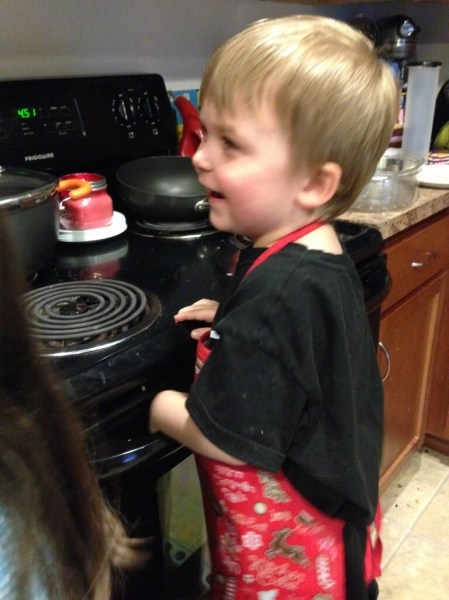 My kids both love helping in the kitchen but my little guy cracks me up! He always needs an apron!
I started really potty training in earnest this week. Both of them get a gummy bear for potty success. I have found that motivating my daughter to help is the BEST! She's excited because it's girl's day today! E is off to school and I think we'll take some photos and maybe do our WhimseyBox after I put up a couple reviews. And obviously paint our nails. As for the weekend, since it's going to rain, I think we'll try to cut some hair (TRY) and sort some old kid's clothes. All E's I'll save for the baby (the nice ones) and A's I'm sending to Alena for Molly! I have no idea why I lumped them all together to begin with. Dumb! Really!
OH Yeah, HOW HOW HOW Can I leave out the "conscious uncoupling"? I CANNOT! Because it's the most f'ing ridiculous thing I've ever heard.  I think it's so out of touch to say that we totally love each other and we're the best of friends but we're just not going to be married. Whatever. You know what normal people do? Suck it up. I really don't have any great way to articulate it I would just rather see someone say, we're not in love any more, we hate each other, anything but basically code for – our real life isn't like the movies and we have what seems to be a normal partnership that honestly mirrors average American marriages but we each have a gazillion dollars so we are going to consciously uncouple and do a CLEANSE. Because just getting a normal divorce because we don't like each other isn't GOOP/$350 white short shorts enough for me.
I'm linking up with Thursday Thoughts with Jennifer!