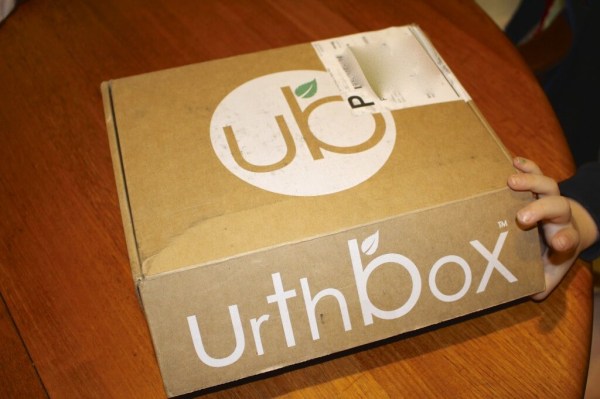 UrthBox is a new food subscription box focused on delivering healthy snacks every month. I saw a review of a great box and just knew I had to sign up! UrthBox helps you discover safe, healthy and natural products from trustworthy brands that you can purchase at your local stores or at the UrthBox Shop. You'll get foods, beverages, snacks, personal care products that are non-GMO, Organic and All Natural focused right to your door every month. [note that not every item is non-GMO, etc. I think the wording needs to be more clear!]. FYI there are just around 10 hours left to sign up for your first box!
The Subscription
:
UrthBox
The Description
: Every month get 12-15 fantastic full size products that must pass strict ingredient, sourcing, calorie, nutrition and manufacturing standards. Select from Classic, Gluten-Free, Vegan, or Diet Box Options.
The Price
: $25 per month down to $19 per month on a 6 month plan
March Urthbox Review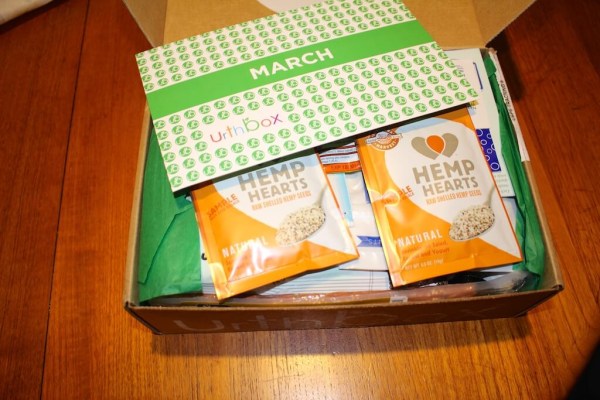 My first UrthBox of a six month subscription! It was totally packed full. Love that!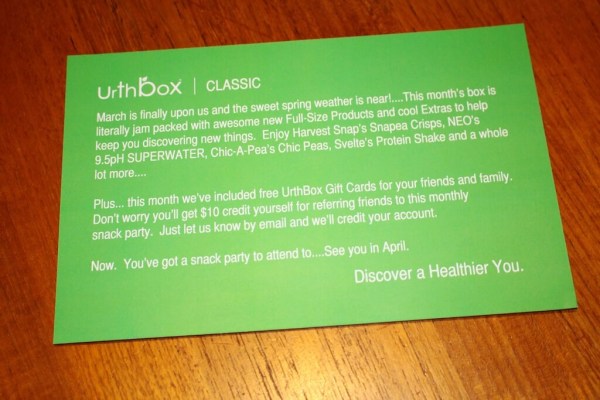 The Info card isn't really anything to write home about. I also got a coupon towards my first shop order, but I don't see that their shop is actually up and running.
This looked like a great box!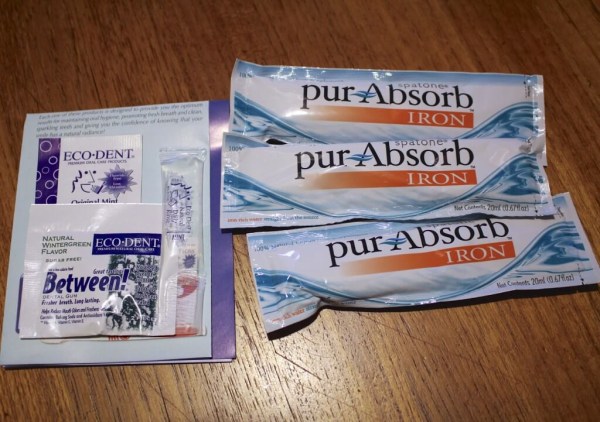 Eco-Dent Daily Rinse Sample
purAbsorb Iron I prefer liquid iron when I do take it, and I love that these are individual packs. Hope they sell it that way, because the liquid iron is only good for so long when you open it usually.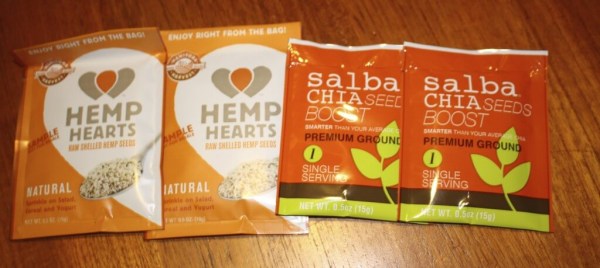 Hemp Hearts  – The kids loves these for their oatmeals, Salba Chia Seed Boost  – I stir these in anything (I've tried both these before and they are great superfood kind of additives!)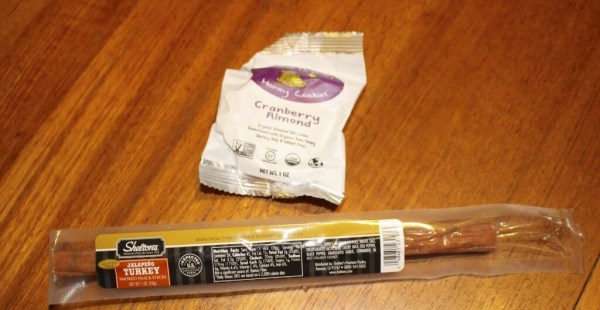 Cranberry Almond Raw Cookie (I can't see the brand name) – It was alright!
Shelton's Jalapeno Turkey Stick – Unfortunately I have to save this one right now and can't eat it. I want to soooo badly! It sounds delicious.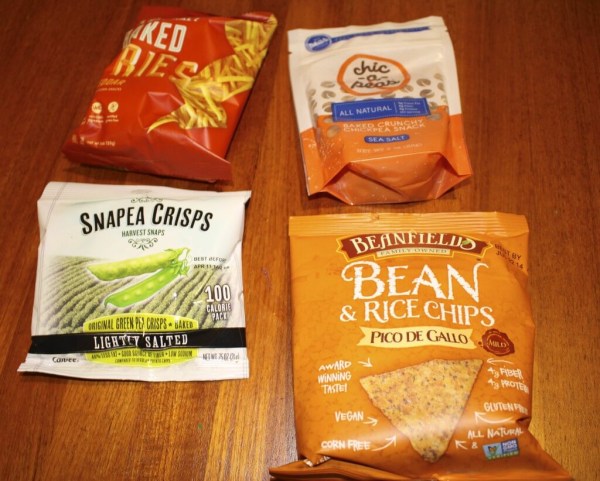 Snikkidy Baked Fries, Chic-a-Peas sea salt roasted chickpeas, Snappea Crisps, Beanfields Pico de Gallo. I've tried all of these before except for this specific brand of roasted garbanzos. My aunt loves them sooo much I always save mine for her. Everything else went in the snack bin.

Unreal "The Double One" x3 – Why they don't just call it a peanut butter cup is beyond me. It was good. Much better than the last thing of theirs I tried. These went in mommy's special snack bin (no babies allowed!).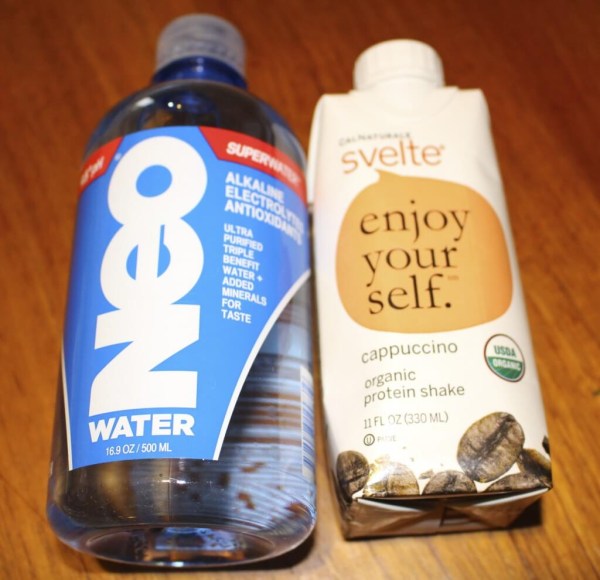 Neo Water and Svelte Cappuccino Protein Shake. Of course the coffee-thing went directly in the pile for my husband. I don't understand the special water thing still. I have a pur filter and I'm way too cheap/ornery to change what I do on the water front!
I liked my first UrthBox!  I didn't do a breakdown on this one: I think the value is about even to or a tad more than what I paid for it! It is a much better box with more usable items and far better value than some other similar boxes of the same price point that start with a C. You can visit Urthbox to subscribe or find out more!