I love getting my Tyler Florence Fancy Box! I was totally tempted by the Fancy mystery boxes this month (just go to Fancy and search mystery box) but I just wasn't into it. I knew my March Tyler Florence Fancy Box was coming as well as my Fancy Food box! And what's up with your bad self Fancy shipping my boxes in the correct month and arriving in it too?!
The Subscription
:
Fancy Box – Tyler Florence
The Description
: The Tyler Florence Fancy Box is a collection off the best home goods hand-picked by this celebrity chef! Packed with gadgets and kitchen accessories.
The Price
: $39 + $7.95 shipping
The Coupon
: Save 10% off! Use code
FOLLOWUP10
.
March 2014 Tyler Florence Fancy Box Review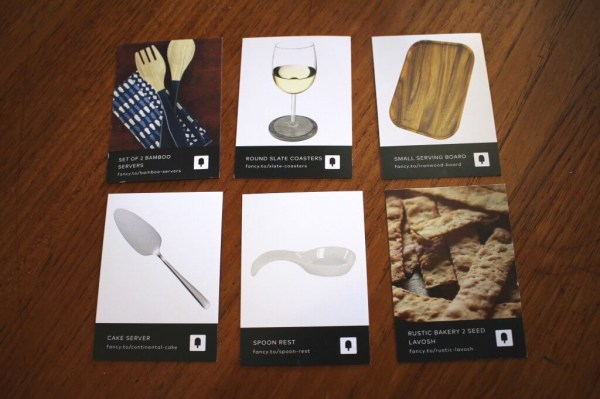 I love the Tyler Florence Fancy Box information cards because they actually have notes from the chef on the back!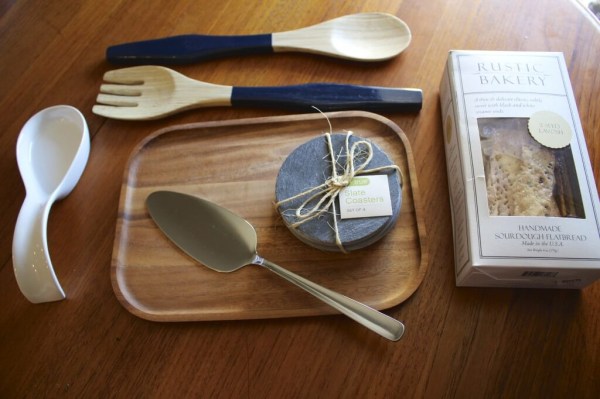 To be honest – I wasn't wowed by this box. A couple things I like but I have most of these things already, so I'll be tucking them away as gifts for those just starting out in the kitchen. I know tons of people are going to be crazy about this box because they only have some mismatched flatware and a couple boxes. Either way, it's a good box for everyone!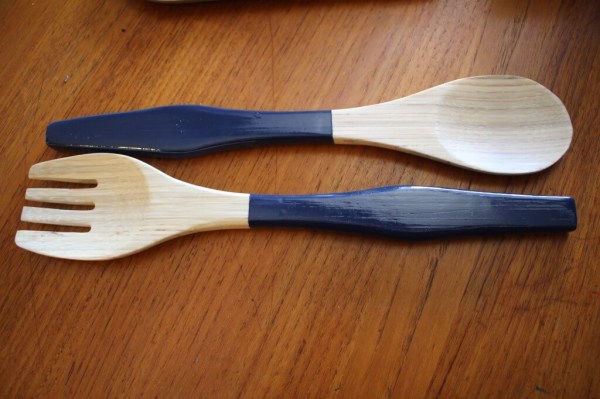 Bamboo Servers ($21) I love the great blue color on these. I think it's perfect for a greek salad!
Spoon Rest ($9) This is a spoon rest. I actually use all the saucers from my Corelware and stack them on my stove. The rest of my family (besides my grandmother, who would never stoop to such a thing) has copied me.  If it's dirty, even in the middle of cooking, I throw it in the dishwasher. I prefer my saucers over any spoon rest so this will be gifted.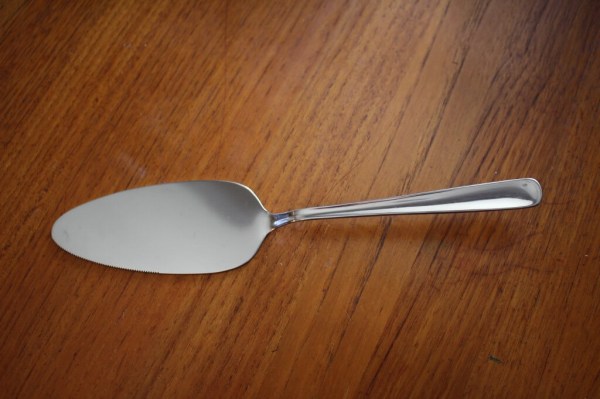 Cake Server ($6) This is a cake server. I have fancy wedding cake servers, a pampered chef cake server (and all sorts of pampered chef brownie serving devices), but I'm thinking this may come in handy for school stuff! Now that my kids are starting school and all that crazy stuff, I may need one that I can lose!
Rustic Bakery 2 Seed Lavosh ($8) I will be eating this with some nice sharp cheese on my tray 🙂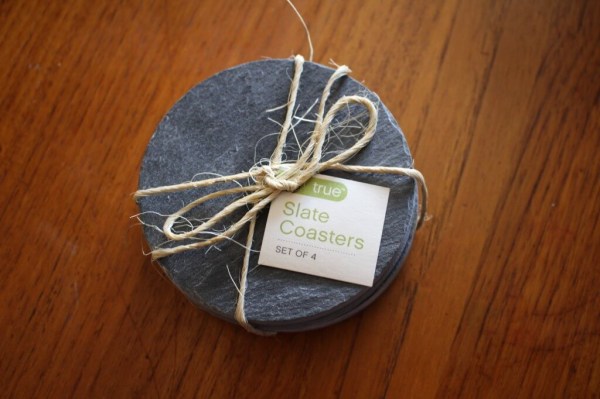 Slate Coasters ($12) These have little rubber things on the bottom and of course you could use chalk to write on them! Cute!
Ironwood Acacia Serving Board ($25) I love this. This is going to be my new cheese/crackers plate.
The total value of the March Tyler Florence Fancy Box was $81. I really think it had sort of a back-to-basics theme! What do you think? If you want to get Tyler Florence Fancy Box you can visit Fancy and subscribe for next month. Use code FOLLOWUP10 to get 10% off.
Check out all my Fancy Box Reviews! Don't forget to take a look at other Food & Cooking Subscription Boxes & Lifestyle & Combo Subscription Boxes.