I was so excited to see a hair accessory in my March Sample Society Box! It was about time! Beauty Bar's Sample Society is a monthly subscription box with 5 beauty items (usually found on Beauty Bar!). Every month you get a mini mag plus a $15 coupon to use on a $50 purchase that includes one of the brands found in your box.
The Subscription
:
Sample Society
The Description
: Get five deluxe-sized luxury brand samples and $15 monthly gift code to redeem on a $50 purchase at BeautyBar — when any product from the brands you sampled is included in your order. Plus an Allure mini-mag.
The Price
: $15/month
March 2014 Sample Society Review
Sample Society no longer includes an info card, but you still get the Allure Mini Mag. I hate that I don't have a card detailing the benefits of each product. My online account didn't have a card either.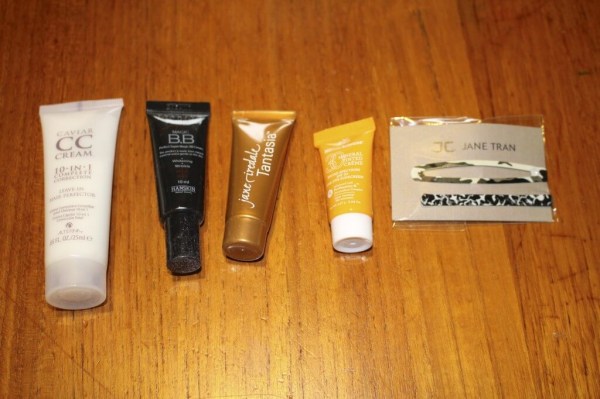 Alterna CC Cream ($8.50) This is for your hair! It's an 2013 Allure Beauty Award Winner and not available on Beauty Bar. Hmm Ok!
Hanskin Premium Perfect Super Magic BB Cream ($7.50) A South Korean brand, which explains why it is "whitening." I think I'll pass on this one. It's a pretty hefty sample though.
Jane Iredale Tantasia Self Tanner ($3?? No size) Why do they put a self-tanner in with a whitening cream? Weird! I'll use this on my face because it's clearly not enough for my body.
MD SolarSciences SPF 30 Mineral Tinted Creme ($1.50) Half-full. I'll use it, but I wish this was a full sample, because this tube isn't huge.
Jane Tran Hair Accessory ($3.50) These are cute and will get used, as I'm way overdue for a cut!
I'm pretty underwhelmed by this box. Perhaps if I had an information card I'd like it better? I'm leaning towards taking a break from Sample Society for a few months! I
If you want to subscribe or find out more, visit Sample Society.You can also see all my Beauty Bar Sample Society Reviews  and all the other Beauty Subscription Boxes in the directory!