MunchPak is my son's fave subscription of the day. He's been getting into it all morning since he helped me unpack it. My daughter loves the treats too but she can resist from asking me about it. He cannot!  MunchPa is a snack/treat subscription box that comes in 3 different sizes – mini, regular, and family sized and it comes weekly, biweekly, or monthly. The snacks inside are unique and come from all over the world!
Loved seeing the full box. Though we had a lot of super-large size items last month I like the variety. I was happy to see not too many weird chicken/fish snacks. Those are on my weird spectrum, not the junk spectrum!
The Subscription
:
MunchPak
The Description
: The best and most unique snacks from all over the world. Expect to see snacks from Australia, Sweden, Japan, United States, Canada, and many other countries. Mini, Classic, and Family sizes available
The Price
: $~22 per month
The Coupon
: Save 10% on your entire first order! Use code
MOMMYSPLURGE
.
March 2014 MunchPak Classic Review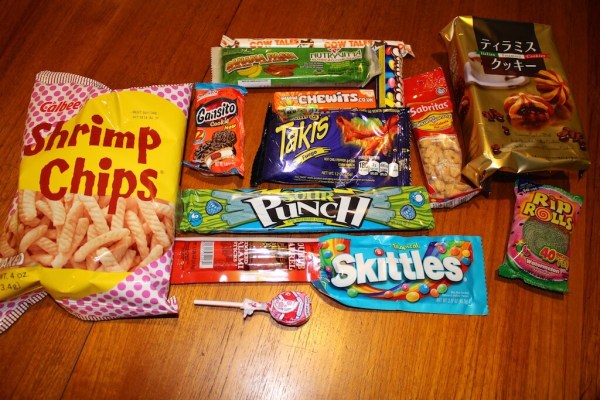 Snacks that were in my March MunchPak! Left to right. All boxes are different, so expect yours to have a mix!
Calbee Shrimp Chips – Praying that the kids like these!
Cow Tales Candy – Kids love it
Nutryvitta – some sort of dried banana thing! LOL – " And lastly, the starch is absorbed by the body more slowly, which explains the prolonged feeling of satiety, which produced a banana."
Chewits – a Japanese Fave!
Cadbury Smarties – these are totally different than US smarties – they are basically M&Ms, except with natural food dyes because ours are banned in the EU. Unfortunately I wasn't able to save the lovely pastel candies for Easter because they were eaten today.
Gansito Cookie – I believe this has the same sort of following in Mexico as Twinkies do here! This is the cookie version I think of that. I…. need to make sure to taste/eat this before my children figure out that it probably tastes good.
Takis – hot pepper & chilli lime corn snack
Sour Punch Blue Raspberry Straws – also gone!
Double Barrel cooked salami sticks
Tropical Skittles
Lollipop
Sabritas Hot Peanuts (I don't think they're hot but I like them!)
Italian Tiramisu Cookies – from Japan!
RipRolls Watermelon flavor
Visit MunchPak to subscribe or find out more about all the MunchPak options.  Use code MOMMYSPLURGEto save 10%!  I just renewed my original 3 month subscription because we have been really enjoying this one.