What?! It's Monday again! Happy Monday! Hope you had a great weekend! Let's see what's up today! My friend Alena clued me in on a super great deal at ePantry – sign up and get $10 off your first order (referral link). I got 3 Mrs. Meyers dish soaps & 2 fabric softeners for $14! It's kind of a cool auto-ship service and they'll send refill bottles instead of freshies but you'll get fresh bottles every 6 months because they get gunky. Nifty. You can split the bill for roommates and all sorts of interesting stuff. A nice streamlined take on the many many auto-ship programs out there.
I'm out of love with Honest dish soap (smells great, leaves greasy film on my tupperware) so I totally sprung for that. I'm still in love with Honest besides that and my order of the Beco baby carrier and Aiden & Anais muslin blankets came in.  I wanted to grab them before they went out of stock (hey tote bags are FINALLY back in stock!).  I also got the crib before it disappeared, but not the diaper caddy. It says "sold out" instead of out of stock so I guess I'm SOL on that one.  Did I mention I totally got rid of most of my baby stuff in oh… OCTOBER?! Whoops.
Oh here are some subscription box deals!
iBbeautiful: Save $5 on your first box with code SPRING2014. Expires 4/14.
Stork Stack: Use code Springtime50 to save half off your first box or code Storksavings6 to save $40 off a 6 month subscription, and code StorkSavings3 for $25 off a 3 month. Today only! 
Julep : Did you get the early open secret store email? I did, there are some grab bags in there! Today only use the code SHINE with a 30+ purchase and get the Shine all year collection. AWESOME Deal!
Socialbliss Style Box: Use coupon SURPRISEME to get something extra in your next box! New & Current subscribers, today only!
Kiwi Crate: Get your third crate free – use code THIRDCRATE. Exp 4/4.
Green Kid Crafts: on Groupon today!
Hello Fresh: on sale today at Zulily!
Anything else? Not sure! We went out this morning for a huge giant one hour 14 flight walk. Why so massive, well apparently that's what it takes to walk to and from my daughter's school.  It's totally extreme. Better than the rain this weekend though! It seriously rained all weekend. On Sunday it poured all day, stopped, dumped a bunch of snow, then poured again.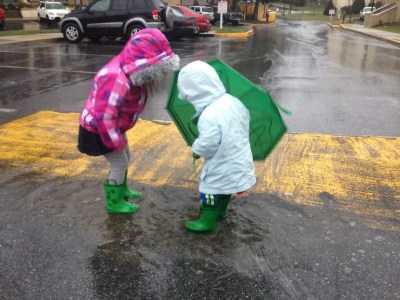 This looks kind of gross but I'm ridiculously proud – I made a WHITE SAUCE in my tupperware stack cooker. I kid you not! I was making something ooey and gooey to hide some ground turkey which I didn't want to eat. It was delish.