Wow! The February Socialbliss Style Box was one of my favorite boxes ever! It was perfectly curated with perfect items and I loved everything about it. This surprised me because I didn't love last month at all – and I had issues returning it. I was going to return it, and then I discovered you have to pay the shipping to return it (it was a super heavy box). I mostly just didn't want the defective hat, and they eventually exchanged that for me. I finally got that a few days ago. I wish it had been a little easier, but if future boxes are going to be like this one I won't have to worry about returning it! Also, this month I did receive a shipping notice, and the application of box credits, if you have any, has been improved on the longer subscriptions. I am more than happy with the improvements they made over the last month and would recommend a Socialbliss Style Box subscription!
The Subscription
:
Socialbliss Style Box
The Description
: Each month get a curated product experience hand-picked for you. A variety of on-trend items are in each Style Box, some of which you'll see on the Socialbliss site, others are emerging hot items not yet available to the public. Each box will contain an assortment of popular one size fits all fashion accessories and lifestyle products.
The Price
: $47.90 per month including shipping. Save $15 with a 3 month subscription.
February 2014 Socialbliss Style Box Review
The Socialbliss Style Box is basically a fashion and accessory box and promises at least $100 in items every month! This month featured a new custom box (last month's was black). I think the presentation of this box is great and everything was really classy.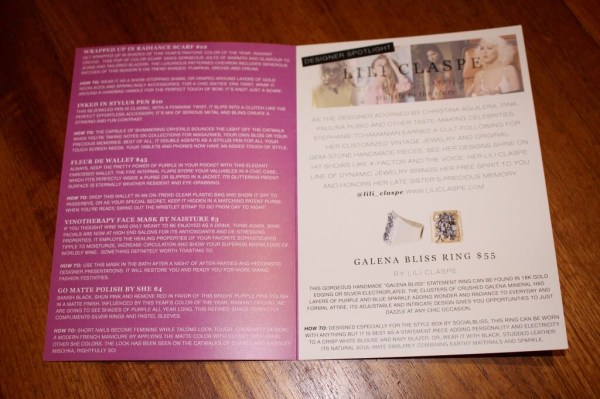 There wasn't any sort of theme on the card, but the card did note that the polish color was a nod to Pantone's color of the year (Radiant Orchid) and we will see this color influence fashion all year, so I think that's the theme, as everything was purpley and wonderful.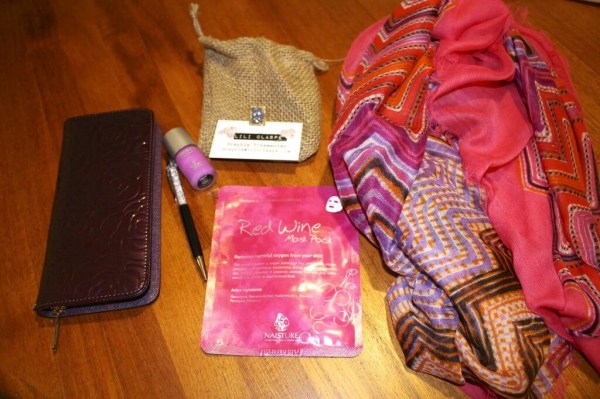 OMG I couldn't believe this box! I am not sure if I've ever loved accessories I've picked up in a subscription box as much as these!
Crystal Stylus Pen ($5) Although this came in a nice presentation case, you can still pick these up for $5 on eBay. I don't know why boxes say they are worth $10 or $15! (Socialbliss said $10, so they aren't the worst offender). The kids tend to use these! They are shiny and pretty.
Vinotherapy Face Mask by Nasiture ($3) I laughed when I saw that it "removes harmful oxygen from your skin." I think that it has antioxidants in it because of the red wine. I would have chosen different wording. This will be great to refresh after a long night of too much red wine!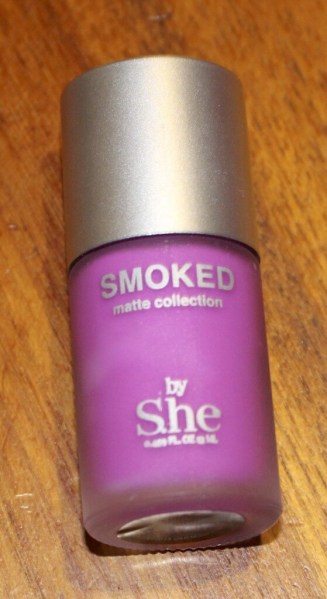 Go Matte Polish by She ($4)  I hadn't heard of this brand before. It's a matte polish which is super fun and great for nail art, and it's the color of the year. The actual color on the bottle is "Pink Smudge" and it dries out to a fabulous pink-purple (I just swatched it but as soon as I'm done with this review I'm totally doing the rest!).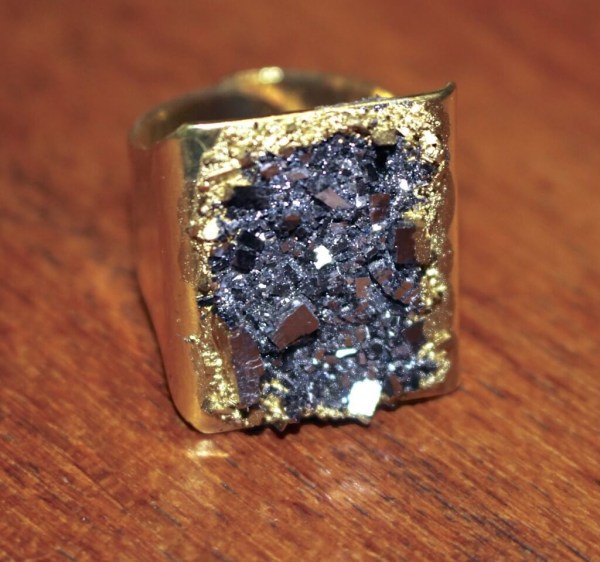 Galena Bliss Ring by Lili Claspe ($55) It's hard to pick a favorite from the major items in the box. I love all three but this may be my fave. It's an adjustable statement ring and is either 18k edged (?) or silver electroplated. I wish the galena in mine had a bit more purple but it should pick up those colors if you are wearing them. It is fabulous, gorgeous, statement-y without being OMG what is she wearing. I am wearing it today.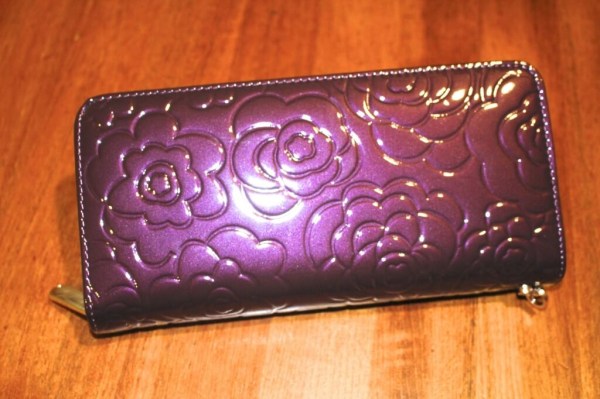 Fleur de Wallet ($45) I love the color of this wallet. I love the style of this wallet. I love this wallet. How will I choose between this wallet and my Rebecca Minkoff wallet (also purple)?  Probably when I need a wristlet I'll use this one!
I absolutely adore how many pockets are in this puppy. cough*Iwouldn'thavespentthemoneyontheMinkoffwalletifIhadthisone*cough.
Wrapped Up in Radiance Scarf ($22) I tried to show the variety of the patterns on this scarf. If it's too bold for your body you can tie it on your bag – which is what I do with a lot of my scarves when I want the look but not feeling like I want to wear it on me. I think this is a nice pop of spring to contrast with a black outfit. Or you can wear it with a million things. It was automatically one of my top 3 scarves as soon as I opened this box.
I came up with $134 in value for the February Socialbliss Style Box! The box costs $47.90 per month with the shipping and it's worth it for me. There is a waitlist, so to get on it, visit here and sign up. This subscription is a keeper for me right now!
Visit Socialbliss to find out more about the brand new Style Box or to subscribe. See all my Socialbliss Style Box Reviews! You can also check out more lifestyle & combo (aka mixed boxes, boxes of everything, and boxes for women) in the subscription box directory.