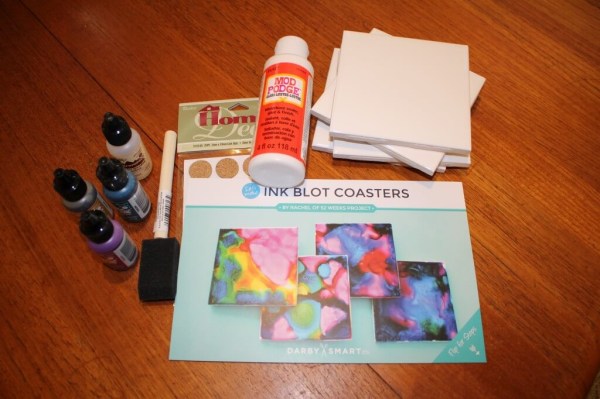 The February Darby Smart to DIY For Box (which is the Darby Smart monthly box) has been around the house for a few weeks, but we didn't get a chance to get into it until yesterday with all the illnesses and snow days (my daughter & I typically do craft boxes when my son is at his preschool). We were really excited to do a craft yesterday and this one was so easy, fun, and had amazing results!
The Subscription
: 
Darby Smart
The Description
: Select a delightful craft kit curated by a single designer. Kits include chic materials and easy instructions and you can preview the kit before purchasing. OR, get the monthly "To DIY For" subscription!
The Price
: $19 per month
February Darby Smart Subscription Box Review
All the instructions for Darby Smart boxes come on the back of one large card. They're super easy to follow. This craft was to make four coasters using alcohol ink dyes.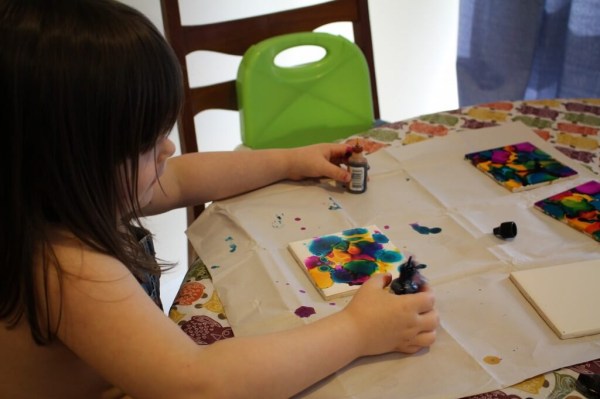 We prepped the coasters by putting the alcohol prep solution on the coasters. You could use more or less. The two at the top used less (less bleeding of colors) and you can tell the difference in the final product. The one my daughter is working on above she dropped the drops very quickly, and you can see it in the photo below, to the left of the upper right coaster.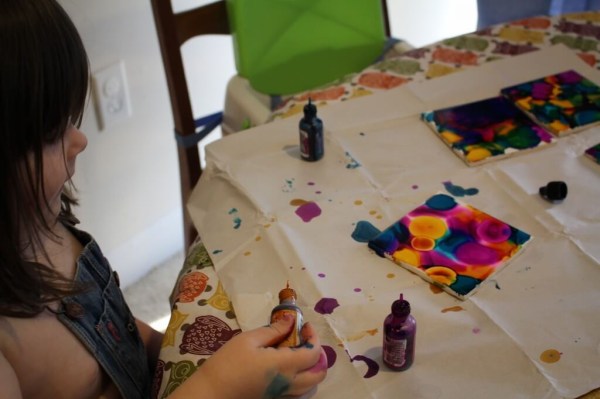 I told her to go slowly on this one and it had a completely different result. It was really cool to be able to experiment with this new medium and multiple techniques!
The ink dye looks different in the middle than in the end, I mostly snapped this one because she made a Mickey Mouse! When the coasters were dry we covered them with a coat of Mod Podge and stuck the cork stickers on the back! So gorgeous!
The upper left one is the "fast" one and the upper right is the slow one. The two on the bottom used less alcohol prep liquid.We absolutely loved this box and really just have a great time doing Darby Smart crafts. I love that nothing is too complicated and we can actually complete the projects in a reasonable amount of time.
Visit Darby Smart to subscribe to this box or check out all their other craft kits! You can also see more Darby Smart Reviews and Crafts, DIY, & Hobby Subscription Boxes!