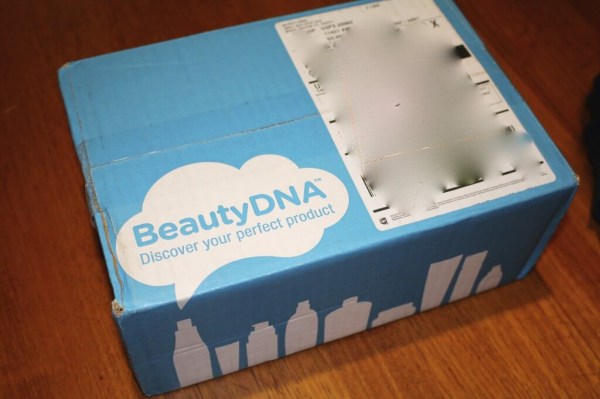 Beauty DNA is a new beauty subscription box and I signed up as soon as I'd heard about it. You'll get one full-sized product each month (sometime bonuses but usually just your ONE product). I admit, I was totally skeptical but I signed up anyways. I was more than pleasantly surprised by what I received! This box put a huge smile on my face because it did just exactly what it promised.
The Subscription
:
Beauty DNA
The Description
: Unlock the secrets to finding the perfect products–complete your Beauty Profile and change the way you discover beauty products forever. Get one full-size product every month and a customized report on your match
The Price
: $25 per month
March Beauty DNA Review
I was super excited to open my box! I love that it was all sealed up – this box was really a true surprise!
Tadaaa! My card reminded me that I selected that I love coconut fragrance but citrus/floral is for the birds.
Whish Self-Tanner with spf 15 sunscreen ($35) I've tried/loved several whish products through my Birchbox subscription so I already knew that I loved Whish and that the scents on their products are totally fabulous.  It's paraben and sulfate free and has all natural and organic ingredients. It has 3 different active ingredients for skin firming, 3 more for refining and clarifying, and 3 more for moisturizing. I love the coconut milk scent – this product is the perfect way to start off my spring!
In the end, I wished my product had a little more value – I've seen others get products that cost over twice as much, so I felt a little left out, but I was really pleased with the product they chose for me! This is something I would have purchased myself.  I had expected to try this out and cancel, but I'll be continuing for now!
Visit Beauty DNA to find out more or to subscribe (just over 300 spots left this morning).  You can also check out more beauty boxes in my subscription box directory!