Business first! I totally updated my Little Pnuts Review with some information on boxes for kids with developmental issues! I thought that was awesome that they will work with you to get your box just right for your child, and I may test out that feature. I know for sure sometimes I receive items that are right for his age generally but are off for him because of his speech delay.  I am sure most moms with kids with any sort of delay will totally agree that it throws off everything else, even if they have no difficulties in a particular area they may still be behind because their other delay inhibits acquisition of whatever else. He is talking more and more and it's such a relief for us to be able to have a real conversation with him!

My son is totally into playing dress up! His constant wardrobe change demands (every ten minutes) would drive me batty but he's so darned cute.
I ended up taking a mini blog-cation for the past 24 hours. Trying to regain strength – this cold (I'm really thinking it was a mild version of the flu) has totally beaten the crap out of me. I'll totally get back up to speed soon! We did make it to the grocery store yesterday. And totally took a small snow detour! The kids decided they wanted to climb this big hill. Whatever!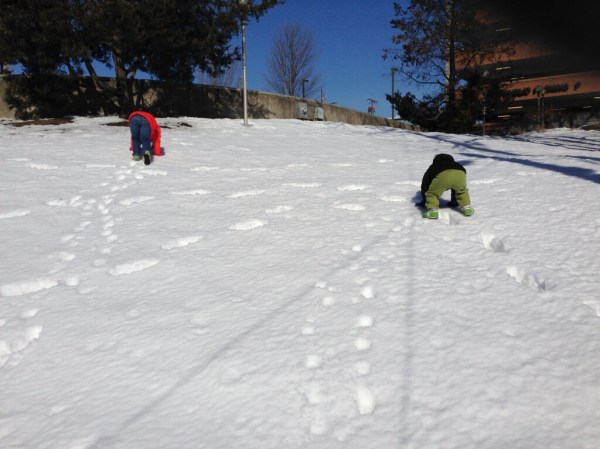 I'm not sure what happened after we got back from the store, except for intense napping (on my part). I woke up this morning, then napped (seriously, I cannot believe how tired I am), and then decided it would be a great day to go to the mall.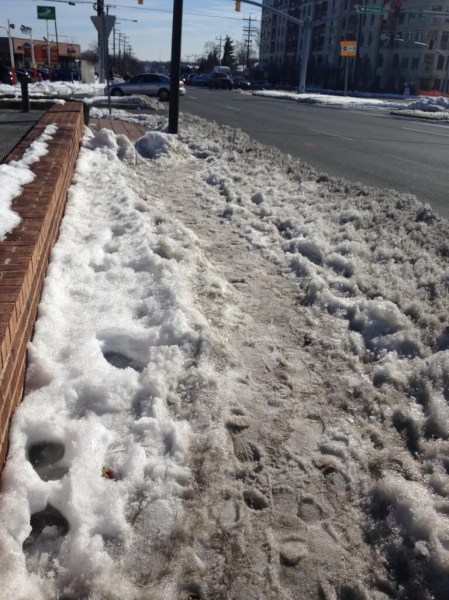 It was totally not. We walk up from the OTHER SIDE but the huge block of snow was blocking our way. We back tracked, went through the parking lot, hupped the stroller up on a curb (because it wasn't clear) and found our way up the handicap ramp. Which was clear. I don't know why access to it wasn't! This has been by far our worst winter here. It's supposed to be 50 tomorrow!
This is our measly Target Valentine's Day Clearance haul.
Our Target was at 70% off but there was almost nothing left. I'm not sure if it had been purchased or boxed up to be sent to another store. There were a few bags of candy, some placemats, but there really wasn't anything left. They were almost finished placing all the Easter stuff out. I spent $4.20 on these 4 packs of valentines and they were originally $14. I thought they were a great find so I was actually really happy with them. All the valentines come with extra doo-dad gifts (rulers, notepads, or erasers) so I thought they were nice for giving out at school. Last year I randomly bought a pack of cards (lego star wars) to save for later, and it turned out we needed them for my son's preschool, so it really never hurts to pick these things up on clearance and stash them as long as they last (I wouldn't stash candy)!
Hallmark is one of my very favorite places for seasonal holiday clearance. This was one of those buy 3 cards and then buy this thing for $15.95. When they are on post-holiday clearance they are half off – and you don't have to buy the cards. We got one at Christmas too that the kids adored. My children played with this sucker all. night. long. They think it's hilarious. It sings "hop! hop! hop!" and dances all over the table. The Hallmark was also in the middle of boxing up everything to be sent to another store. I think it's because we shop in the city and they send everything further out.  (I got *amazing* Hallmark clearance at Christmas time in Vermont) I'm not sure. It's definitely harder to shop for a great bargain around here.