As you can probably tell by the total lack of posts on Wednesday, I've been really super sick. In fact, the only reason I'm upright writing reviews right now is because I can't sleep because it feels like I'm drowning. :/  So I decided that being upright for a bit would be good and I can take a nap in the chair later on today.  I'm pounding Lipton Cup of Soup (Spring Vegetable is where it's at for me), squirting saline up my nose, and hoping for the best. Since it's 7:15, and I hear my daughter sliding out of bed already (and I've only managed 4 hours of sleep), I'm thinking it's going to be a long day! Anyways, look for Birchbox, Ipsy, Stork Stack, and more later today. Or tomorrow. Depending on how crappy I feel. Birchbox for sure.
Can you believe this box? And that they didn't even tape a whoops we screwed it up notice to it?
YES THIS IS HOW IT CAME! Miraculously everything inside was actually there and totally undamaged.  I really can't even believe it!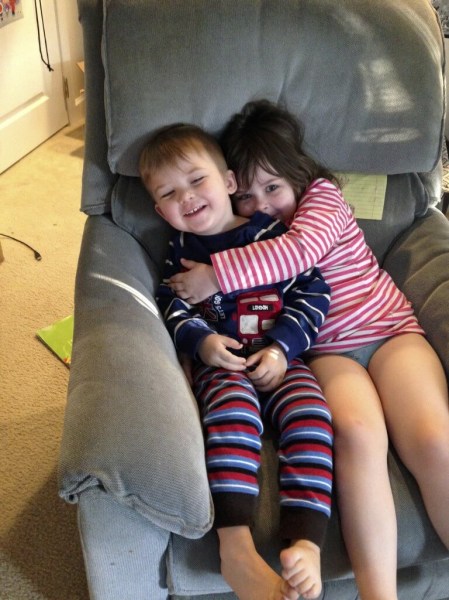 Seriously, always be small enough to sit together and always love each other like this.
I'm somewhat over the Olympics right now, but not over Johnny Weir. Last night I watched Hansel & Gretel: Witch Hunters instead, which was totally bizarre & campy. Loved it.
I'm linking up with Thursday Thoughts with Jennifer!