I have to admit that I have always always always wanted a terrarium. I would have no idea how to assemble one and I tried to hold it together when SproutSouth contacted me and asked me to share a premade terrarium with y'all. I don't want to be a terrarium expert or try to source all the ingredients to put one of these together (seriously, I know I would end up with something weird/ugly/moldy/hazardous). I think this is an awesome idea!
Before I tell you about my terrarium (cough my daughter's terrarium cough), SproutSouth has several different styles of terrariums available, which you can check out on the website. If my desk were bigger than a postage stamp I'd get a bowl one in addition to the Hanging Oval Terrarium ($27) we received. It contains mood and reindeer moss, as well as tillandsia (an air plant). The moss is harvested by SproutSouth in North Carolina.
Every SproutSouth terrarium is arranged by hand, and I could tell by the packaging this is all about terrarium love.
Plastic wrap goes over the arranged mosses and whatnots in the bottom of the glass terrarium and the air plant comes with instructions to give it a bath every few weeks. This was perfect. Seriously all I did was unwrap it and stick the plant inside. Perfect for someone like me.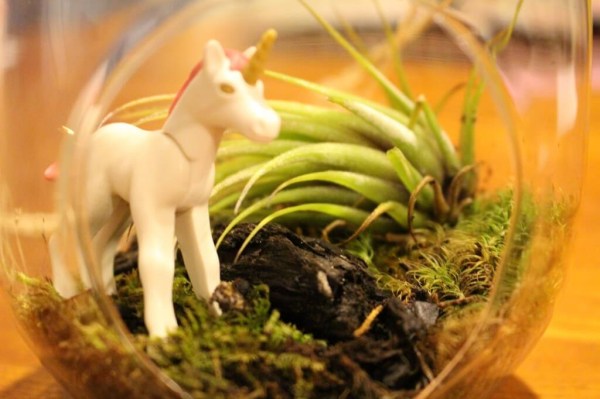 We decided to add a Playmobil unicorn (unicorn does not come with terrarium). I explained to my daughter – who loves watering plants – that it needs misted once or twice per day (you can actually not water them every day and do more at one go, but as she's in charge, that's what I went with). Terrariums basically just need not to be kept in the dark and have some, but not too much water, and they will do great! We've had the terrarium since mid-week and every day she gets her mister (which she has hidden from her brother) to lovingly mist this terrarium. I love that it has given her a real sense of responsibility – and that she and I basically cannot kill this plant.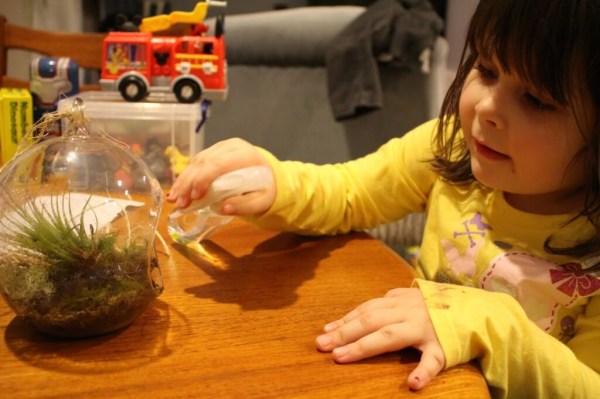 SproutSouth is based in Savannah, Georgia (stop by their store front if you are vacationing there!).  I think you should totally check them out and consider adding a terrarium to your decor. It is a delightful green addition to our home, adds an organic touch to our decor, and really provides a centerpiece.  I also think it's pretty inexpensive for something that doesn't die after a week or two like flowers. The kids and I are completely enamored with our new greenery!