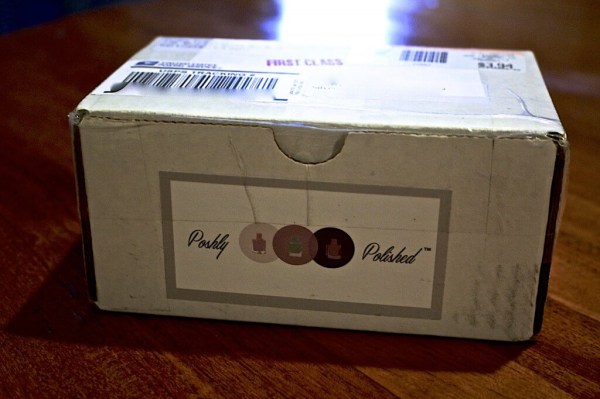 Poshly Polished is a new luxury nail polish subscription service offering three expertly curated boutique and luxury polishes per quarter! In every box you'll get 3 polishes just for that season and reflecting the current and upcoming trends. I personally love the idea of not getting polish overload and just getting the polish I need for the season, so if you are looking for high-end polish and not too much of it, this is perfect. Plus you don't have to stress about picking colors or picking the same color over and over (I totally do that).
The Subscription
:
Poshly Polished
The Description
: Get a quarterly curated collection of 3 high-end luxury polishes not found in drug stores or salons. Each box contains polishes curated for the season and the current trends.
The Price
: $35 per quarter plus $4.50 shipping
The Coupon
: Get 15% off your first box with coupon code
BRANDY15
. Expires 2/21.
Warm Winter Collection Review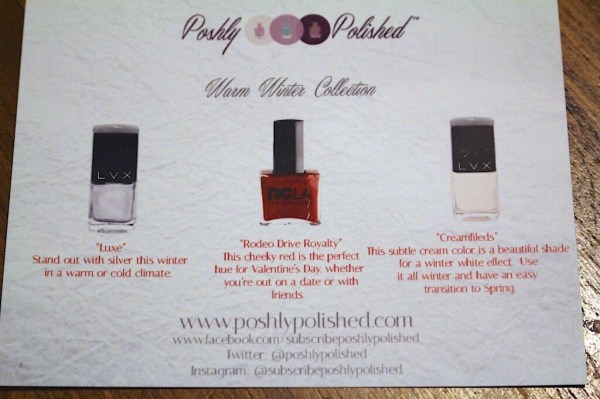 I was totally excited by the Poshly Polished information card because the colors looked great and there were two of my favorite luxury brands – LVX and NCLA!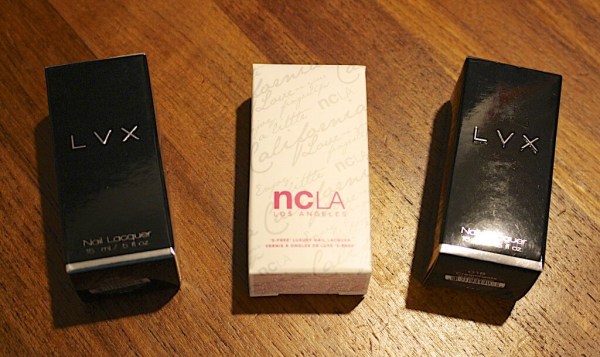 The polishes were packed inside their original boxes inside the cute little Poshly Polished box they came in. I really liked that they came in their real boxes, most of the time I've received these brands I don't think they have been!
So much pretty polish! I took three different shots because of course polish is tricky tricky to photograph!
Lvx "Luxe" (on the left, $16) –  LVX is glossy, chip-resistant, and long-lasting and completely cruelty-free! It's also 5-free: made without Formaldehyde, Formaldehyde Resin, DBP, Toluene, and Camphor. This is a totally gorgeous and wearable metallic. I haven't tried this one yet but I love the color!
NCLA "Rodeo Drive Royalty" (center, $16) NCLA is also 5-free and vegan friendly and I love this GREAT vampy shade! It's super dark on and you can get perfect coverage in 2 coats. It's a blood/cranberry red and really perfect for winter! Beautiful.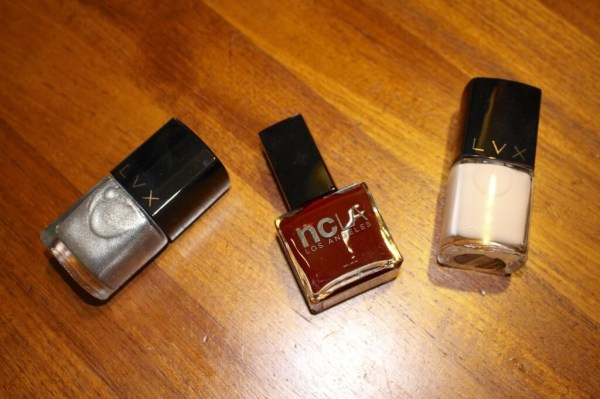 LVX Creamfields (right, $16) I think this is my favorite color in the box. It's a beigy peachy white and I don't know if I've ever seen a color like it? I certainly don't have one of these. This one needs several thin coats to look best but I'm so impressed with this formula and with the selection of this color.
Poshly Polished struck me as a box that is perfect for women out in the professional world – still a little bit of fun, but very wearable colors that you don't only have to wear on your toes. This box contained $48 of luxury polishes for $35 (plus shipping) which I thought was a great value. The billing for Poshly Polished is a bit confusing, but the bottom line is when you subscribe you're committing yourself to receiving 2 quarters of the subscription, which I don't think is that big of a deal, but just FYI!
You can visit Poshly Polished to subscribe or find out more, and you will save 15% on your first box with code BRANDY15 – so you can get $48 of luxury polishes for under $30 plus shipping! (Hint – put in the code after hitting the black subscribe button in the checkout screen!)