I am always excited to get my Mugler Addict box! Obviously it's a subscription box for Thierry Mugler Addicts, which I am! I love Angel, it's my favorite perfume, and I love trying all the variations sent in my box. It's a quarterly box and only $50 a year. While this one was a bit less value than the others have been, as long as it's worth over $12.50, I don't really care!
The Subscription
:
Mugler Addict
The Description
: Get deluxe & sample sizes, plus free shipping at the store for the entire year! Delivered Quarterly. Angel-only addict? Get
Angel Room Service
.
The Price
: $50 per year
February 2014 Mugler Addict Winter Box
The front of this card says Winter 2013. We'll call it 2013/2014 so we all know what we mean. I love this card – it's wild and wacky and wonderful just like Thierry Mugler. The card tells me "For an even more magical 2014, keep your Thierry Mugler accessory close at hand. It will be your lucky star." One of the things that delights me about Mugler is that their advertising copy is so flipping bizarre. I really do love it.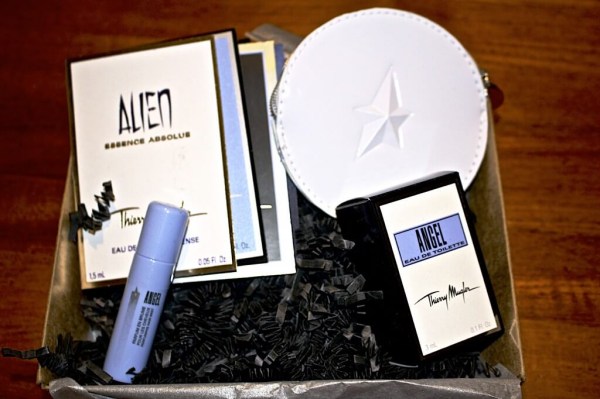 You can play Madonna in your head when you open this box.
Seriously, I love the text on these things, I'm going to write each one out this time, they make me so happy. TONS OF SMILES for twelve bucks! Also while we're on the topic of cost, whenever you break down perfumes and items that typically come in deluxe/fancy containers but are samples, of course it's not exactly the same but I do what I can, like using the refill price for estimates.
Bonus Accessory – it's a cute little coin purse that clips on! Maybe 3?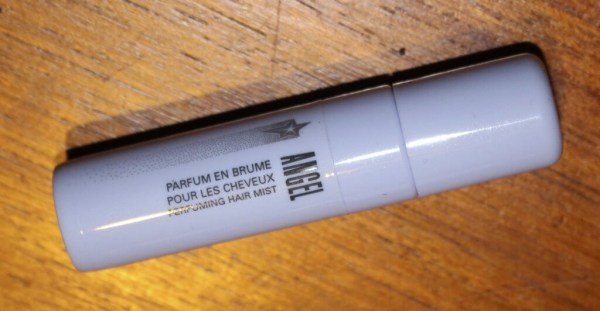 Angel Perfuming Hair Mist ($6.80) One of the things I love about the Angel line is that you can do a complete fragrance layering effect. This is for your hair, and it's also odor neutralizing!
Alien Essence Absolute Eau de Parfum Intense ($2.75) A divine nectar captured in an everlasting drop of gold… ALIEN Essence Absolue is a modern and decadent interpretation of ALIEN to indulge the solar goddess in every woman… Notes:Sambac Jasmine, Cashmeran Wood, Myrrh, and White Amber
Angel Eau de Parfum ($1.45) Crystallizing her dreams, ANGEL is a fragrance for the woman who is half-angelic, and half-devilish. Capturted in a faceted gem sculpted like a diamond star, ANGEL is the ultimate secret of absolute seduction. I think they may have mixed up descriptions on the card because the Eau de Toilette is in the crystal star (below).
A*Men Eau de Toilette ($1.8) A*MEN, Thierry Mugler's first masculine fragrance for the adventurous, confident and distinctive man! This fiery woody Fragrance will wake up the superhero in you!
 Angel Eau de Toilette ($12) The exquisite ANGEL Eau de Toilette reveals a new dream. The uniqueness of ANGEL was reinterpreted with respect to its original and unique oriental-gourmand heart, bringing to life an addictive scent with the same carnal sensuality, yet more subtly provocative, rounded and finely nuanced.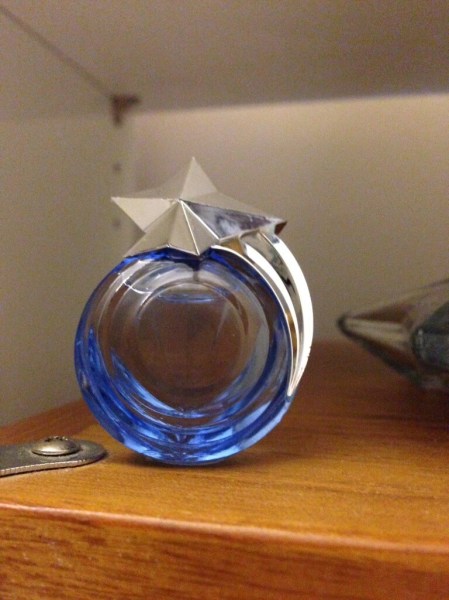 I didn't even realize until I was done writing this/published this review that the little bottle stands up on its end! You can actually see another large crystal star I have in the background!
Super hard to value boxes like Mugler Addict, but this one is worth about $30. It's definitely worth every cent to me, I love Angel and I love dabbling in the variety I get. Quarterly is the perfect frequency for this subscription, too! While I would love to splash for the huge full sizes of everything in Angel Room Service, I get so much stuff that the samples are perfect for me. This is something I need to put on my list for my husband as "what to buy the impossible to shop for Brandy." That would definitely be a luxury gift!
Thierry Mugler also offers Alien Room Service
and Angel Room Service
! Visit Mugler Addict to subscribe or find out more. You can also check out all my Mugler Addict Reviews and other Fragrance & Perfume Subscriptions in my subscription box list!