We ended up with two Kiwi Crate boxes this month, which my daughter was super excited about!  You can pick up Secret Agent in the Kiwi Crate store if you're just interested in a single box and don't forget that if you are a subscriber you can get free shipping on the Handmade Valentine's Day Cards Crate today only or free shipping on a $25 order through Friday. Go here for all the details on that!
The back of the information card has a color and cut stand up that matches the theme of the crate, plus a sticker for the Kiwi Crate completion chart!  New subscriptions always come with a pair of kid's scissors.
The Subscription
: 
Kiwi Crate
The Description
: Arts, crafts, and science activities subscription for kids ages 3-7.. Each box is organized around a theme!If you are a busy mom that needs to spend your extra time with your kids instead of hunting down a craft, a subscription craft and activity box is the way to go.
The Price
: $20/month
The Coupon
: Get 40% off your first box with code SHARE. Expires ?? (Had already expired but is still working?)
Kiwi Crate Review – Secret Agent
The kids did this Kiwi Crate with daddy this weekend, so there are fewer pictures, but there was just as much fun!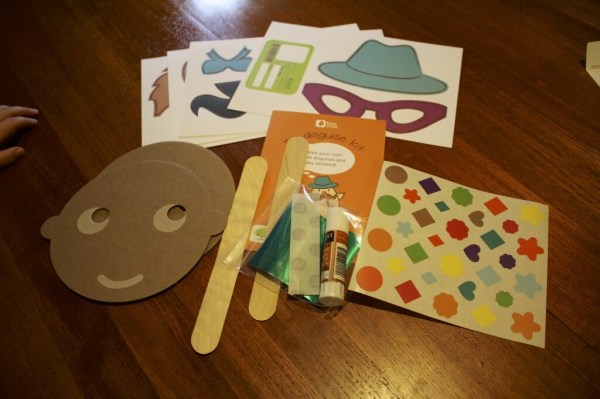 my disguise kit – This was my son's favorite! He just turned three and isn't really super into Kiwi Crate yet (or crafts in general), but he is wild about this one! He thinks it's super funny when the kids "switch" their masks and pretend to be the other child. The sticker sheet of shapes is actually for the other project! Sometimes it's hard to tell until you start doing them. I was pleased with the durability of these masks – days later we are still using them, and my kids are rough on paper projects.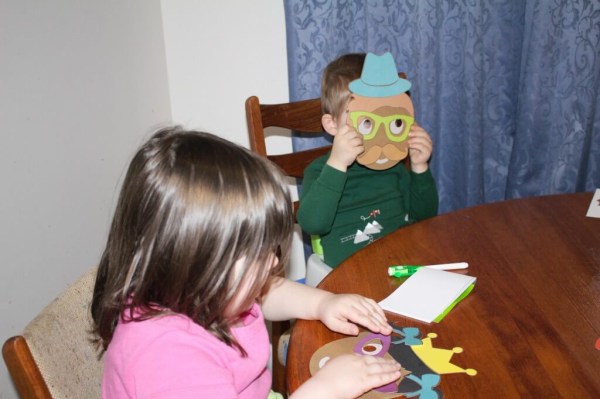 Even though we just get a Kiwi Crate for one child (no sibling add-on), there is usually enough materials to cover crafts for two kids.  Perhaps when my son is a bit older and more into the crafts we will add it, but there is no need for us to do that now.
my periscope – I was excited about this one but I let dad take the lead! This was my daughter's favorite project. She's very into spying and "surprising" people, so this project was perfect for her.  Dad got the opportunity to explain reflections and they had fun putting it together and decorating it!
Ignore the broom on the porch 🙂 That's a little girl down there!
This was the "explore more" booklet and it was substantially better than the booklet in our other January Kiwi Crate. My daughter is obsessed with the UV light pen and booklet and writes me secret messages each morning. We did the secret crayon messages in our Crafter's Crate already, so I skipped it. The next time I get a lemon we'll do the lemon activity!
This was a fun box – but I'm really hoping that for February we'll get something more activity based and less dress-up!
Check out all my Kiwi Crate Reviews to see more. Don't forget to take a look at the list of Subscription Boxes for Kids for more great subscriptions!