My February Julep Maven box arrived over a week ago, but we've been having so much fun painting our nails I haven't quite posted it yet! Julep Maven is a nail polish and beauty subscription box and for $19.99 per month you get either 3 polishes, 2 polishes & a beauty item, or 2 beauty items. This is my 13th Julep Maven box! You can read about recent changes to the service here and find out about the new Plié wand here (and FYI, Julep has said there is going to be a freebie upgrade thing for the caps)
For February – the Dramatic Collection – I upgraded to the regular upgrade – which means the add on and all the polishes but not all the beauty variations. Because that would be ridiculous. 🙂  Before I get rolling, I think today is the last day for Julep's Cupid Mystery Box.  I didn't order one because I upgraded this month, but you can find out all the details here! I'm not sure if BEMINE is still working to add an extra free polish to that box (it's a bogo code). Of course if you aren't a member yet, you can use code FREEBOX to go ahead and grab your free starter box! It's $3.99 for shipping and you can cancel – o at any time. Plus you get free shipping at Julep! 
The Subscription
: 
Julep Maven
The Description
: Nail polish box and a beauty box. Get either 3 polishes, 2 polishes and a beauty product, or 2 beauty products per month.
The Price
: $19.95 per month
The Coupon
: Use code
FREEBOX
to get your intro starter box free! (Pay $3.99 shipping)
Julep Maven February 2014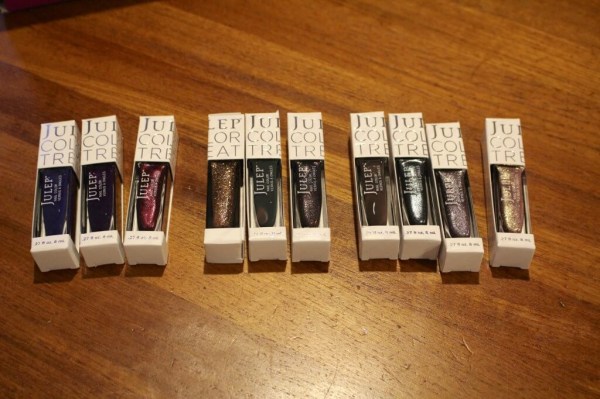 I was so happy I got the entire February collection! It's so gorgeous! Just my style in terms of colors.
Modern Beauty
I almost wish I had picked up all the liquid shadows, but seriously, it would be ridiculous! The formula kind of freaked me out the first time I touched it – it's liquid, but squishy! It layers beautifully. The eye liner has serious staying power. I found that they both will stay on through water but the shadow washes off with regular soap. That Ink Gel Eye Liner though – it's serious! It came as a duo but you can buy the liner brush separately. I thought it was a really great brush!
All you need is Love – this was in every single box this month!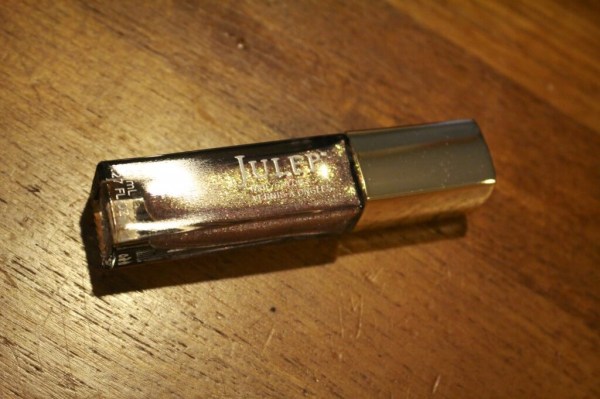 Love was a maven exclusive and I love the pretty gold cap. It's a "gold, pearl & fuchsia microglitter" and supposedly full-coverage, but I didn't find that to be true. (Diamond Theory – heck yes!) I will have to layer this glitter because it was pretty blah by itself.
Classic With a Twist
We liked these so much they were our immediate nail-painting pick!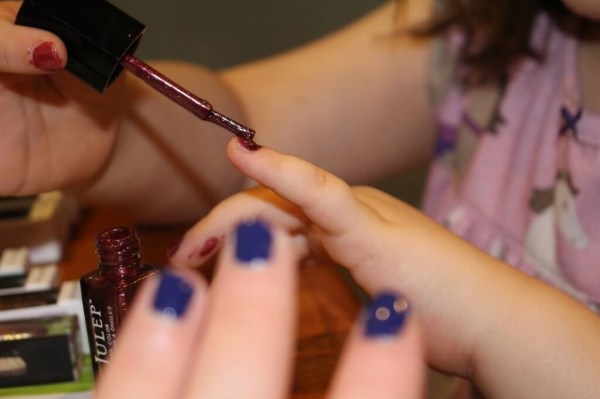 She's not perfect, but I love that look of concentration! If you have kids, letting them do their own might be messy but it does quickly improve their fine motor skills. She is so much better than she was a few months ago!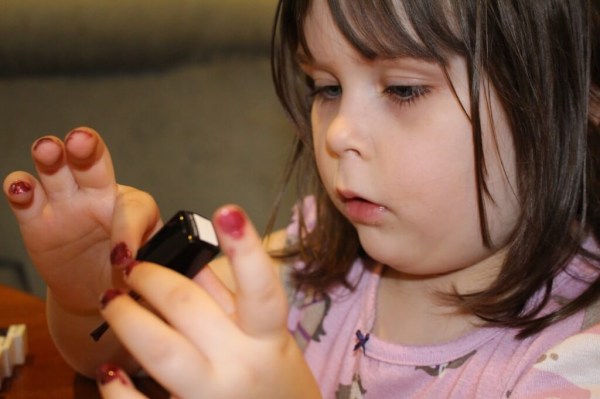 Boho Glam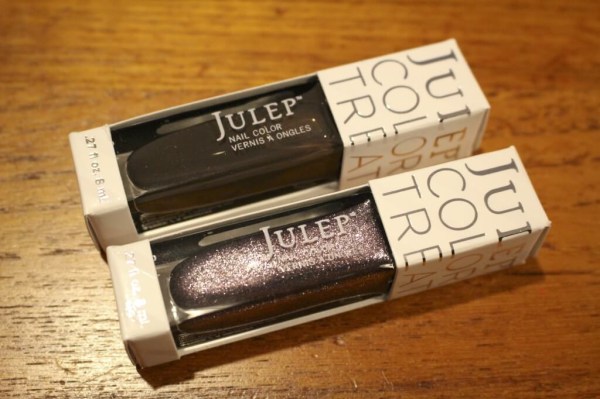 Rooney – Boho Glam: Walnut bark crème
Cameron – Boho Glam: Silver lilac stardust
Bombshell
Kristen – Bombshell: Deep jungle green with silver microshimmer
Judi – Bombshell: English violet crème
Kristen was my son's pick! It says  it's green, but it looked blue to us! We aren't too picky!
He loves having his nails painted!
It Girl – curated & named by Jay-Z's Roc-Nation
Glam Roc – It Girl: Midnight purple & gold stardust
Roc Solid – It Girl: Vintage military crème
Diamond Theory – It Girl: Full-coverage multidimensional copper glitter
Now Diamond Theory is a serious full-coverage glitter! I think it's my favorite from the box, it's really a great polish!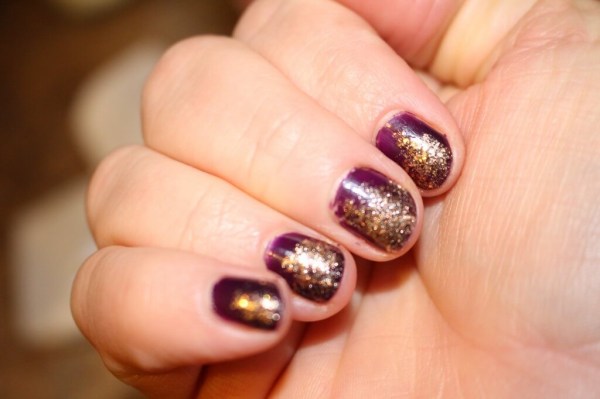 I was so surprised how well Diamond Theory covered – I could barely do an ombré glitter because it covered so well! It still turned out cute. It's my new favorite thing to do – and so much easier for me than nail art.
The stardust finishes are great btw – they are a full coverage microglitter with large glitter mixed in. It goes on perfectly and you can add a top coat to give it a glossy finish. So pretty. I'm going to have to try very hard next month not to love everything because I'm having a polish storage crisis!
I totally have been using the Vanish Cuticle Softener & Remover and the Ta Da! Quick Dry Drops  (from my January Julep Maven Box) when doing my nails and I suspect when there's a month I'm not keen on if these make their way into the "replenishment box" I will be totally picking them up. Love them! I need to remember to use the Vanish on my toes before the shower 🙂
You can check out the rest of my Julep Reviews or sign up to get your free intro box – just use code FREEBOX.(Pay $3.99 shipping) U If any of these are a must-have for you, check out the Julep February collection!